Crispy on the outside, fall apart juicy on the inside, then coated in a finger-licking citrus flavor. These baked lemon pepper wings are made with just 3 ingredients and no deep frying for a healthy flavorful appetizer or main meal!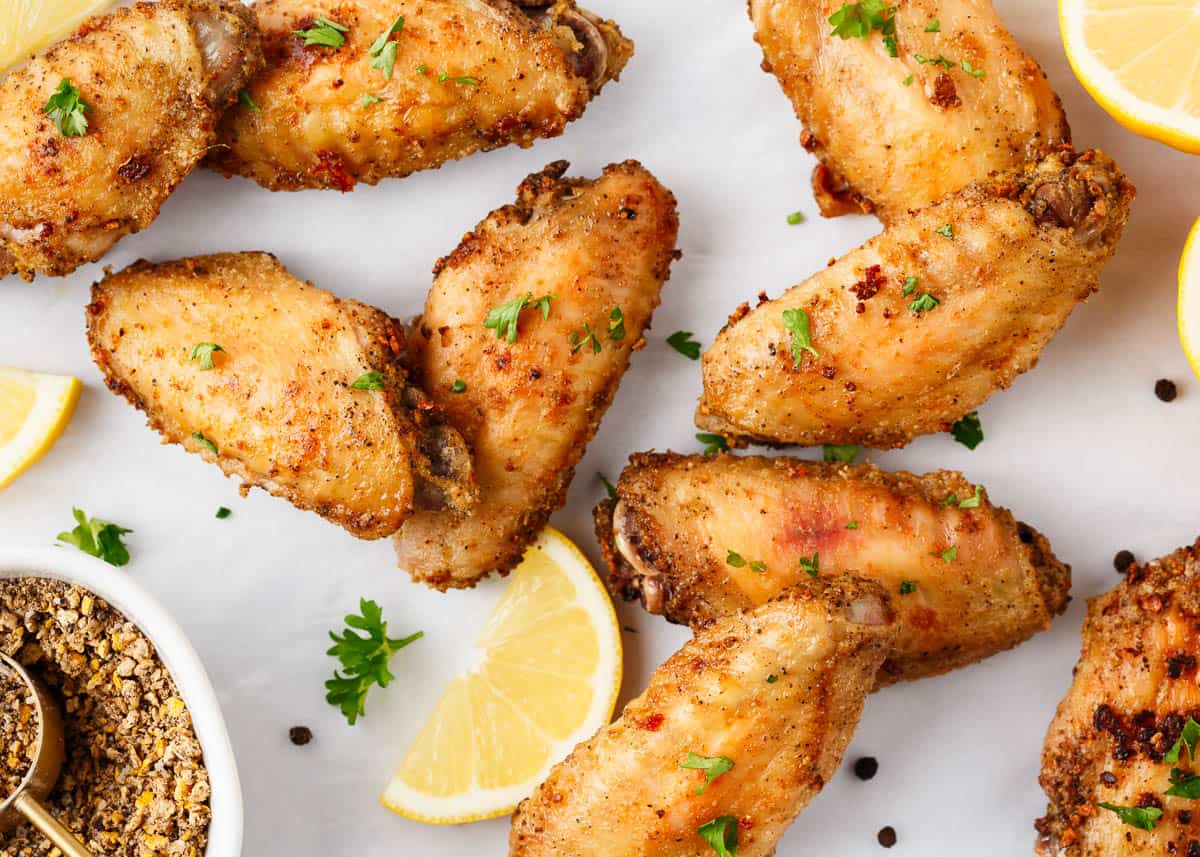 Crispy Baked Lemon Pepper Wings
Lemon pepper wings are just one of many flavors you can add to your repertoire of baked chicken wings that are crispy on the outside, juicy, and fall off the bone tender on the inside, without any deep frying or heavy grease!
This easy lemon pepper wings recipe is made even easier with a homemade lemon pepper seasoning blend. Once you have that mixed, it's a matter of prepping your wings and coating them with seasoning and baking powder then baking them.
There's something so tasty about that citrus flavoring that is so addicting!
You can bake them in the oven to make a sheet pan full to serve a crowd or toss a smaller batch in the air fryer for just you and the family.
Either way, they make a great appetizer when served with your favorite dipping sauce like homemade ranch or blue cheese dressing. Serve them with mashed potatoes, homemade french fries, or air fryer potato skins for a complete dinner idea everyone will enjoy!
Why This Recipe Works
Just 3 ingredients. You can use either a store-bought seasoning or a homemade blend for this recipe and even with so few ingredients, it delivers major flavor.
Amazingly crispy. The baking powder is like magic. It helps to crisp up the meat so beautifully!
Versatile. There's never a wrong time for chicken wings! Appetizers, snacks, lunch, or dinner. Game day, potlucks, Super Bowl parties, you name it! Bake them or air fry them, the results are always amazing.
Recipe Ingredients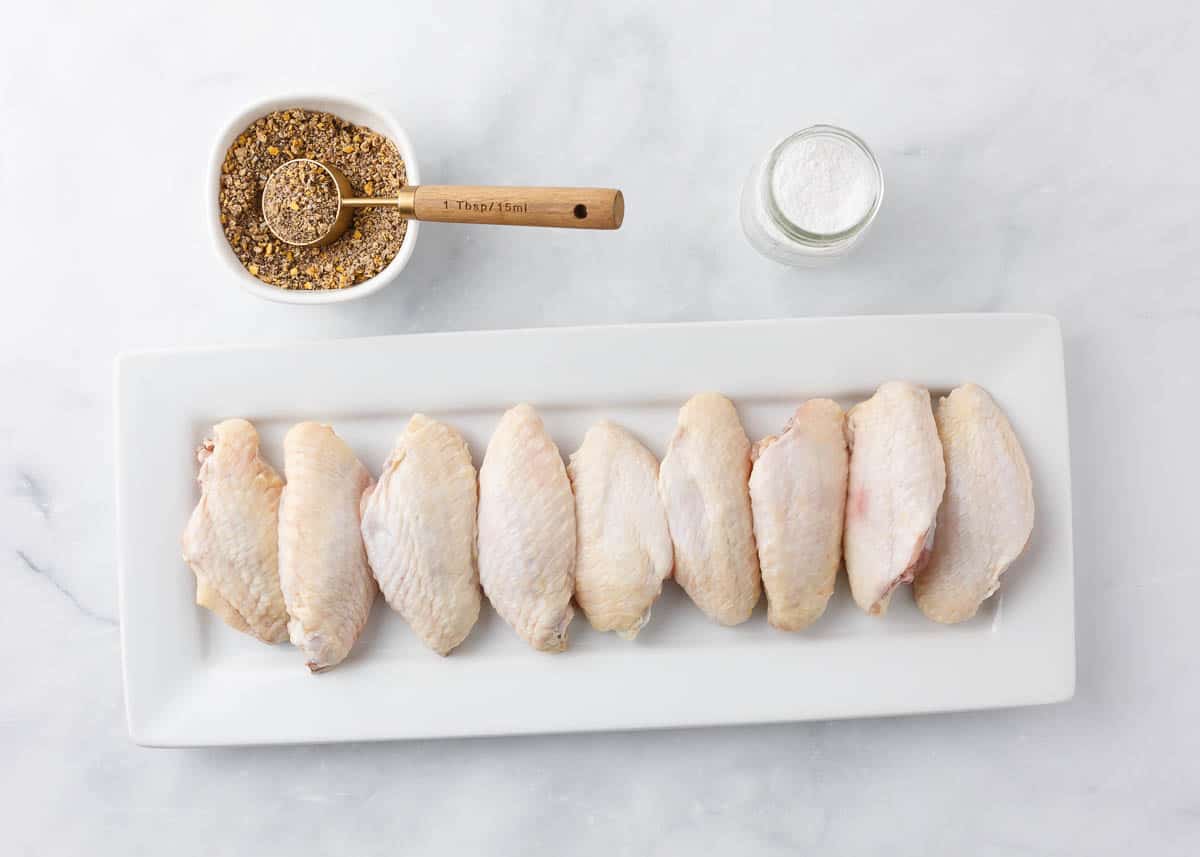 Find the full printable recipe with specific measurements below.
Chicken wings: For this recipe, I use fresh not frozen. If using frozen, make sure they are completely thawed and thoroughly patted dry. Remove the wing tips, and make sure the drumettes are separated from the wingettes.
Baking powder: This coating will help to absorb moisture and help to get a nice crispy skin.
Lemon pepper seasoning: As I've mentioned before, I LOVE making my own seasoning blends. This one is a combination of dried lemon zest, black pepper, and kosher salt. So easy!
A Saucier Wing!
If you prefer to toss your wings in all the yummy flavor after they've been baked you can.
Toss the wings in just baking powder and bake as directed.
Make a lemon pepper sauce by combining lemon pepper seasoning and melted butter. You can even turn them into honey lemon pepper wings by adding a bit of honey and fresh lemon juice as well. Very similar to my baked lemon chicken.
Once the chicken is baked and crispy, toss them in the lemon pepper butter sauce.
How to Make Lemon Pepper Wings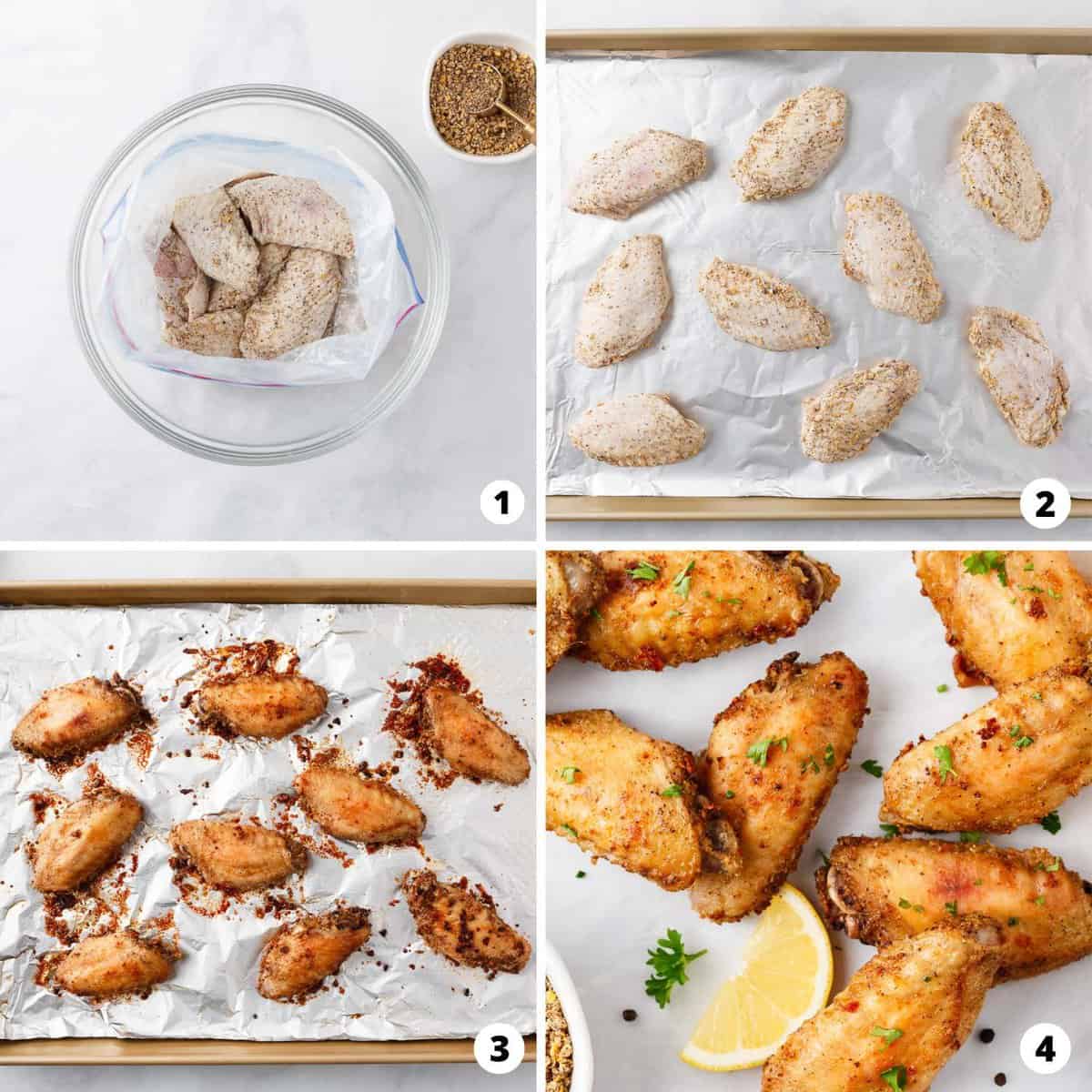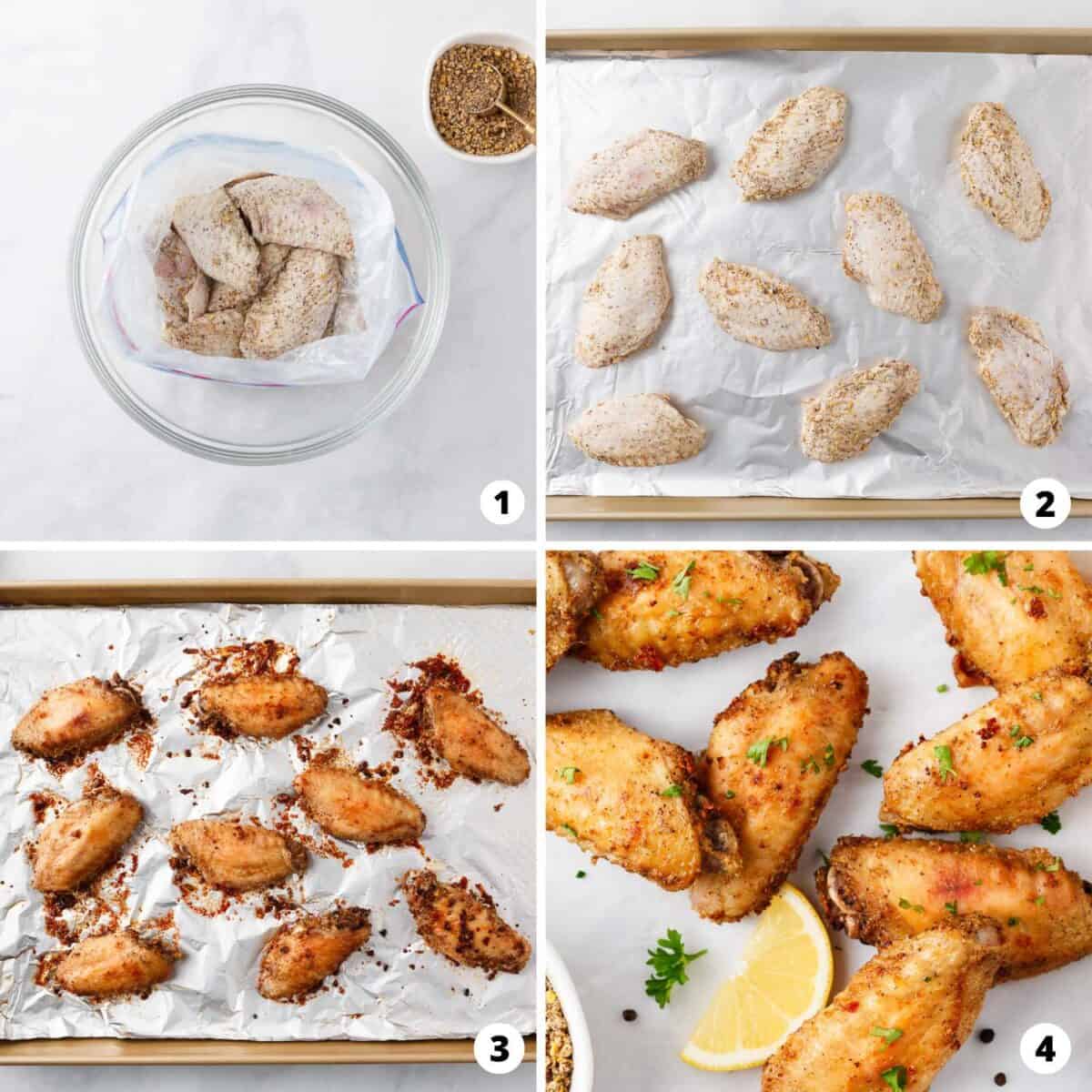 Season the chicken. Place baking powder and seasoning in a zip-top bag. Shake until the drummettes and wingettes are completely coated.
Arrange the wings. Assemble them in a single layer on top of a baking sheet lined with aluminum foil.
Bake until golden brown. Bake in a preheated 425ºF oven for 30-40 minutes or until crispy, flipping halfway. For crispy chicken wings, it's important to turn them over so they crisp evenly on both sides.
Rest and serve. Once they are done, let them sit and rest for a few minutes. Serve with your favorite sides, dipping sauce, and maybe a couple of lemon wedges. Enjoy!
Expert Tips
Save time. Purchase wings that have already been separated, that way you don't have to worry about it.
Dry the meat completely. Excess moisture is not your friend! It will only create steam and soggy wings.
Spray the baking sheet with nonstick cooking spray. You can also use a gentle brush of olive oil or vegetable oil, but not too much!
Top the baking sheet with a wire rack and place the chicken on it to bake if you want them less greasy. The juices will fall between the grill and onto the sheet pan.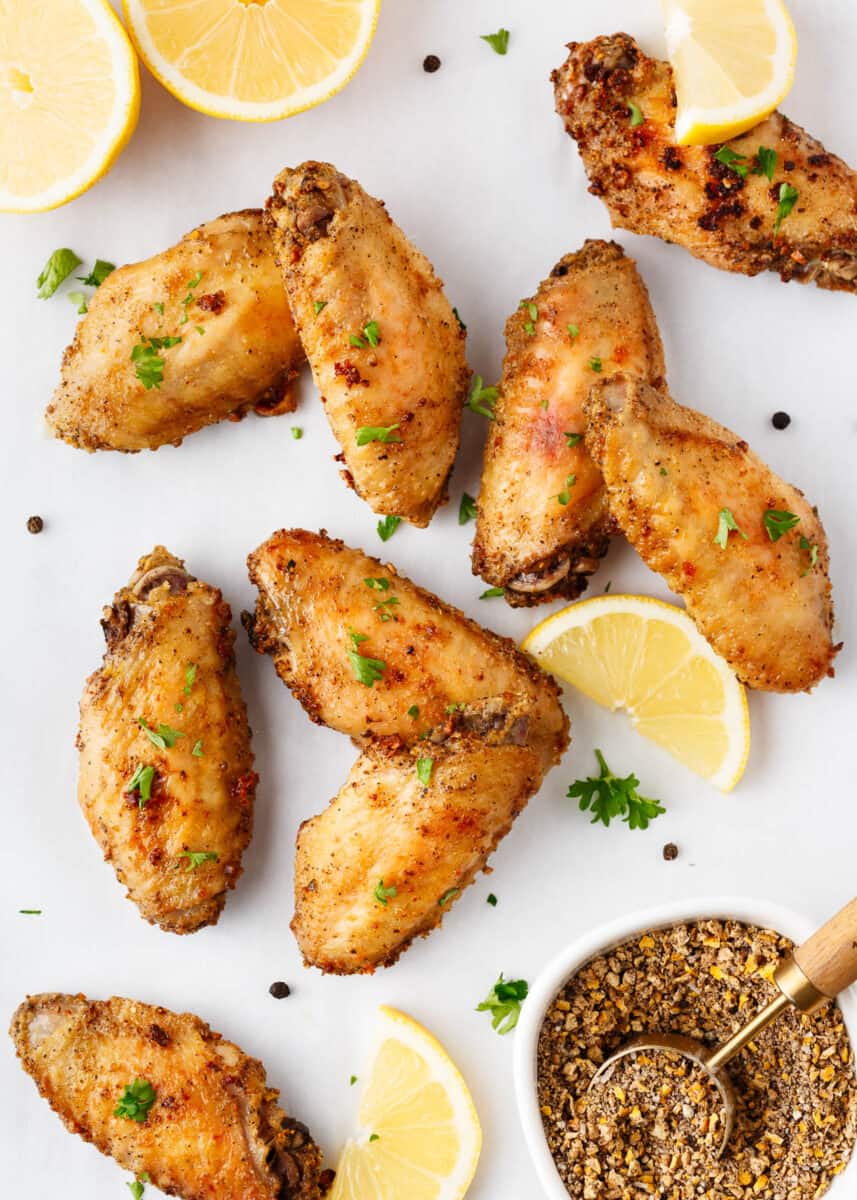 Recipe FAQs
How do I know when my baked lemon pepper wings are done?
They don't take long at all to cook since they're so small. Once you see them super crispy on the outside and the juices are running clear, you can bet they're done.

A more accurate way to tell is by using a meat thermometer. If it reads 165ºF, they're ready.
Can I turn these into air fryer lemon pepper wings?
Absolutely! Spray the air fryer basket with cooking spray, layer the wings in a single layer (you may need to do this in batches), and bake at 400ºF for 16 minutes, flipping halfway.
What is the secret to crispy wings?
We are not deep frying them, so instead we use the secret ingredient known as baking powder!

A few other key points to remember are to pat them dry to remove excess moisture, spread them far enough apart so that the heat can circulate the entire wing, cook them in an air fryer or a rack on a baking sheet in the oven, and do not use too much oil.
How to Store and Reheat
You can store leftovers in an airtight container in the fridge for up to 1 week. To reheat, just pop them back into the oven or use the air fryer. You can also use the microwave, but they will not crisp back up like they will using the other methods.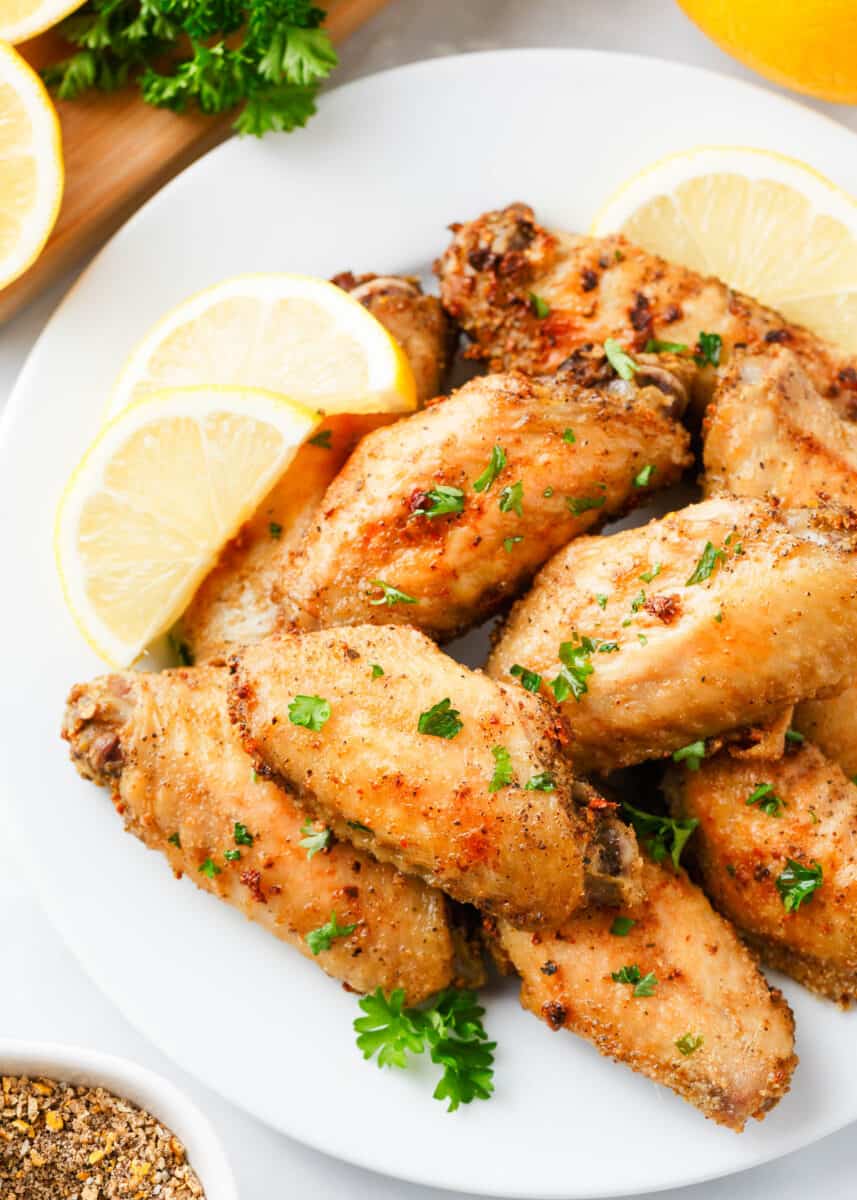 HUNGRY FOR MORE? Subscribe to my newsletter and follow on Facebook, Pinterest and Instagram for all the newest recipes!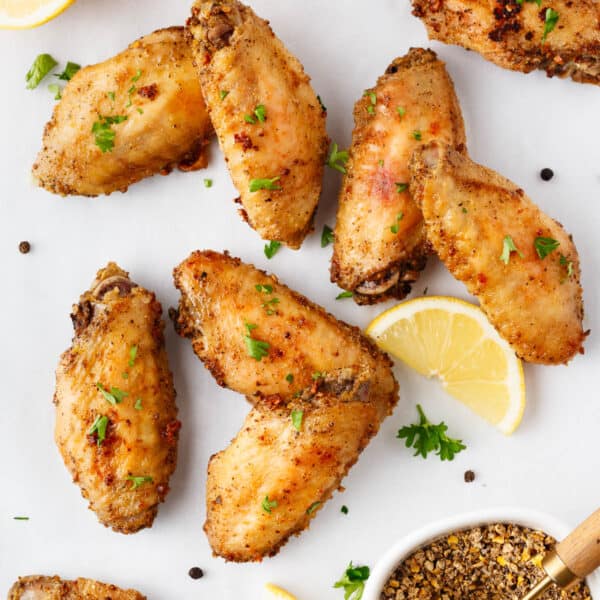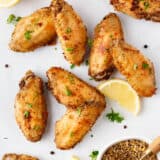 Lemon Pepper Chicken Wings
Crispy on the outside, fall party juicy on the inside, then coated in a finger-licking citrus flavor. These baked lemon pepper wings are made with just 3 ingredients and no deep frying for a healthy flavorful appetizer or main meal!
Ingredients
Chicken Wings
1 ½ pounds chicken wings (about 20 fresh, not frozen)
1 Tablespoon baking powder
1 Tablespoon lemon pepper seasoning
Instructions
Preheat oven to 425ºF. Line a baking sheet with foil and coat with non-stick cooking spray. Place a wire rack on the pan if you'd like them less greasy.

Make sure your wings tips are removed and separated into wings and drums if they are not already. Pat your wings dry with a paper towel. Make sure they are completely dry.

Place the baking powder and lemon pepper in a zip-top bag. Shake until combined. Add the chicken and shake until coated. Place wings in a single layer on top of the rack.

Bake 30 to 40 minutes, or until crispy, flipping halfway through. Let sit a few minutes.
---
Nutrition
Calories: 83kcal | Carbohydrates: 1g | Protein: 7g | Fat: 6g | Saturated Fat: 2g | Polyunsaturated Fat: 1g | Monounsaturated Fat: 2g | Trans Fat: 1g | Cholesterol: 28mg | Sodium: 260mg | Potassium: 179mg | Fiber: 1g | Vitamin A: 54IU | Vitamin C: 1mg | Calcium: 57mg | Iron: 1mg
Nutrition provided is an estimate. It will vary based on specific ingredients used.
Did you make this recipe? Don't forget to give it a star rating below!