Jump to Recipe⌄
Creamy Chicken Taquitos
Creamy Chicken Taquitos – an easy and delicious crock pot meal teaming a creamy, delectable chicken mixture with Tex Mex spices. A perfect dinner for busy weeknights!
I made these on Friday and they were so good, I just had to share!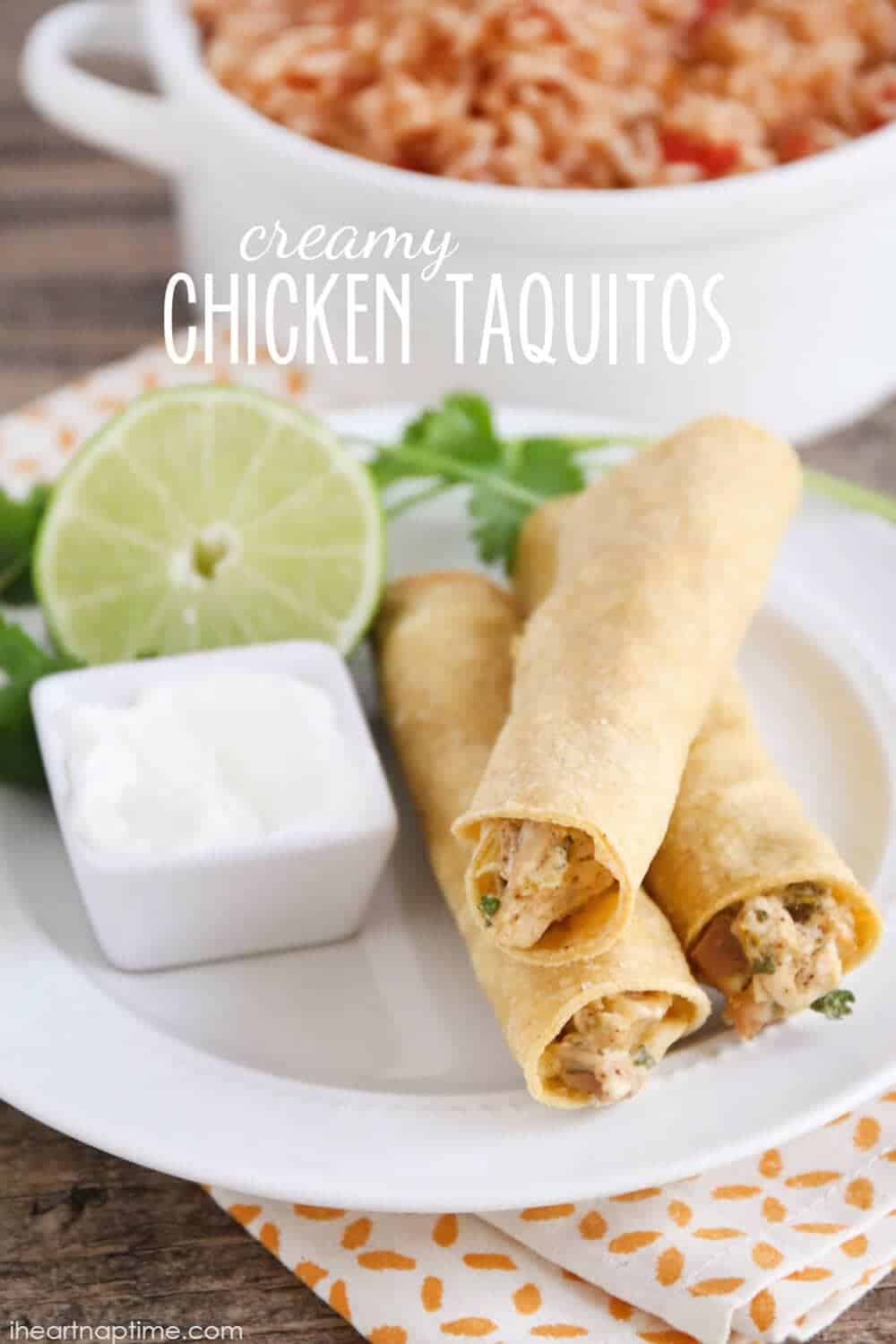 I love being able to prepare dinner earlier in the day, so when the dinner rush time is here, it's a breeze to get on the table!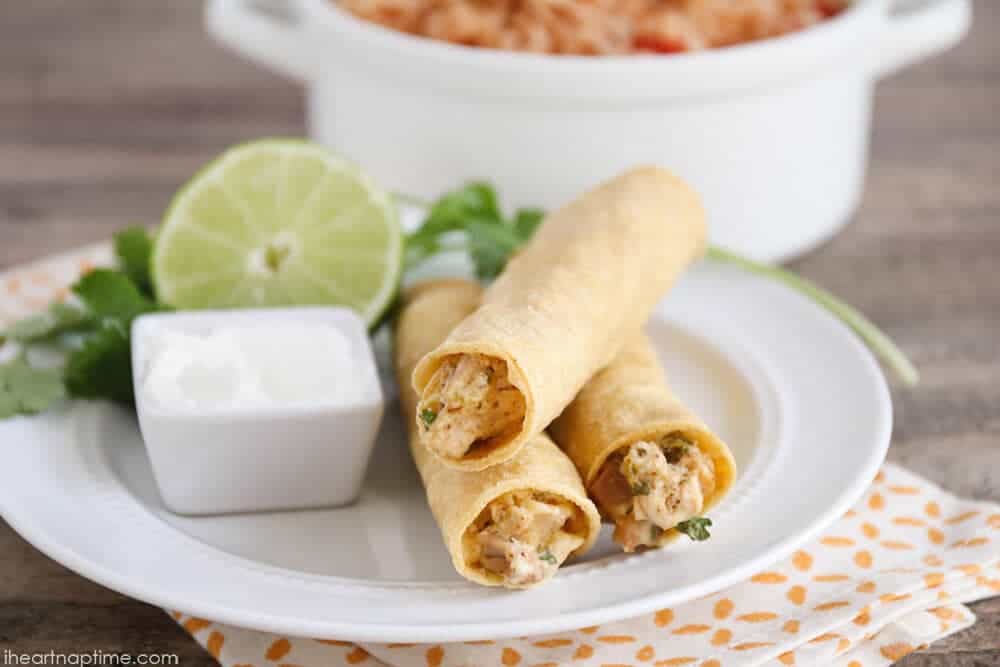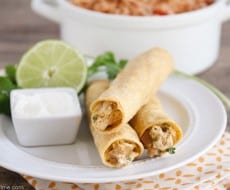 Creamy Chicken Taquitos
Ingredients:
1 lb. frozen chicken breasts
1 juiced lime
2 cloves garlic, pressed or coarsely chopped
1/2 tsp. chili powder
1/4 tsp. cumin
1/2 tsp. Kosher salt
1/4 tsp. black pepper
*Chicken Mixture*
1/3 C (3 oz) cream cheese
1/4 C green salsa
1T fresh lime juice
1/4 t cumin
1/2 t chili powder
1/4 t granulated garlic, or garlic powder
3 T chopped cilantro
2 T onions
1 C grated pepperjack cheese
small corn tortillas (or flour)
kosher salt
cooking spray
Directions:
1.Put chicken  and 1/4 cup water in crock pot on high for 5 hours, Shred and let cool.
2.Heat oven to 400. Line a baking sheet with foil and lightly coat with cooking spray.
3.Heat cream cheese in the microwave for about 20-30 seconds so it's soft and easy to stir. Add green salsa, lime juice, cumin, chili powder, and granulated garlic. Stir to combine and then add cilantro and green onions. Add chicken and cheese and combine well.
4.Work with a few tortillas at a time and heat in the microwave until they are soft enough to roll without cracking. It helps to place them between damp paper towels. Usually 20-30 seconds will do it. If you find yours are cracking when you roll them or are coming unrolled right away, just try heating them longer and try placing them between damp paper towels.
5. Place 2-3 T of chicken mixture on the lower third of a tortilla, keeping it about 1/2 inch from the edges and roll up.
6. Place seem of tortilla on pan, spray with pam and sprinkle some salt on top.
7. Cook for 15 min….and enjoy!!!
Adapted from Our Best Bites
All images and text ©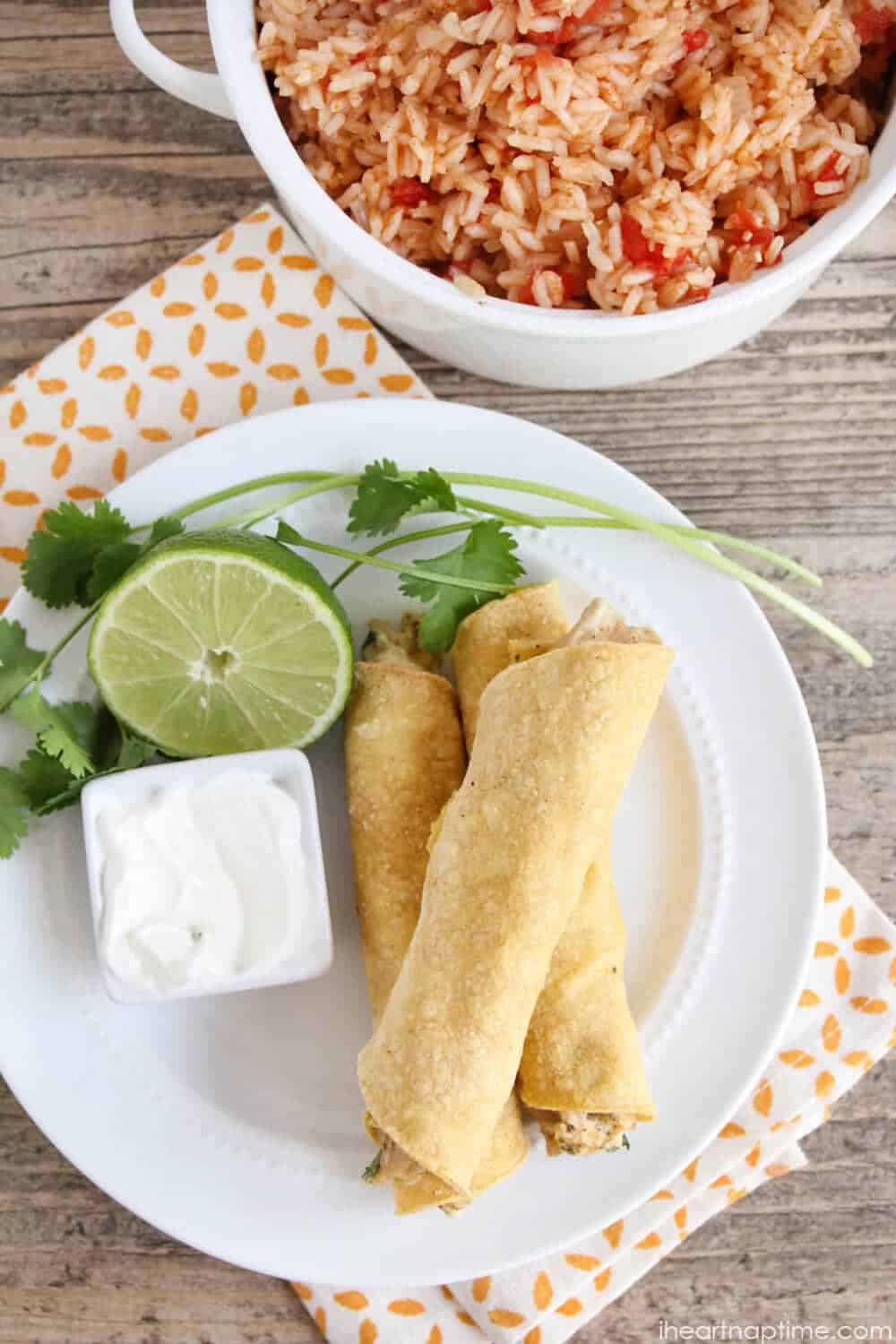 They're delicious!
I topped mine with pico and served with cilantro rice and beans!
Enjoy this delicious, easy weeknight meal? You'll like these, too!
Post originally published May 4, 2010; republished with new images December 6, 2015. Below is an original photo from the original publish date.