Amazing sugar cookie bars that are soft, fluffy, and absolutely delicious! Half the work of traditional sugar cookies tastes just as good! Topped with a rich buttercream frosting to make the ultimate sweet treat!
If you love sugar cookies, Swig cookies or sugar cookie truffles, you're going to love these bars!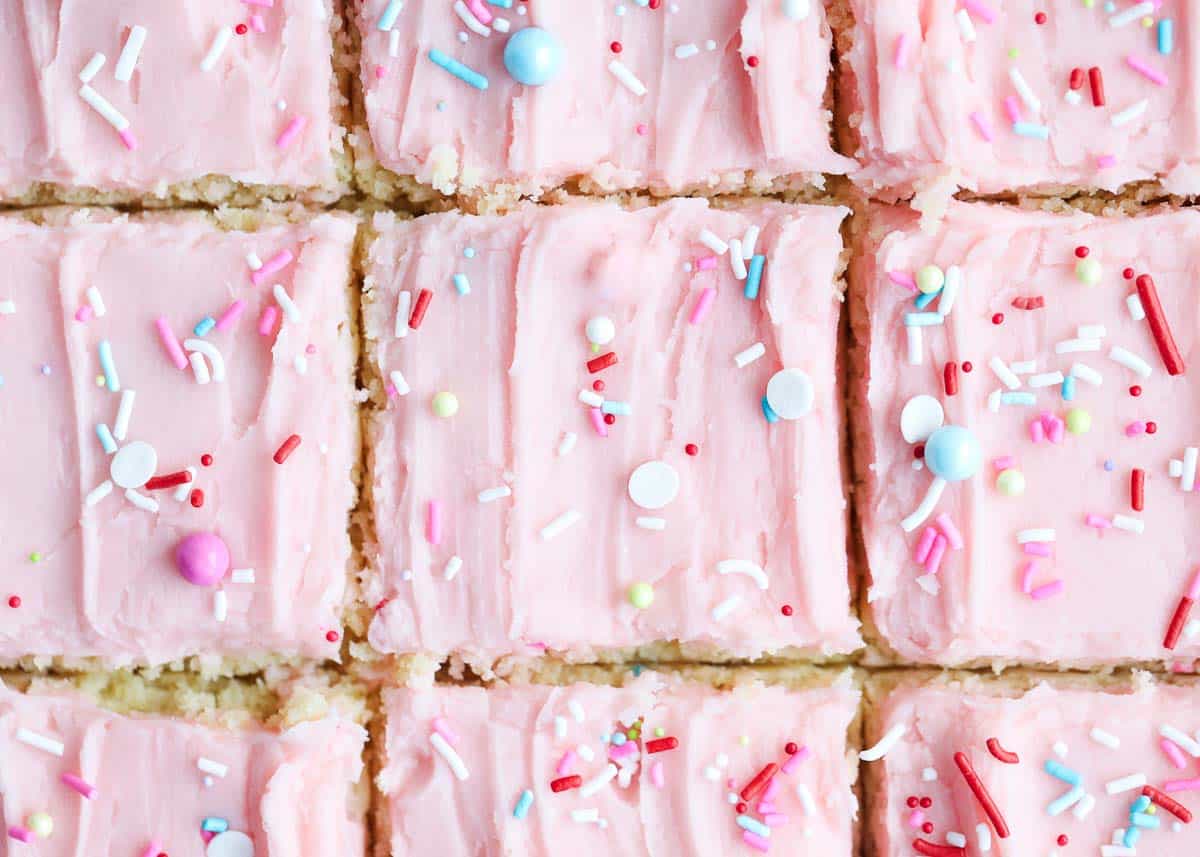 Frosted Cookie Bars
This sugar cookie bars recipe is one of the tried and true desserts that I've been making over the years. Another favorite variation that uses a sugar cookie base is this fruit pizza with a sugar cookie crust.
These cookie bars that I'm sharing today turned out so good! The nice thing about them is that they are half the work as a cut out Christmas sugar cookie but taste just as good. The frosting is also one of my favorites. These really are the perfect treat for any occasion!
Sugar Cookie Bars Recipe Ingredients
I believe there are two ingredients that make a good sugar cookie: sour cream and powdered sugar. The sour cream keeps the dough moist and the powdered sugar makes the dough fluffy.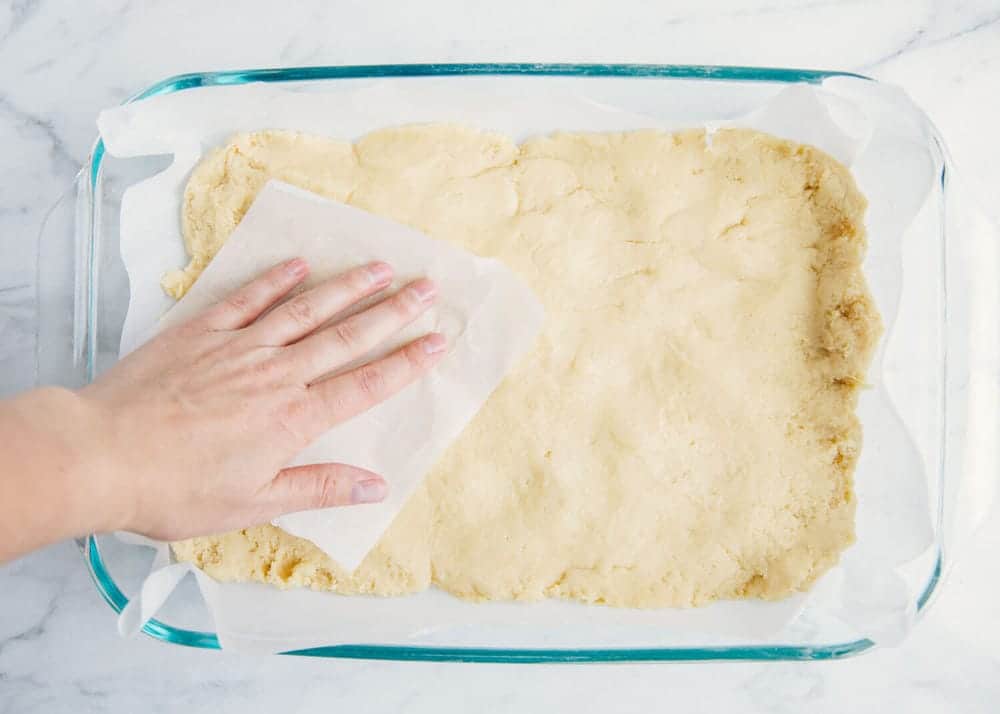 Find the full printable recipe with specific measurements below.
Baking flour: Gives these cookies the base and adds texture and thickness to the sugar cookie dough.
Salt: This is a flavor enhancer but also gives it the fluffy texture you need in all cookies.
Baking powder: Increases volume in the cookie dough while being baked.
Butter: Salted butter gives an extra boost of salt and flavor that helps build up the dough while being baked in the oven.
Sugar: Adds the sweetness!
Powdered sugar: This helps absorb moisture and gives cookies a lumpy appearance but also a soft and chewy texture.
Vanilla extract: Blends the flavor together.
Egg: Gives structure and combines the dough together.
Egg white: Has a secret way of adding moisture and helps with the chewy texture.
Sour cream: Chewy and flavorful cookies are the best! This sour cream does just that!
How to Make Sugar Cookie Bars
These easy sugar cookie bars are so easy to make and taste amazing! The perfect amount of dough to frosting ratio. Make these for an easy cookie recipe. Easy to cut and slice rather than scoop and bake several baking sheets.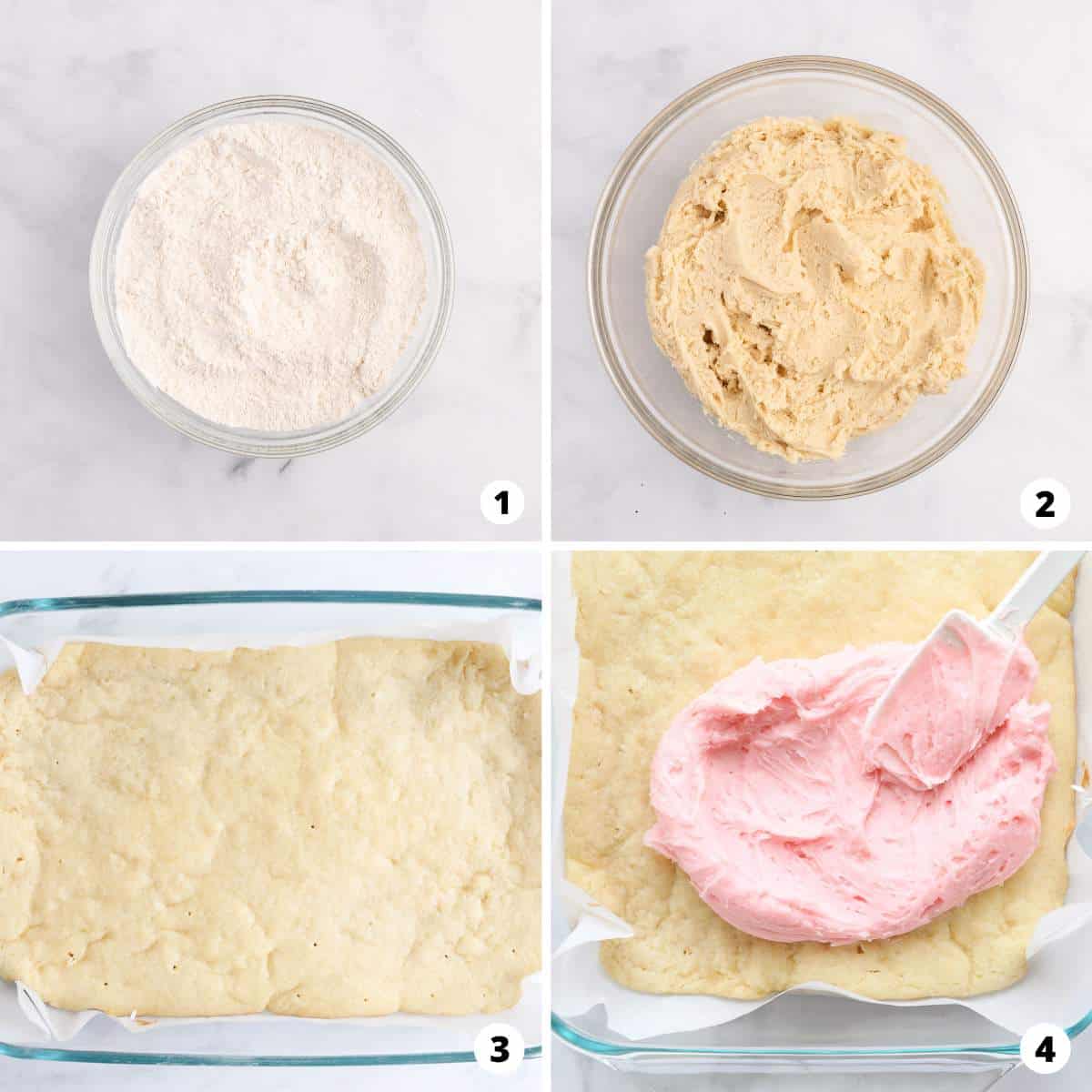 Dough. Combine the flour, salt, and baking powder in a medium bowl. Set aside.
Beat. Use an electric mixer or stand mixer to mix together the butter, sugar, and powdered sugar for about 3 minutes, until fluffy. Next mix in the vanilla, eggs, and sour cream. Add the dry ingredients to the bowl with the wet ingredients and mix until combined.
Assemble. Pour the dough mixture into a buttered 9×13″ glass baking dish. Press down on the dough to spread it out smoothly in the pan.
Bake. Bake at 350°F for 20 minutes (until lightly browned) and then let cool.
Frosting
Buttercream is my favorite frosting to spread on top. They would also taste delicious with cream cheese frosting, sour cream frosting, or strawberry buttercream.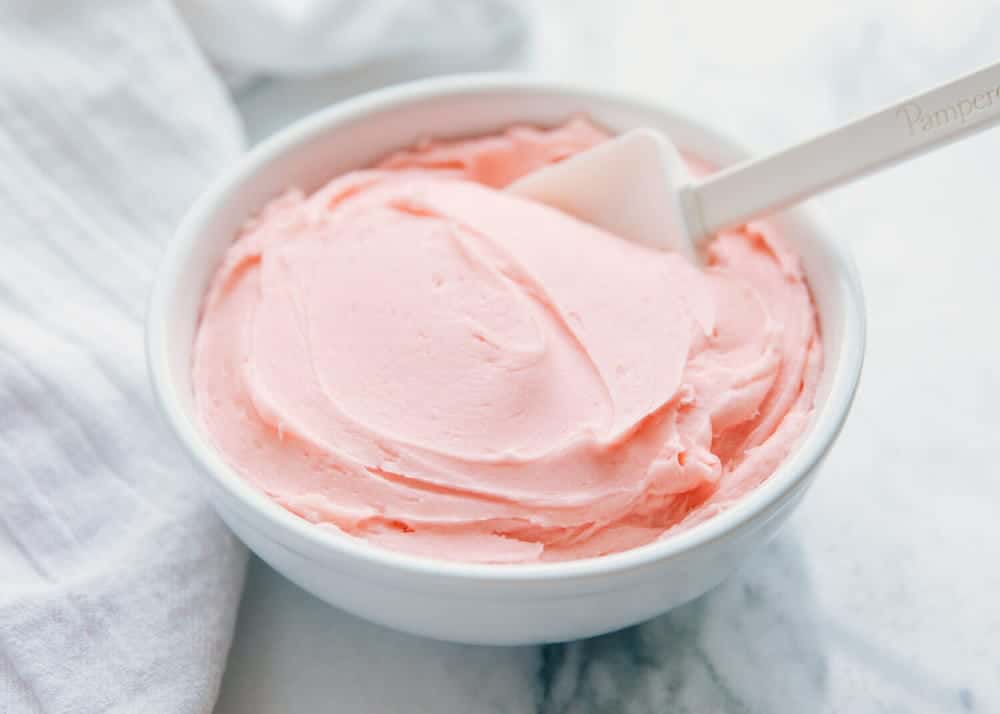 Combine all frosting ingredients in a large bowl.
Beat together with a mixer until fluffy, about 2 minutes.
Once the bars have cooled completely, spread the frosting evenly over top with a spatula.
Decorations
The great thing about these sugar cookie bars is that they are perfect for literally any occasion. You can decorate them for a birthday, baby shower, holiday, or even just for fun! Below are a few fun decorations to add:
Coloring. Color the frosting with food coloring. Celebrate special occasions and choose the best color for that celebration or holiday.
Sprinkles. Add sprinkles on top! Rainbow, holiday, or colored ones for special events.
Dough. Can also mix sprinkles in with the dough. Add the sprinkles to the dough before baking.
Toppings. Add M&M's on top of the frosting or any other candy you love over top of the frosting.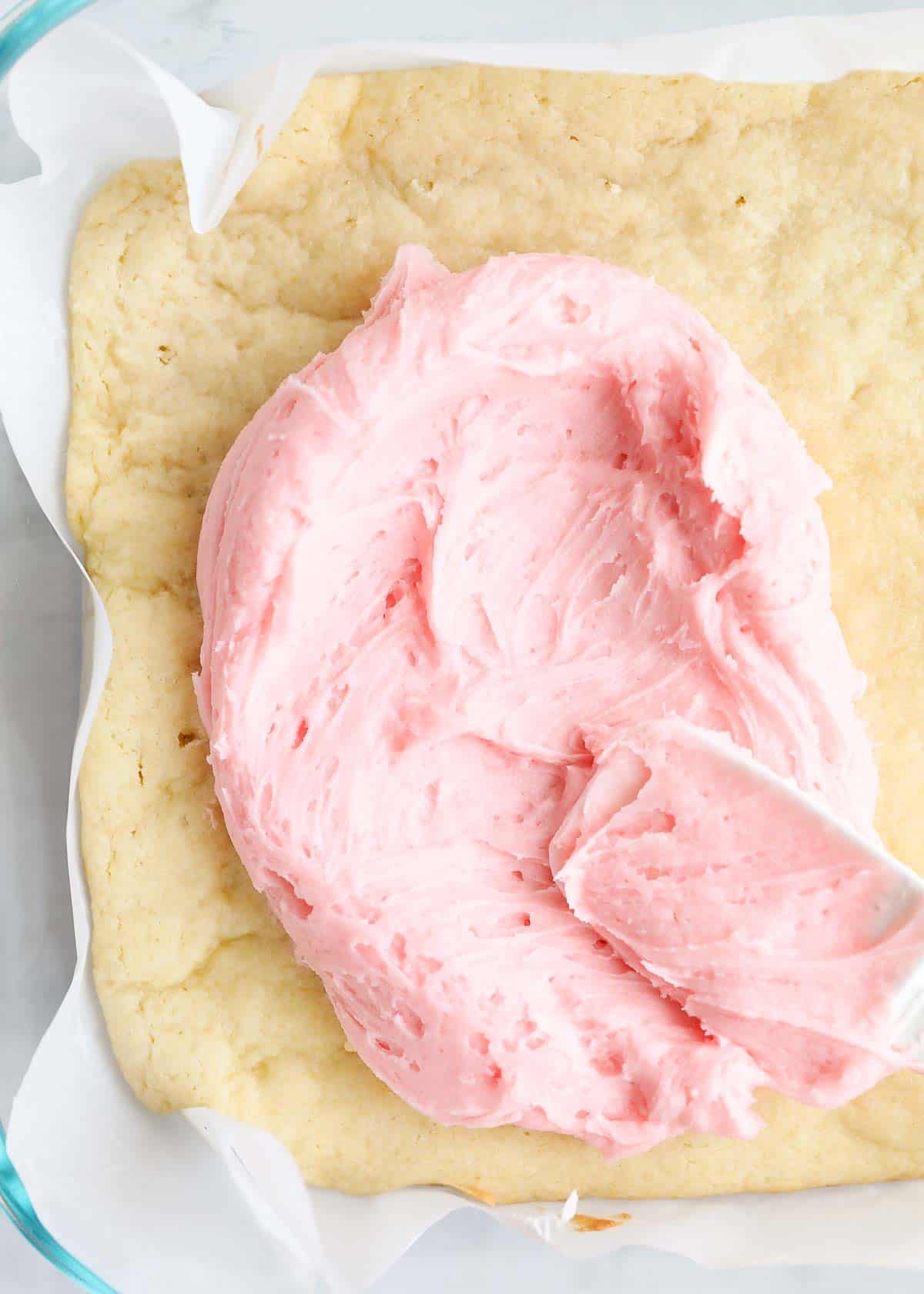 5 star review
"Absolutely delicious! Made them four times so far–any time I have to bring a dessert somewhere, I make these! So easy and yummy!"

– Casey
Baking Tips
Follow these baking tips to learn how to make the perfect sugar cookie recipe. Add extra flavor, perfect baking, and frosting tips are the best way to make these cookies. This makes it simple and easy to make!
Extra flavor. Can add almond extract or lemon extract to the dough for extra flavor.
Smooth. After pouring the dough into the pan, I use a piece of parchment paper to press it down to create a smooth and even surface.
Baking. Remove from the oven when the edges are lightly golden. The center will continue cooking as it cools.
Cutting. Use a sharp knife to cut the cookies into sections. In between each slice, wipe the frosting off the knife before slicing again. This will give clean slices each time.
Frosting. Make sure the bars have cooled completely before frosting. You don't want the frosting to melt!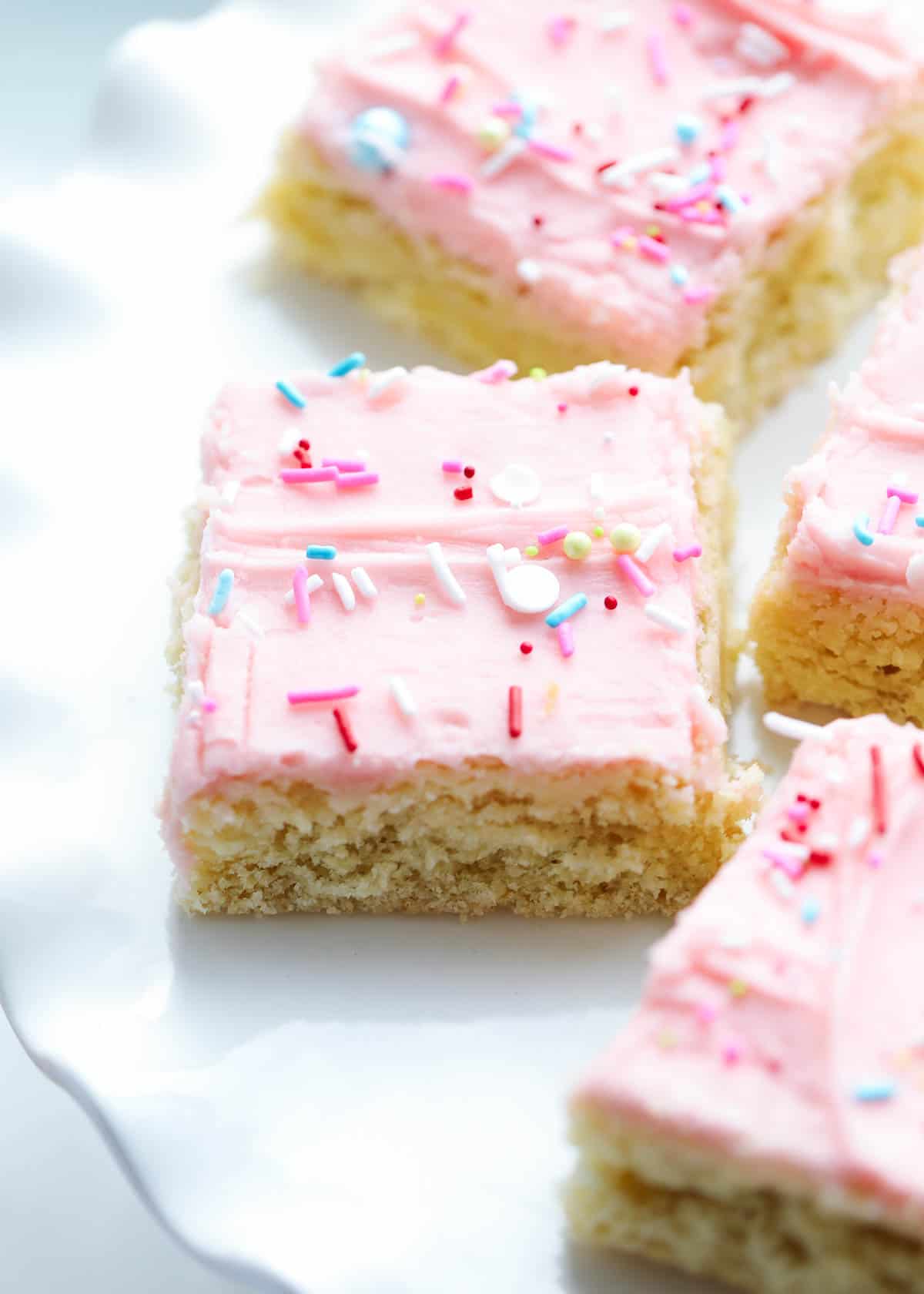 Recipe FAQs
When are cookie bars done?
These easy sugar cookie bars will bake up and turn a light golden yellow color with a soft-looking crust on top. Use a wooden pick to place in the middle of the baking pan. If the toothpick comes out clean, the cookies are done, if not bake for a few more minutes.
How do you store sugar cookie bars?
Simple! Let your baked sugar cookies cool to room temperature. Either cover the baking dish with plastic wrap or slice the cookies into squares or shapes and place them in an airtight container and place them in the fridge for four to five days or until they become hard.
Can you freeze sugar cookie bars?
Yes! These cookie bars are perfect to store and freeze. Let the cookies cool and place them on a cookie sheet with parchment paper to freeze. This takes about 30 minutes. Then place those cookie squares in a ziplock bag or airtight container and store them in the freezer for one month.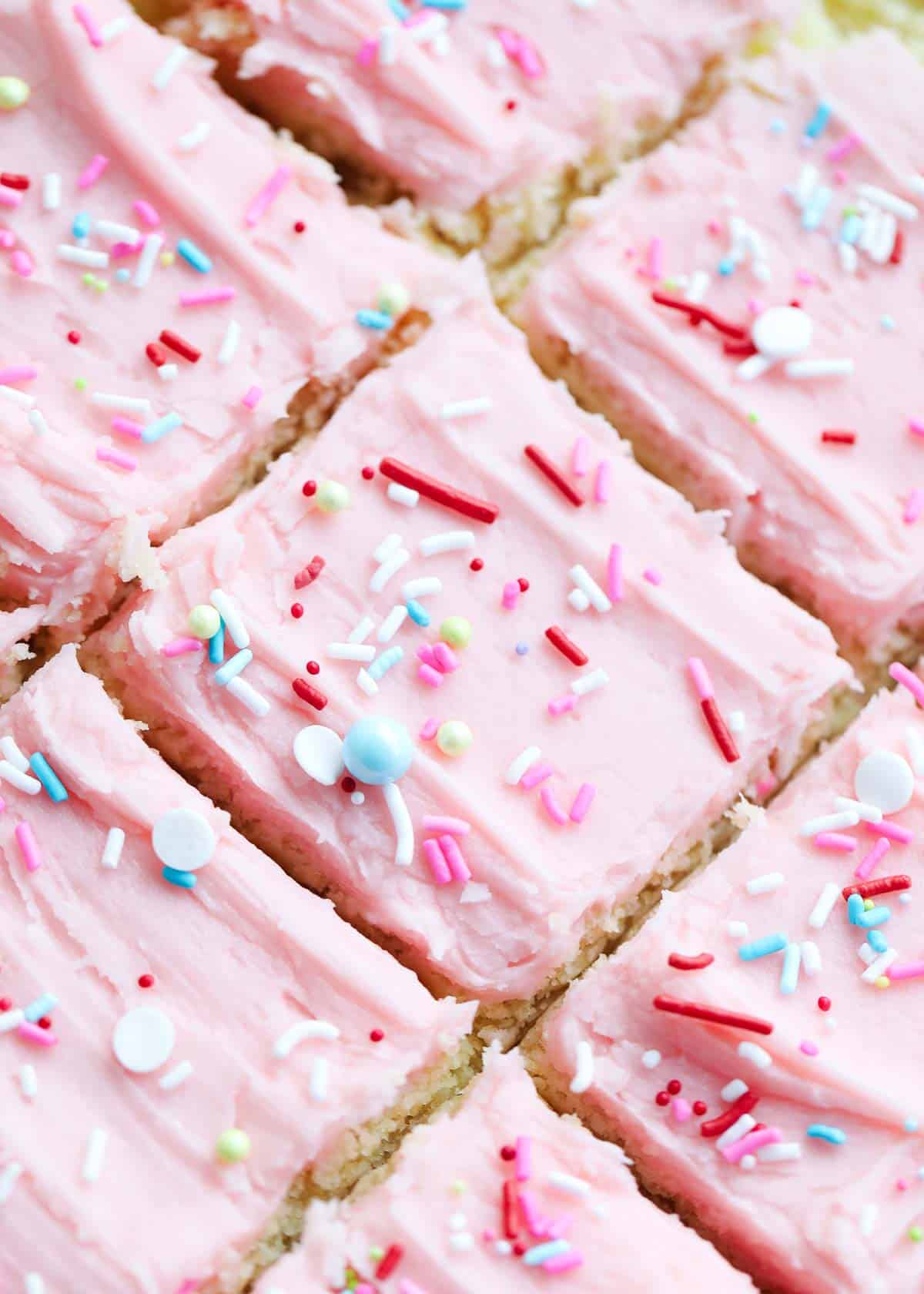 More Cookie Bar Recipes
HUNGRY FOR MORE? Subscribe to my newsletter and follow on Facebook, Pinterest and Instagram for all the newest recipes!
Sugar Cookie Bars Recipe
Amazing sugar cookie bars that are soft, fluffy and absolutely delicious! Half the work of traditional sugar cookies and taste just as good! Topped with a rich buttercream frosting to make the ultimate sweet treat!
Ingredients
For the Bars:
2 ½ cups baking flour
½ teaspoon salt
1 teaspoon baking powder
½ cup salted butter (softened)
¾ cup granulated sugar
¼ cup powdered sugar
1 teaspoon vanilla extract
1 egg
1 egg white
¼ cup sour cream
For the Buttercream Frosting:
Optional: Sprinkles for topping
Instructions
Bars:
Preheat oven to 350°F. Combine flour, salt and baking powder in a medium-sized bowl. Set aside.

With a mixer, combine butter, sugar and powdered sugar until fluffy (about 3 minutes). Pour in vanilla, eggs and sour cream and mix until combined. Then pour dry ingredients into this bowl and mix until combined.

Place mixture in a buttered 9×13" glass pan. Press down on dough with hands (or a piece of parchment paper) to smooth out the surface to avoid lumpiness. Bake for 20 minutes or until lightly browned. Do not over cook.
Frosting:
Combine ingredients in a large bowl and beat with a mixer for 2 minutes, or until fluffy.

Once the bars have cooled completely, pour frosting over top and spread evenly with a spatula.

Optional: Top with sprinkles for a decorative touch!
---
Nutrition
Calories: 208kcal | Carbohydrates: 31g | Protein: 1g | Fat: 8g | Saturated Fat: 5g | Cholesterol: 29mg | Sodium: 90mg | Potassium: 29mg | Fiber: 1g | Sugar: 22g | Vitamin A: 270IU | Calcium: 24mg | Iron: 0.5mg
Nutrition provided is an estimate. It will vary based on specific ingredients used.
Did you make this recipe? Don't forget to give it a star rating below!