Christmas crack toffee recipe
Thanks for stopping by! To get our newest post make sure to subscribe (for free!) or like us on facebook or pinterest.
Happy Friday!! Who is excited for the weekend? Me, me me! My husband has Saturday AND Sunday off this week so I'm hoping to squeeze in a date night. ;) You know what else I'll be doing… making more Christmas crack. You are going to want to put this recipe on your MUST MAKE list this year because it is seriously amazing. It takes SWEET and SALTY to a whole new level. The best part? One of my favorite Christmas desserts and it only takes about 15 minutes to make!
This recipe should be familiar to you. I'm sure many of you that have awesome grandma's have tried this recipe before. ;) I shared my grandma's saltine cracker toffee over the summer and this is just a glorified version. In my opinion everything tastes better with chocolate and the M&M's make it so festive. You could also top your Christmas crack with crushed saltines, sea salt, toasted coconut, slivered almonds, pecans or heath bits.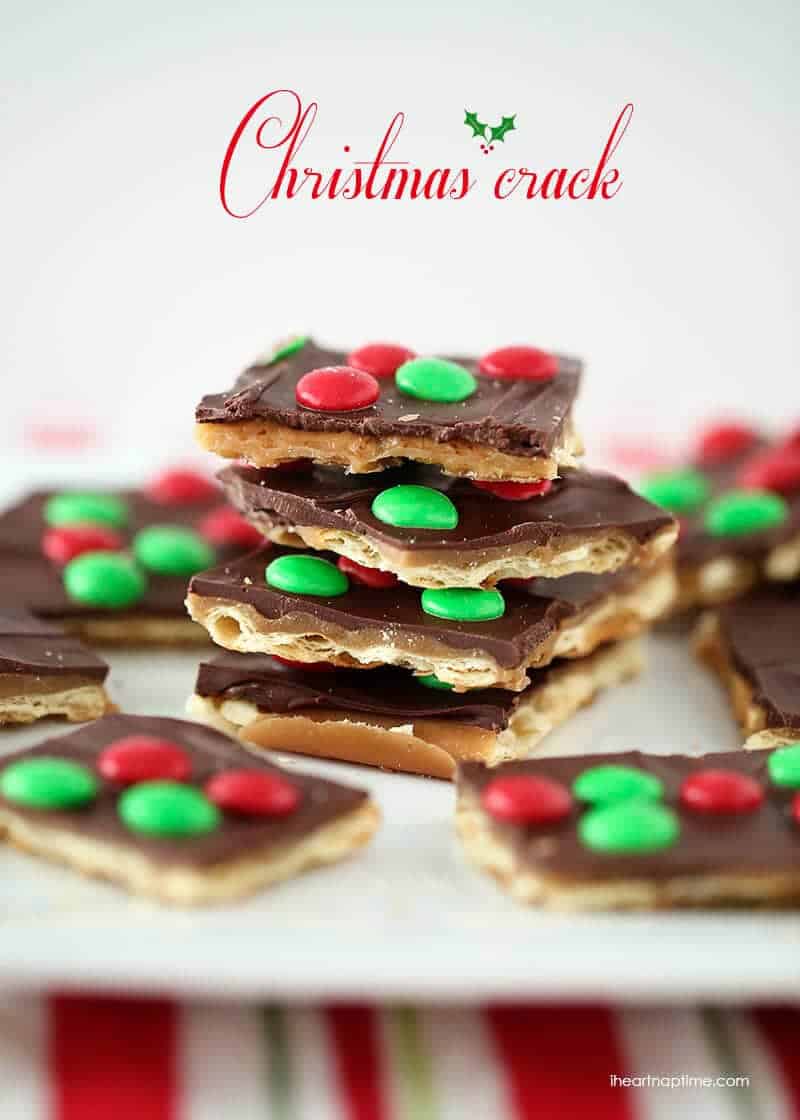 Would be perfect to add to your holiday plates with your favorite Christmas cookies.
Christmas toffee
Ingredients:
50 saltine crackers (approx.)
2 sticks (1 cup) butter, cubed
1 cup soft light brown sugar, packed
2 cups chocolate chips
1/2 to 1 cup M&M's, chopped nuts or sliced almonds
Directions:
Pre-heat oven to 325°F.
Line a large jelly roll pan with aluminum foil. Spray the foil with non-stick cooking spray and then line the pan with saltine crackers.
Place the butter and sugar in a medium sized pot over low medium-low heat. Stir until the butter is melted. Once the butter has melted, bring to a boil for 2-3 minutes. Stir constantly.
Once it's nice and bubbly, remove pan from heat and pour evenly over saltine crackers. Spread mixture with a knife... however it doesn't have to be perfect. Try to move fast during this part so the toffee doesn't harden.
Place pan in the oven and bake for 6-8 minutes. The mixture will spread evenly over the crackers as it bakes.
Remove pan from oven and then sprinkle the chocolate chips on top of the toffee while it's still hot. Let the chocolate chips melt for a few minutes and then spread all over the toffee with a spatula. Sprinkle M&M's (or nuts) on top and then place in the freezer for 30 minutes. Once chocolate has hardened break pieces off the foil and in an container. It will stay fresh for 1 - 2 weeks.
For variation use graham crackers.
Beware… this toffee is seriously addicting! For step-by-step photos for making the toffee make sure to check out this post.
Put some in a jar and pass out to your neighbors and friends. I even have a free printable for you.
Free download
You can download this holiday print HERE. Just right click on the image and then save to your computer. For personal use only.
I printed mine out on sticker paper (found on Amazon) and then punched it out with a 2inch circle punch. You could also cut it in a square and put a hole punch in the top and tie it on with ribbon or twine.
Enjoy!! :D
Here are a few more holiday recipes you'll love:
Original saltine toffee recipe from gramma
Hope you have enjoyed following the Crazy Christmas Event. Next week is handmade gift ideas!
Make sure to follow the Crazy Christmas Event HERE all through the holidays.
Question: What are your weekend plans?
I'll be doing a trial Thanksgiving on Sunday… since I usually leave the turkey making up to my Mom. Wish me luck!
Join in! Leave a comment!
Comments