Made with a crispy shell, filled with black beans, rice, shredded chicken, taco seasoning, and melty cheese, then baked until golden. Easy sheet pan quesadillas can be customized to your liking and ready in 40 minutes to satisfy any crowd for game day parties or simple weeknight dinners!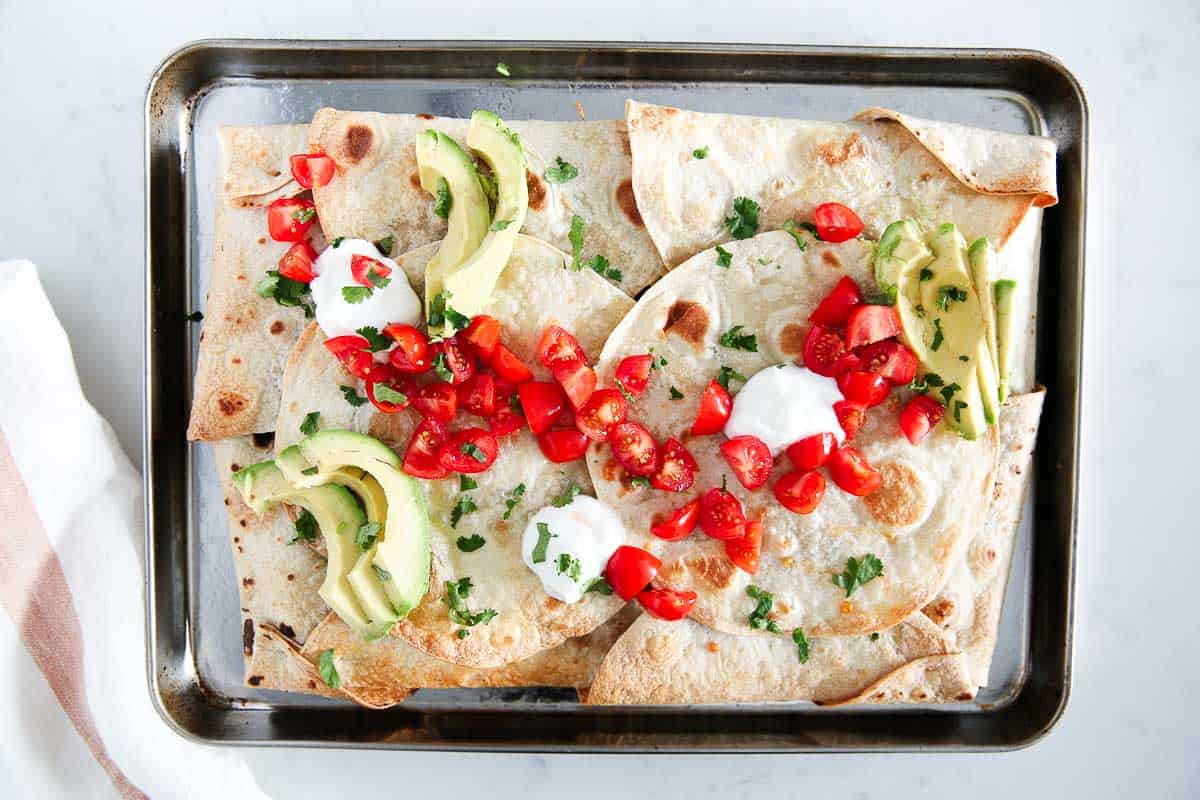 Chicken Sheet Pan Quesadillas
Easy sheet pan quesadillas, like all sheet pan dinners, are meant to be a convenient and effortless way to serve a crowd. This giant quesadilla is one of my favorites for casual parties and easy weeknight dinners with the family.
This sheet pan quesadilla can also be served as a snack, packed in a to-go lunch, and is one of my favorite Super Bowl recipes!
It's loaded with shredded chicken, beans, rice, and taco seasoning for a Mexican-inspired favorite! You'll love how customizable it is. I like to lay out the toppings for everyone to choose their own. Once they get their piece they can top it, dip it, or keep it plain!
Serve your versatile sheet pan quesadilla recipe alongside buffalo chicken dip, soft pretzel bites, and spinach artichoke dip for an unforgettable spread!
As we all know, good eats are the secret to any good party!
Why This Recipe Works
Easy. Instead of making individual quesadillas and worrying about flipping them, we're using multiple wraps to make one giant one that doesn't require flipping halfway!
Customizable. Sheet pan quesadillas can be made with all kinds of fillings. Next time turn leftover bbq pulled pork into pork quesadillas into a sheet pan dinner.
Budget-friendly. Nothing in this recipe is pricey. It's especially great if you're using up leftover rice and beans or leftover chicken.
Recipe Ingredients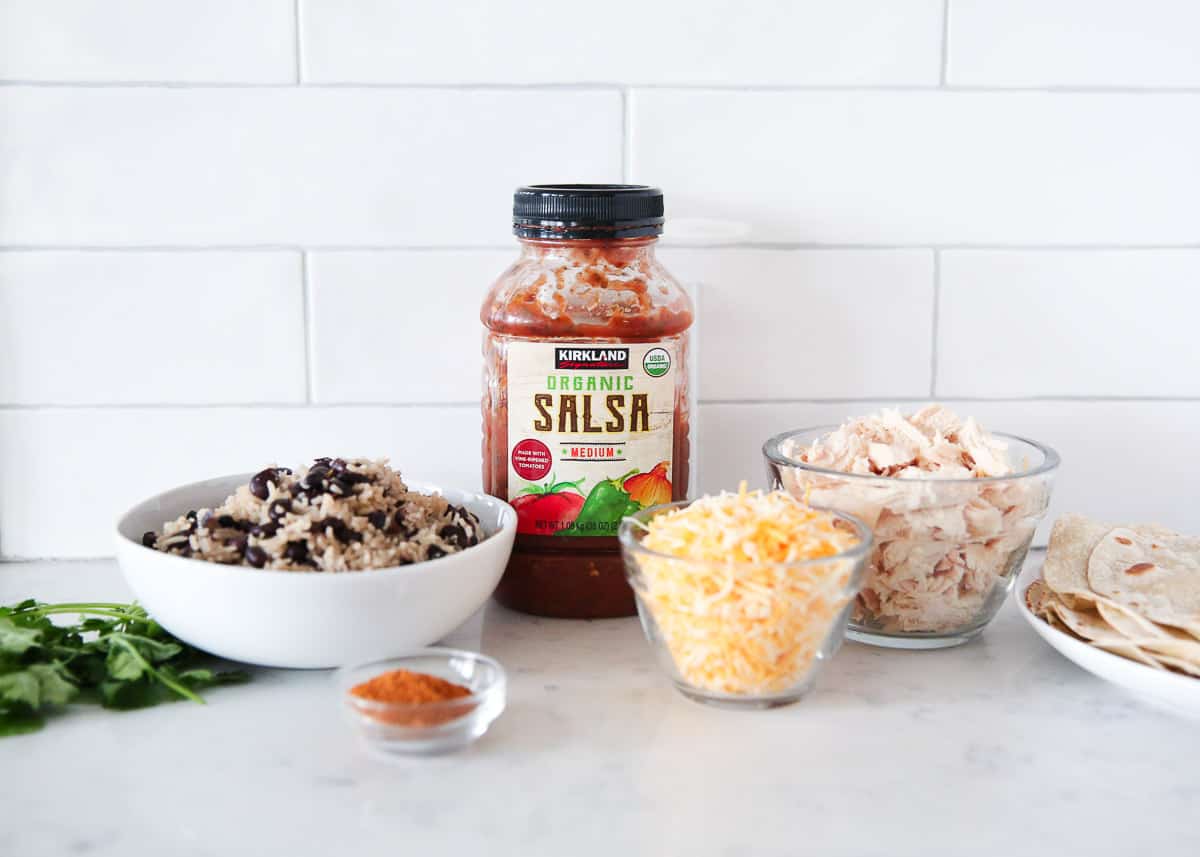 Find the full printable recipe with specific measurements below.
Rotisserie chicken: Leftover shredded chicken breast or store-bought shredded rotisserie chicken can be used. This is all about convenience, so do whatever works.
Rice: Pre-cooked rice will make this easier. You can use leftovers, make it ahead of time, or if you have some extra time, cilantro lime rice has impressive flavor.
Black beans: Drained and rinsed canned beans are great. Dry beans would take too long unless you plan ahead and presoak them overnight. Use what you've got on hand. Pinto beans can be used in place of black beans.
Salsa: I have a delicious homemade restaurant style salsa recipe worth using!
Taco seasoning: I also have a blend of homemade taco seasoning you should try. Make lots and have it when you need it.
Shredded cheese: Colby jack or mozzarella are flavorful cheeses that melt beautifully.
Flour tortillas: If you're using a 12×15 baking sheet like I am, you can fit about 8-10 regular-sized or large flour tortillas. Basically what you'd use for burrito size.
Optional Toppings: guacamole, pico de gallo, roasted salsa, black olives, sour cream, red onions, sliced avocado, cilantro lime crema, or cilantro. Extra cheese is never a bad idea either!
Variations
Add some extra veggies like bell peppers, corn, mushrooms, etc. You can even make it vegetarian by removing the meat and ramping up the veggies and beans. Sauteed fajita veggies are delicious!
Swap the shredded chicken in these sheet pan quesadillas for pulled pork or try ground beef for taco meat.
If you don't have taco seasoning, you can also use any of the following; chili powder, garlic powder, paprika, and even ground cumin.
You can use a different cheese or a combination of a few. Cheddar cheese, Monterey jack, or pepper jack would be yummy.
How to Make Sheet Pan Quesadillas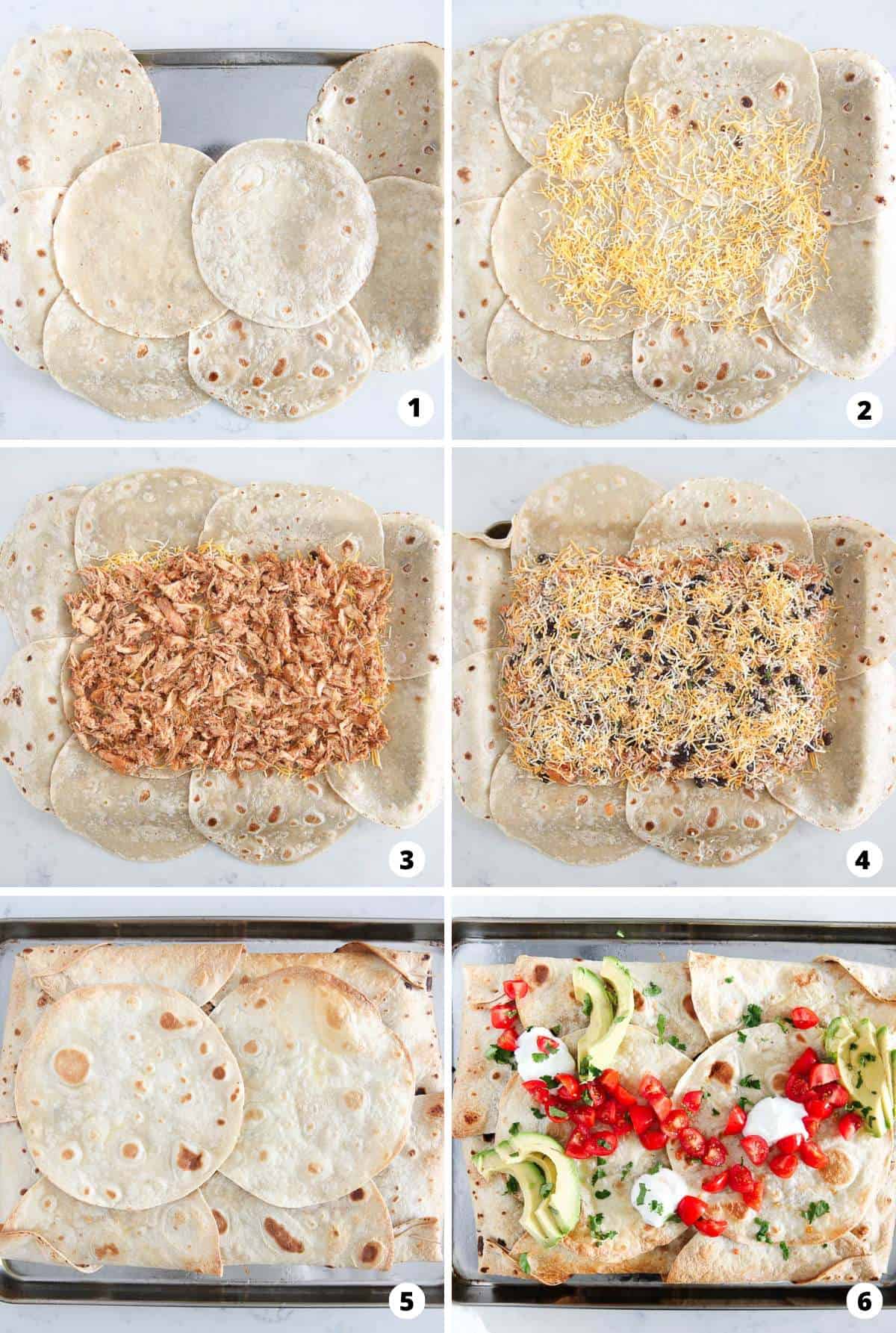 Arrange tortillas. Place room temperature tortillas around the edge of a sprayed 12-15 baking sheet with half of each tortilla hanging over the edge. Overlapping is just fine, in fact, it'll hold together better that way. If the center of the pan is showing, cover the space with a couple of extra tortilla wraps.
Add a layer of cheese. First, you'll sprinkle half of the shredded cheese in an even layer overtop the layered shells.
Combine filling ingredients. Then, combine chicken, rice, beans, salsa, and taco seasoning in a medium bowl. Season with salt and pepper and stir to combine. Add a layer of this chicken mixture overtop the cheese. Make sure to spread it evenly across the surface.
Add a second layer of cheese. Sprinkle on the remaining cheese. Again, make sure it's evenly dispersed.
Close up the quesadilla. Now, fold the overhanging sides of the tortilla over the filling. If there is any filling peeking through, add 1 or 2 tortillas in the center of the filling, overlapping each other. You can also place 1 or 2 tortillas in the center first before folding the overhanging sides.
Bake and serve. Spray the top of the folded tortillas with nonstick cooking spray or brush with a bit of olive oil and season with a little salt on top, if desired. Place a second baking sheet overtop to press it down and bake in a preheated 400ºF oven for 20 minutes before removing the top sheet and baking for an additional 5-10 minutes. Once golden brown, remove it from the oven and top it with your favorite quesadilla toppings!
Expert Tips
Use a rimmed baking sheet. It's easier to contain the sheet pan quesadillas and if for some reason some of the filling starts to fall out it'll hold that too.
Don't skip using a top pan. The reason for this is so that it bakes together, but also so that it heats up and browns both sides evenly.
Add some heat. You can add some green chiles or diced jalapeno to the filling for a spicy kick.
Allow it to cool slightly. The filling will be hot, so remember to leave it sitting for a few minutes. It's also better to wait a few minutes before slicing.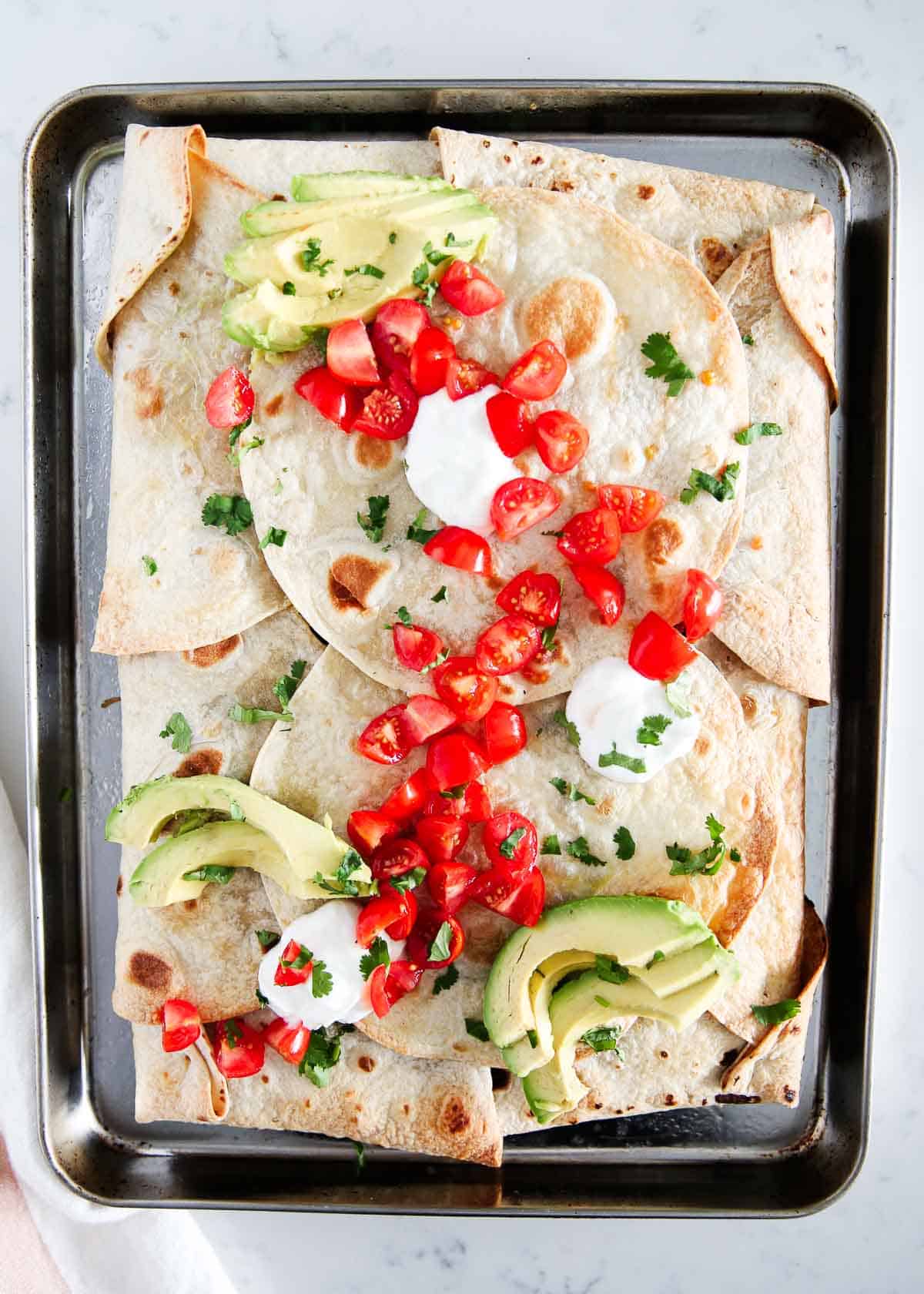 Recipe FAQs
What is the best melting cheese for quesadillas?
No matter what kind you choose, shredding it fresh from a block of cheese rather than buying pre-shredded will always melt better. Pre-shredded cheese comes with a coating that prevents the cheese from clumping together, which in the end, prevents it from melting as well.

Can I use corn tortillas instead?
I don't recommend it, only because corn tortillas are more petite, thicker, and less flexible than flour shells.
Can I use a different protein?
Sure! Ground beef or shredded beef, ground turkey, pork or even shrimp could be used instead.
What's the best way to slice easy sheet pan quesadillas?
The giant quesadilla ends up in one big rectangle, so I like to slice it into squares using a sharp knife or a pizza cutter. You can use kitchen shears as well. That way people can just pick it up with their hands and dip it into some salsa or sour cream!

Wait until the cheese has cooled a bit, otherwise, it'll be a little messy to cut into.
Storing
Keep leftover easy sheet pan quesadillas in an airtight container in the fridge for up to 3 days. Reheat in the oven or the air fryer to get it to crisp up a bit again.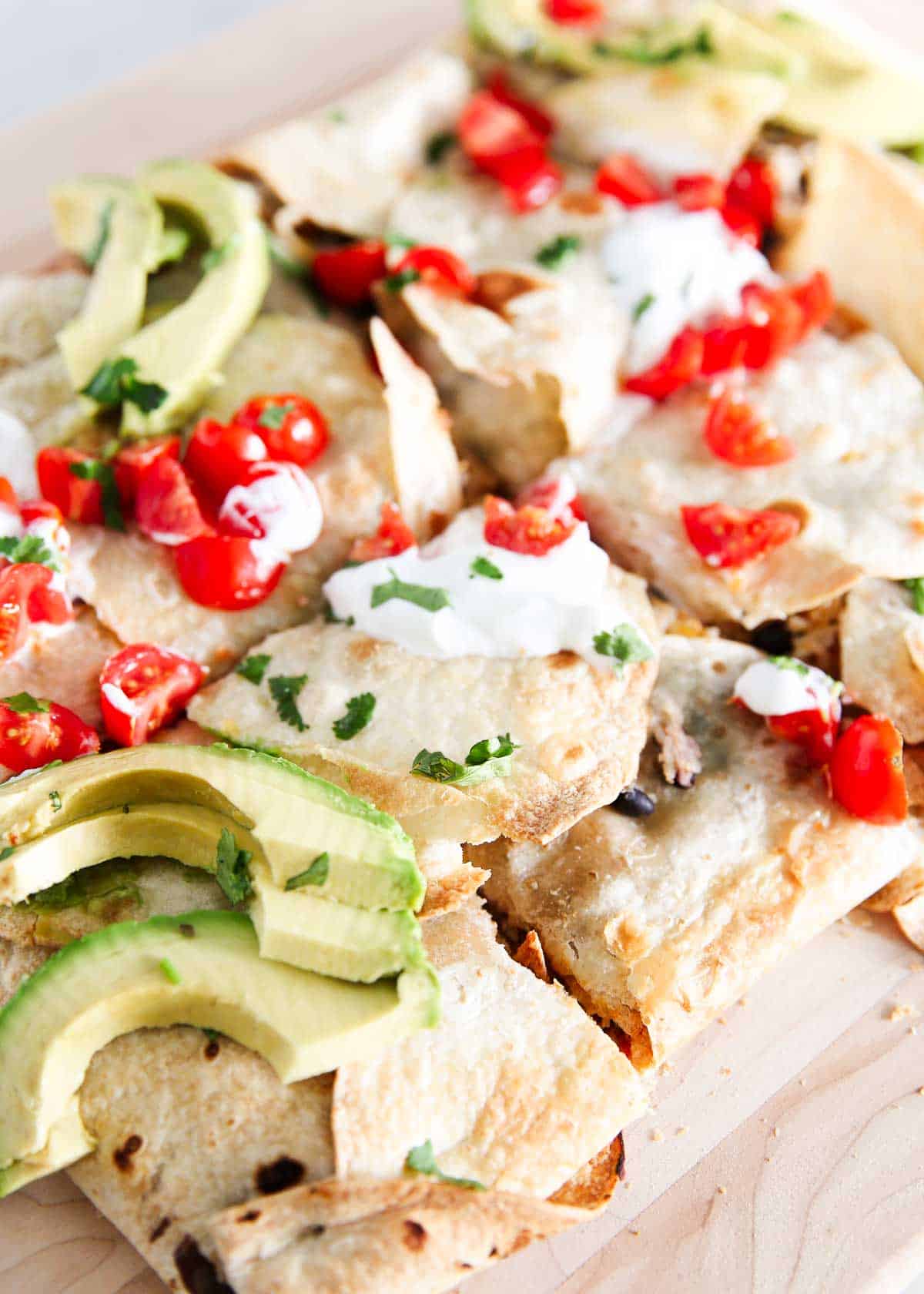 HUNGRY FOR MORE? Subscribe to my newsletter and follow on Facebook, Pinterest and Instagram for all the newest recipes!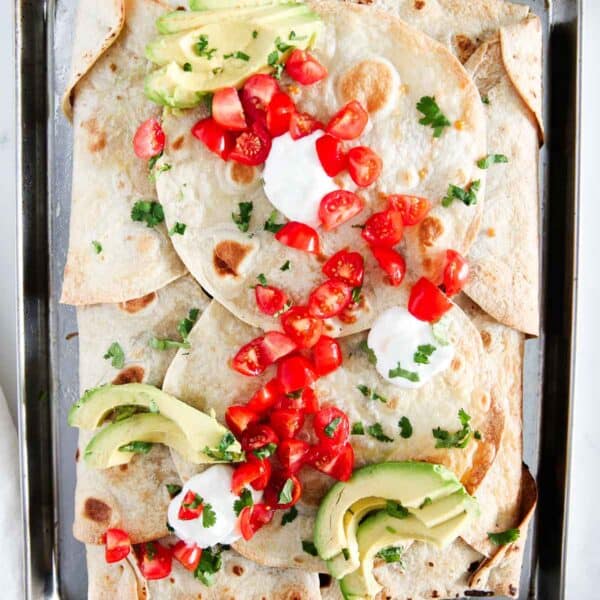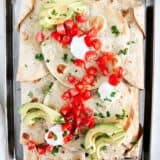 Sheet Pan Quesadillas
Made with a crispy shell, filled with black beans, rice, shredded chicken, taco seasoning, and melty cheese, then baked until golden. Easy sheet pan quesadillas can be customized to your liking and ready in 40 minutes to satisfy any crowd for game day parties or simple weeknight dinners!
Ingredients
3 cups rotisserie chicken , shredded
1 cup rice
1 cup black beans , drained and rinsed
1 cup salsa
1 Tablespoon taco seasoning
1 teaspoon salt and pepper , to taste
1-2 cups shredded cheese (colby jack or mozzarella)
8-10 flour tortillas
Optional toppings: Pico de gallo, Cilantro, Sliced olives, Sliced avocado or guacamole
Instructions
Preheat the oven to 400ºF. Spray a 12×15 baking sheet with nonstick spray.

In a large bowl, stir together the chicken, rice, beans, salsa and taco seasoning. Season with salt and pepper.

Place tortillas around the edge of the baking sheet, with half hanging over the side, and overlapping with one another. If any baking sheet is showing in the center, cover with tortillas.

Spread the chicken filling evenly onto the tortillas. Sprinkle cheese over the top. Place 1 to 2 tortillas in the center of the filling. Fold the overhanging sides of the tortilla over the filling, making sure no filling is showing. Spray the top with nonstick spray. Sprinkle with salt if desired.

Place a separate baking sheet on top of the tortillas to press down. Bake 20 minutes. Remove the top baking sheet and cook an additional 5-10 minutes, or until golden brown.

Let rest 5 minutes before slicing into pieces. Top with pico de gallo or your favorite toppings to serve.
---
Notes
Rice: You can use precooked rice to make this recipe easier, but if you have the time, try this cilantro lime rice.
Chicken: If you want to cook your own chicken, I recommend using this shredded chicken.
Substitutions: You may use pinto beans in place of black beans and taco meat in place of the chicken.
Nutrition
Calories: 280kcal | Carbohydrates: 27g | Protein: 23g | Fat: 9g | Saturated Fat: 3g | Polyunsaturated Fat: 1g | Monounsaturated Fat: 1g | Cholesterol: 64mg | Sodium: 765mg | Potassium: 157mg | Fiber: 3g | Sugar: 2g | Vitamin A: 187IU | Vitamin C: 1mg | Calcium: 91mg | Iron: 1mg
Nutrition provided is an estimate. It will vary based on specific ingredients used.
Did you make this recipe? Don't forget to give it a star rating below!