Cooked in citrus juices, these juicy carnitas tacos have so much flavor. The pork is melt-in-your-mouth tender thanks to the pressure cooker and is then broiled for crisp edges. Load it onto a taco shell and pile it on with the freshest toppings for a taco night to remember!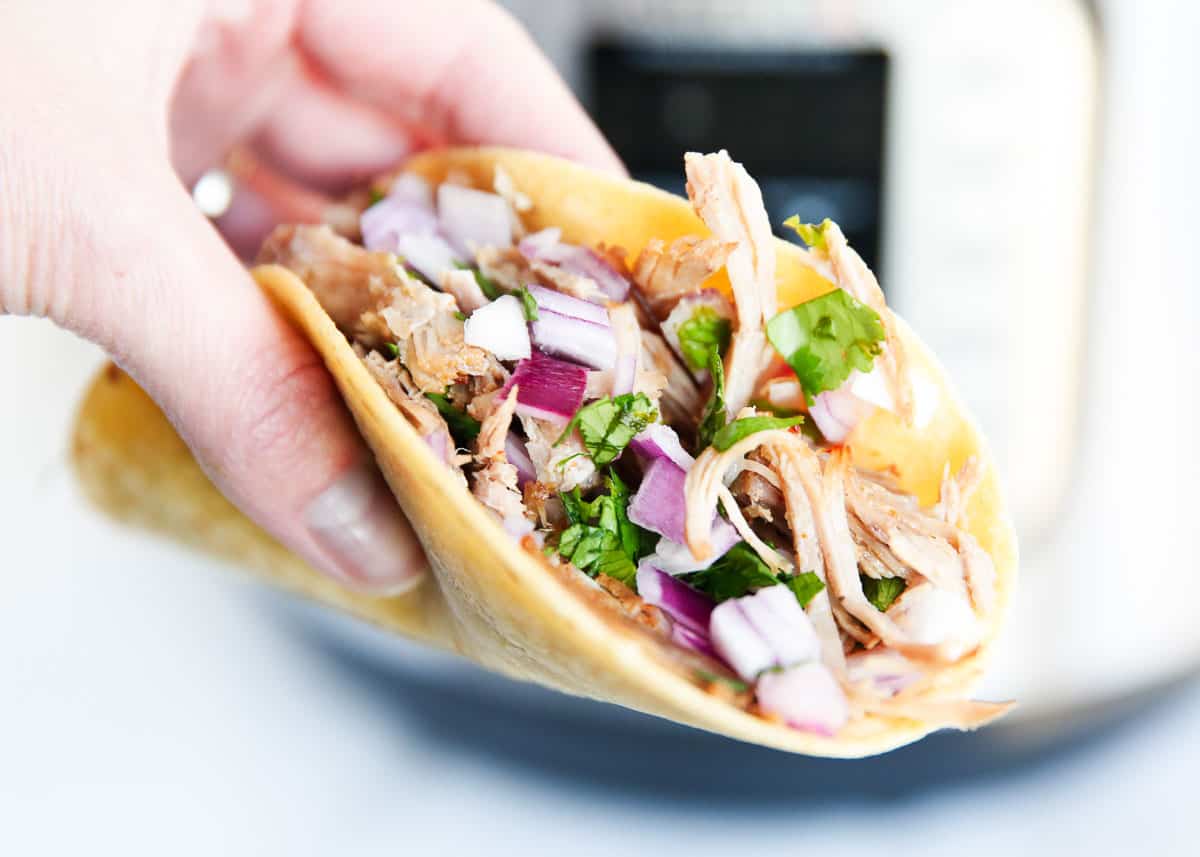 Pork Carnitas Street Tacos
Have you ever bit into a taco and thought to yourself, this is the best thing I've ever eaten? Only to bite into another one the next time and think the same thing? Then you wonder how much it would cost to hire a taco truck to park in your backyard.
Yeah, same.
That's probably where my desire to share all of the best taco recipes comes from. The excitement of knowing that every taco is the BEST taco! Fish tacos, steak tacos, shredded beef tacos, slow cooker pork tacos, and ranch chicken tacos are just some of my favorites!
Now, I'm taking my Instant Pot carnitas recipe and using it to make the ultimate carnitas tacos recipe made with fall-apart juicy pulled pork finished under the broiler for those crispy edges and extra flavor. Just like my birria tacos recipe, it is so much better at home than any street food taco!
Fill up warm tortillas, pile on your favorite toppings, and enjoy one of my favorite Mexican recipes in every bite!
Why This Recipe Works
No need for that taco truck ;) Homemade carnitas tacos are even better than takeout. You can customize the seasoning and spice to your liking, and you can have a variety of toppings for everyone.
Minimal prep work. Coat the pork with dry rub and let the Instant Pot do its thing. Prep the toppings in the meantime, and you're done! Couldn't be easier.
More than just tacos. Tacos carnitas is one thing, but the filling can be used for burritos, quesadillas, nachos, and more.
Recipe Ingredients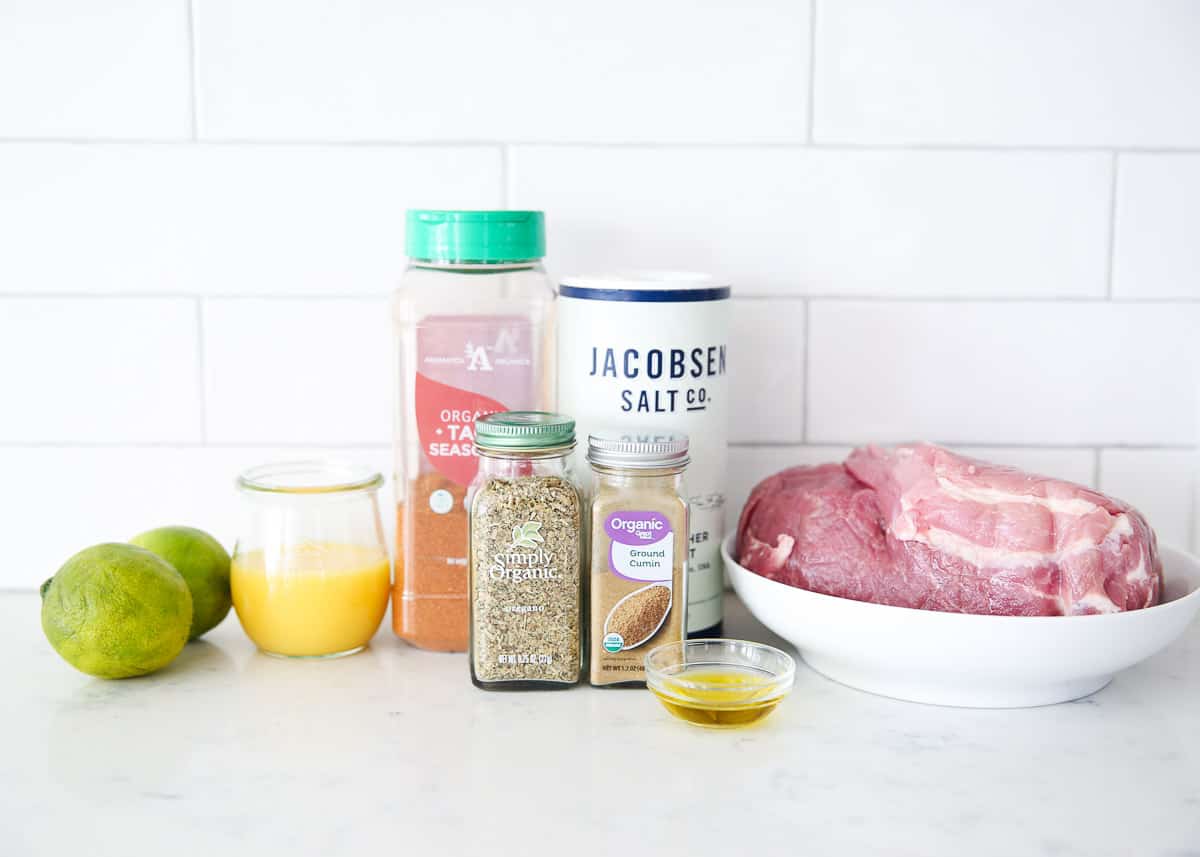 Find the full printable recipe with specific measurements below.
Pork: Both the pork shoulder and pork butt can be used in this recipe as both do well with tenderizing cooking methods. Either the pressure cooker or the slow cooker. Despite the word "butt" the pork butt is actually from a different part of the shoulder. Trim the excess fat from a 4 lb cut and slice it into 3 pieces.
Dry rub: Taco seasoning, oregano, cumin, salt, and pepper. I have a homemade taco seasoning that I use that's an easy blend of chili powder, cumin, paprika, garlic powder, onion powder, oregano, salt, and pepper.
Jalapeno: This is optional if you like a bit of spice in your carnitas tacos. If you use it, I recommend removing all of the seeds as that is where the heat comes from. If you like yours super spicy, you can keep some in.
Juice: Along with water, using orange or apple and fresh lime juice helps to break down the fibers in the meat making it even more tender and flavorful.
For the tacos: Use flour tortillas or gluten-free corn tortillas, guacamole, fresh cilantro, and chopped red onion.
Variations
If you're looking for a low-carb version of carnitas tacos, skip the tortilla wraps altogether and use the filling to make a taco salad instead. It's also great for burrito bowls, on top of rice (or again, salad), along with beans and other tasty toppings.
How to Make Carnitas Tacos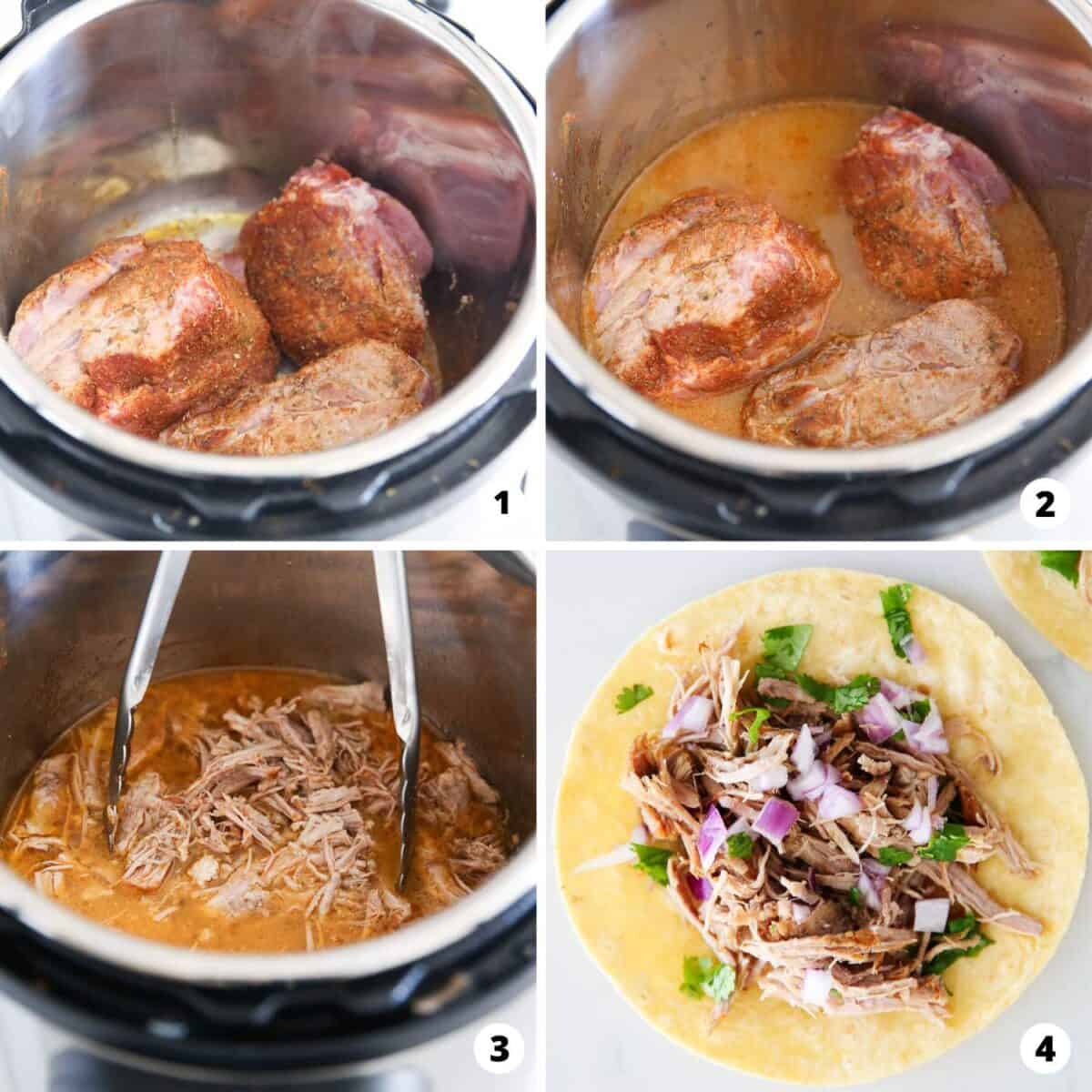 Season and sear the pork. Mix the dry rub seasoning and rub it all over the pork until well coated. We'll sear the pork first using the saute method to get a nice crust on the outside and lock in moisture and at the same time cook the onions and jalapenos. Make sure to rotate the pork every 2 minutes so all sides get browned.
Add liquids and cook. Pour in the water and juices then seal the lid on the Instant Pot. Cook on HIGH pressure for 45 minutes followed by a Natural Release for 15 minutes. Release any remaining pressure and once the pin drops, it's safe to carefully open the lid.
Crispy under the broiler. Shred the pork with a couple of forks and allow it to sit in the broth for a few minutes. To crisp up the ends and edges of the shredded pork, transfer the meat to a foil-lined baking sheet and arrange it in a single layer. Broil on the middle rack for 5 minutes. Toss with a bit of juice and then broil for another few minutes.
Assemble the tacos. Place some of the carnitas inside the taco shell, add your favorite toppings, and enjoy! I love adding guacamole, cilantro, and onions to my carnitas tacos.
Expert Tips
Make them in the crockpot. Slow cooker carnitas are just as easy!
Keep the tortillas warm and soft. Remove them from the fridge beforehand to allow them to come to room temperature. To warm them up, pile them onto a plate and place a damp paper towel on top. Microwave for 30 seconds.
Finish with freshly squeezed lime juice. It's a great way to brighten up the carnitas tacos filling. Serve with extra lime wedges on the side.
Best served immediately. Shells will get soggy the longer they sit.
Carnitas Tacos Toppings
Load up your carnitas tacos or keep it simple. That's the beauty of being able to make each one your own!
Here are just a few ideas:
Sour cream
Cotija cheese
Kernels of corn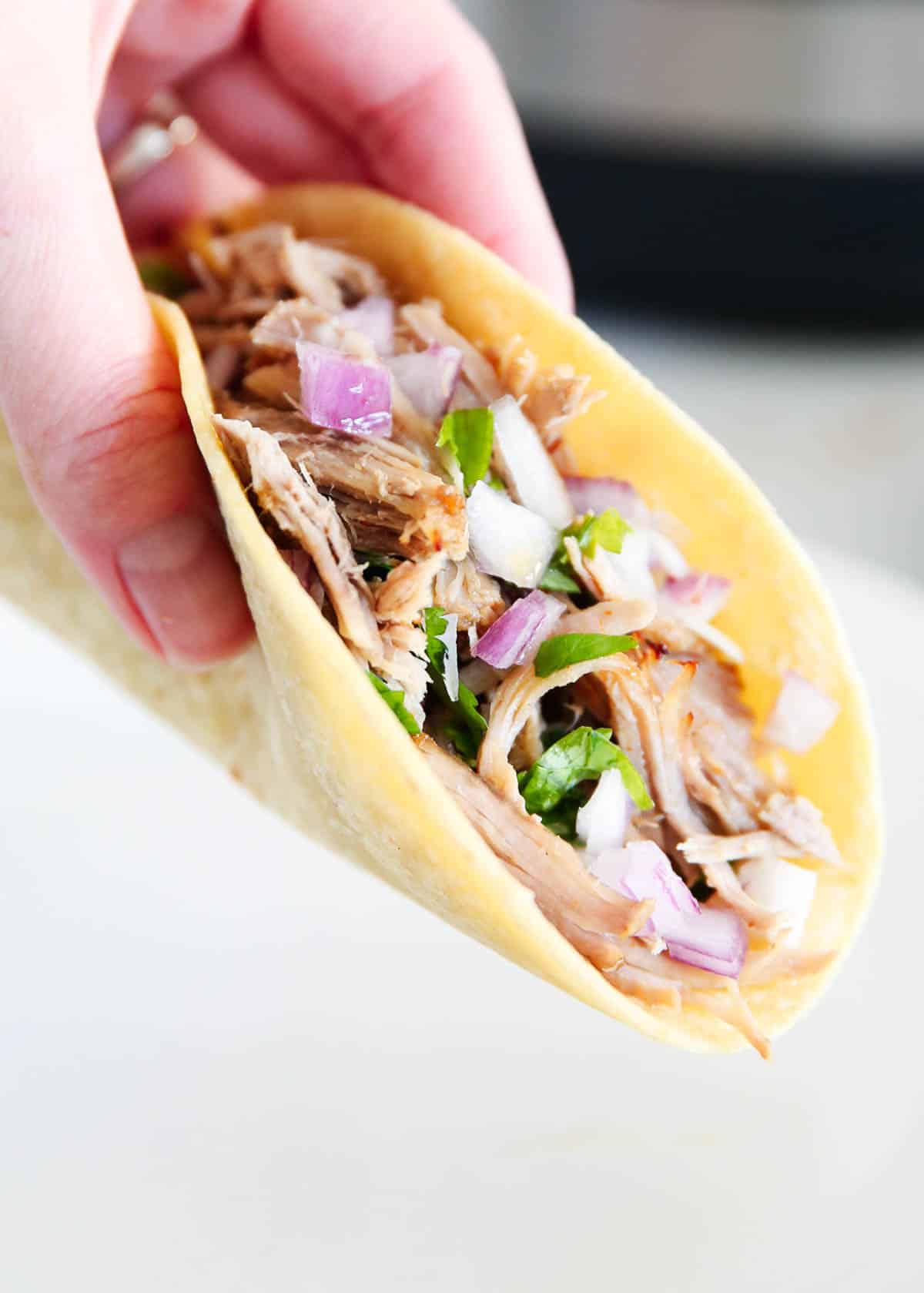 Recipe FAQs
Can I make carnitas tacos with hard shells?
Yes! Hard shells are not Mexican, in fact, they're completely American. Even still, they can be used if you like that crunch factor.
Would pork loin work?
It would but you'll need to add a couple of tablespoons of fat to the pot because of how lean the pork loin is. Traditionally tacos de carnitas is made by simmering pork in some type of fat, either lard or oil, so this isn't a stretch!
Can carnitas tacos be kept frozen?
Certainly! Freeze leftover shredded pork once it has cooled completely. Transfer to a freezer-safe container and keep frozen for up to 3 months. Thaw overnight in the fridge and reuse as desired.
Storing
Keep leftovers of your carnitas tacos filling plus the juice in an airtight container for up to 3 days. You'll be glad you kept the juice to keep it moist when reheated.
Reheat using a skillet or large pot on the stove over medium-low heat or the microwave.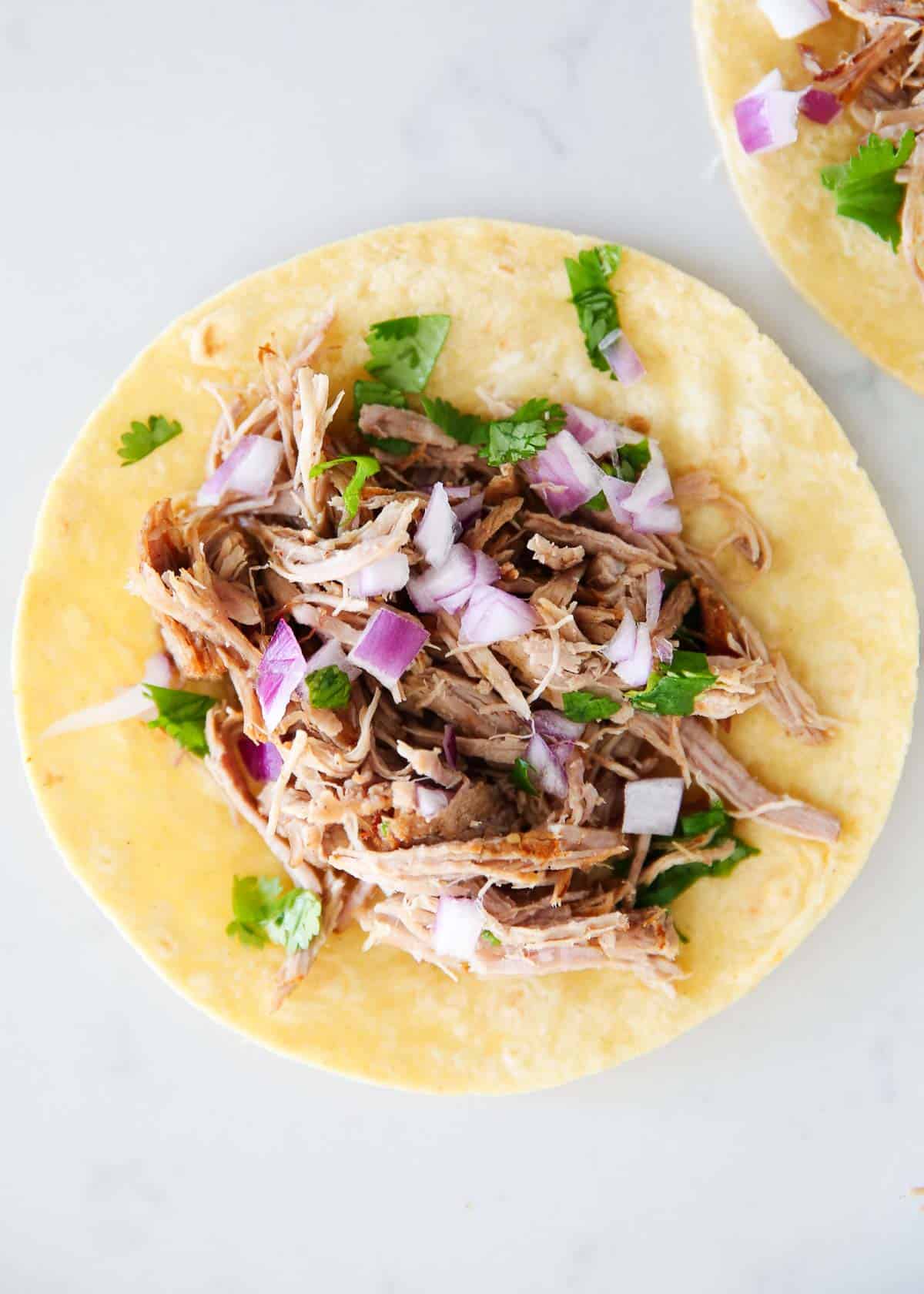 HUNGRY FOR MORE? Subscribe to my newsletter and follow on Facebook, Pinterest and Instagram for all the newest recipes!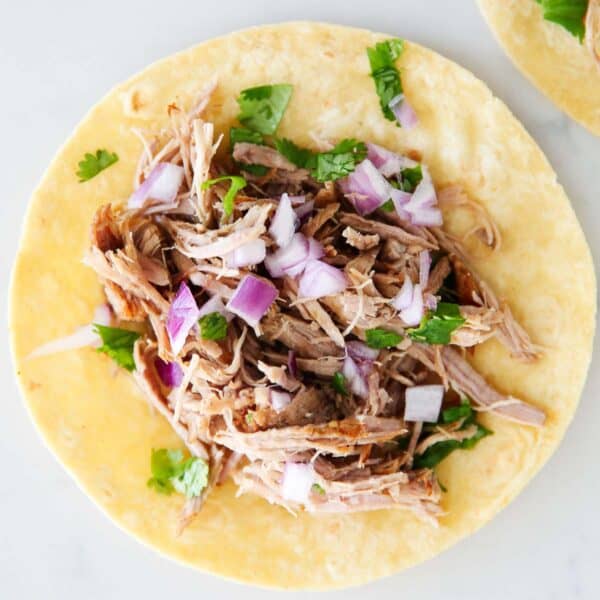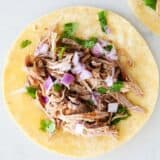 Carnitas Tacos Recipe
Cooked in citrus juices, these juicy carnitas tacos have so much flavor. The pork is melt-in-your-mouth tender thanks to the pressure cooker and is then broiled for crisp edges. Load it onto a taco shell and pile it on with the freshest toppings for a taco night to remember!
Ingredients
Carnitas
1 Tablespoon taco seasoning
1 teaspoon kosher salt
1 teaspoon dried oregano
1 teaspoon ground cumin
½ teaspoon ground black pepper
4 pounds boneless pork shoulder/pork butt , excess fat trimmed (cut into 3 pieces)
1-2 Tablespoons olive oil
½ yellow onion , diced (optional)
1 jalapeno , deseeded and finely chopped (optional)
1 cup water
½ cup orange , or apple juice
2 Tablespoons fresh lime juice (about 2 large limes)
Tacos
16 corn or flour tortillas
Fresh cilantro
Chopped red onion
Instructions
Carnitas
In a small bowl, whisk together the taco seasoning, kosher salt, oregano, cumin, and black pepper. Rub all over the pork until well coated.

In the bottom of an Instant Pot set to Sauté function, heat the olive oil. Add pork, onion, and jalapeno, if using. Sauté 3 to 5 minutes, flipping the pork every 2 minutes, until browned on all sides.

Add the water, orange juice, and lime juice.

Close and seal the Instant Pot. Cook on HIGH pressure for 45 minutes. Let the pressure release naturally for 15 minutes before carefully removing the lid.

Transfer pork to a cutting board. Remove any excess fat and shred into smaller pieces. Return to the Instant Pot to let the juices soak into the meat. Let sit 5 minutes.

Place the oven rack in the middle of the oven and turn on the oven broiler. Line a large baking sheet with foil. Transfer pork to the baking sheet and broil 5 minutes. Remove from the oven and toss with 1 to 2 Tablespoons juice from the Instant Pot. Return to the oven another 3 to 5 minutes, or until the meat has reached your desired crispiness. Enjoy while hot!
Tacos
Place pork inside of tortillas. Add your favorite toppings. I love to add guacamole, cilantro, and onions.
---
Notes
Slow cooker. Don't have an Instant Pot? Don't worry, you can make slow cooker carnitas just as easily.
Storage. Store leftover pork in an airtight storage container in the refrigerator up to 3 days. Hold onto the juice, as well, to keep the pork from drying out when reheating.
Reheat. Warm leftovers in a large pot over medium-low heat or in the microwave.
Freeze. Freeze pulled pork in an airtight freezer-safe storage container up to 3 months. Let thaw overnight in the refrigerator before reheating.
Nutrition
Calories: 346kcal | Carbohydrates: 26g | Protein: 30g | Fat: 13g | Saturated Fat: 4g | Polyunsaturated Fat: 2g | Monounsaturated Fat: 6g | Cholesterol: 93mg | Sodium: 447mg | Potassium: 617mg | Fiber: 4g | Sugar: 2g | Vitamin A: 93IU | Vitamin C: 11mg | Calcium: 76mg | Iron: 3mg
Nutrition provided is an estimate. It will vary based on specific ingredients used.
Did you make this recipe? Don't forget to give it a star rating below!