Jump to Recipe⌄
Garlic-Ranch Chicken Pizza {Hello Summer}
An easy homemade pizza crust smothered in garlic ranch sauce and topped with grilled chicken, bacon, tomatoes and mozzarella cheese.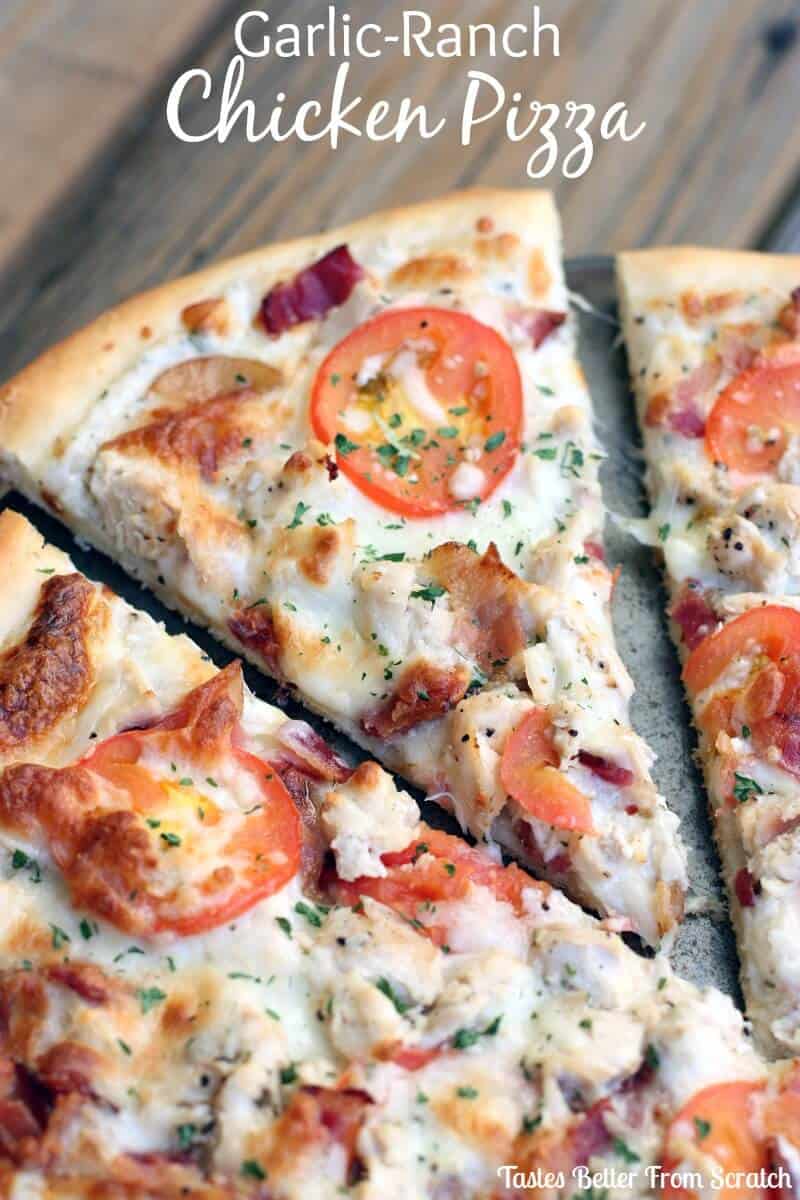 Hi everyone! I'm Lauren, a guest from the food blog Tastes Better From Scratch, and I'm so excited to be sharing one of my favorite pizza recipes with you all!
I've got to be honest, the Mister and I make homemade pizzas together almost every weekend…we love them that much! It's always tricky choosing what type of pizza to make since we have soo many favorites! I love a traditional margherita pizza with tomatoes, mozzarella and basil,  and he loves Barbecue Chicken Pizza. But we're always, always, able to agree on this Garlic-Ranch Chicken Pizza! It's the YUMMIEST pizza, and definitely one of our all-time favorites!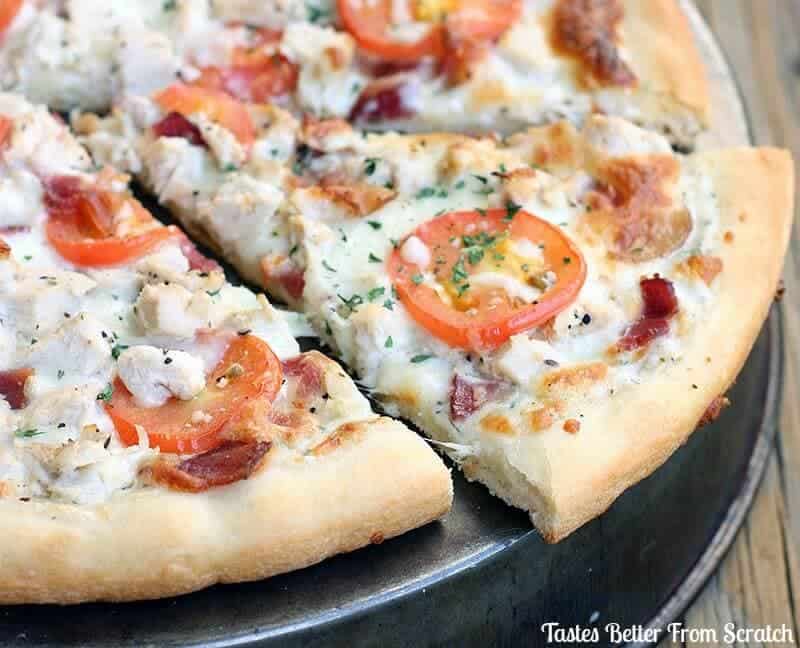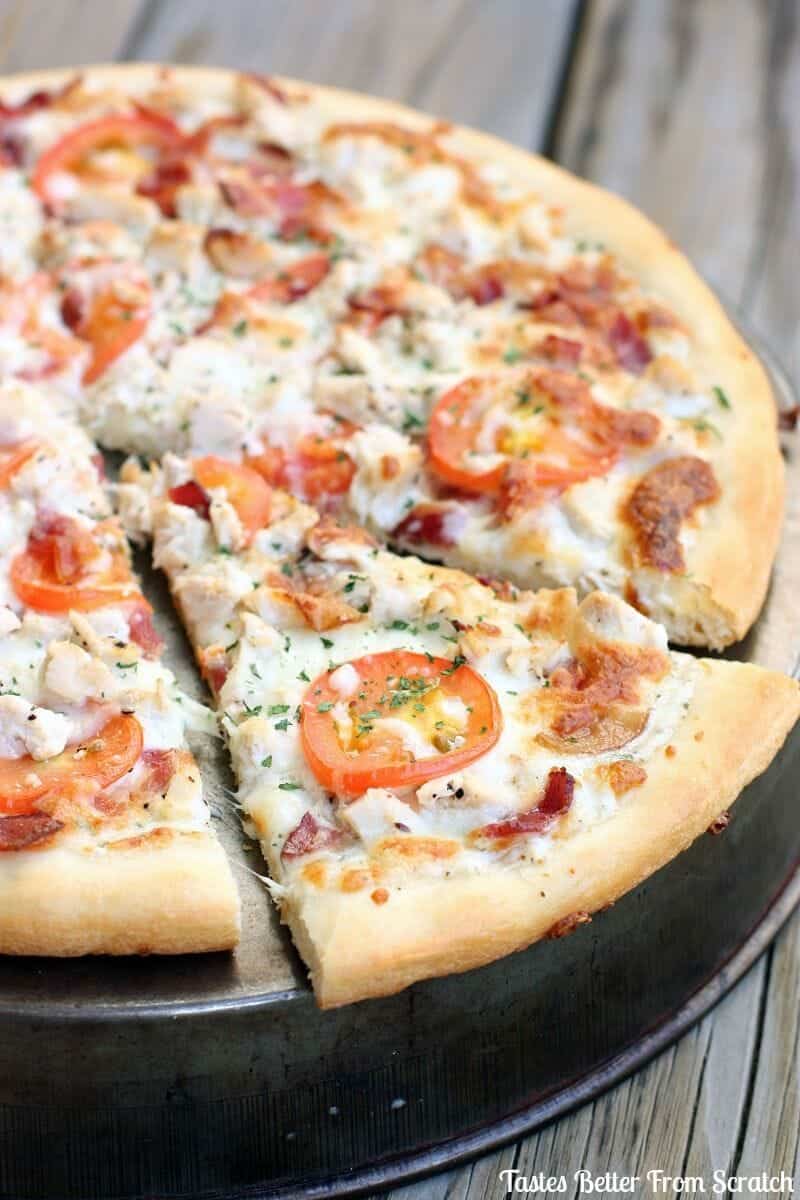 The key to the perfect homemade pizza, is having the perfect pizza crust. It's taken me a really long time to master the perfect homemade pizza crust. I've tried so many recipes that are bland, "bready" and dense, or they're flimsy and we end up eating the pizza with a fork. I've tried dozens of recipes and finally, I got it right! This crust is chewy, crusty on the outside and soft on the inside–just like a pizza crust should be!  Top your crust with the fixin's for this delicious Garlic-Ranch Chicken pizza and you've got the perfect summer dinner your whole family will love! And if you'd rather leave your oven off during the summer months, you should definitely try this pizza grilled!  Find instructions below for grilled pizza!
I hope you love this pizza as much as we do, and stop by Tastes Better From Scratch,  for more yummy meal ideas, like these: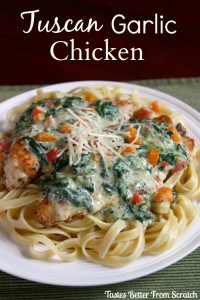 Applebee's Oriental Chicken Salad Copycat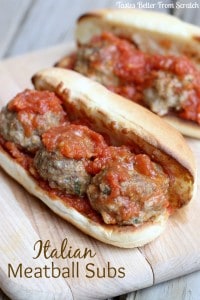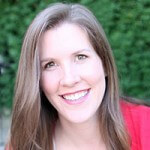 Hi, I'm Lauren, a food enthusiast and a true believer that everything Tastes Better From Scratch! And not only does it taste better, it's usually better for you, and less expensive!  My blog is all about sharing easy, homemade meal ideas and recipes that the whole family will love!
THANKS Lauren for sharing this yummy recipe during our Hello Summer Event! Click HERE to see more ideas from the event.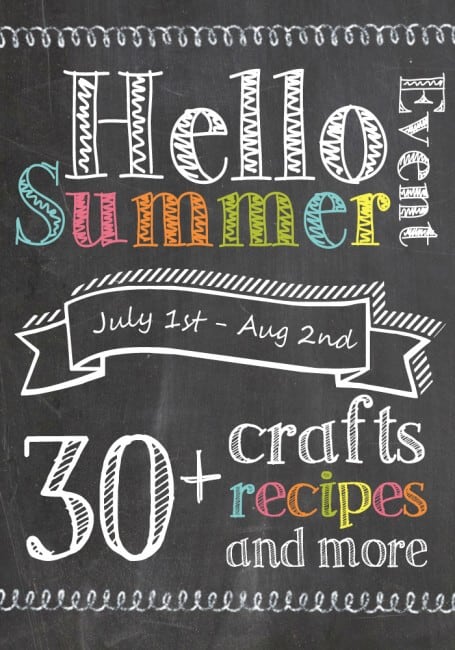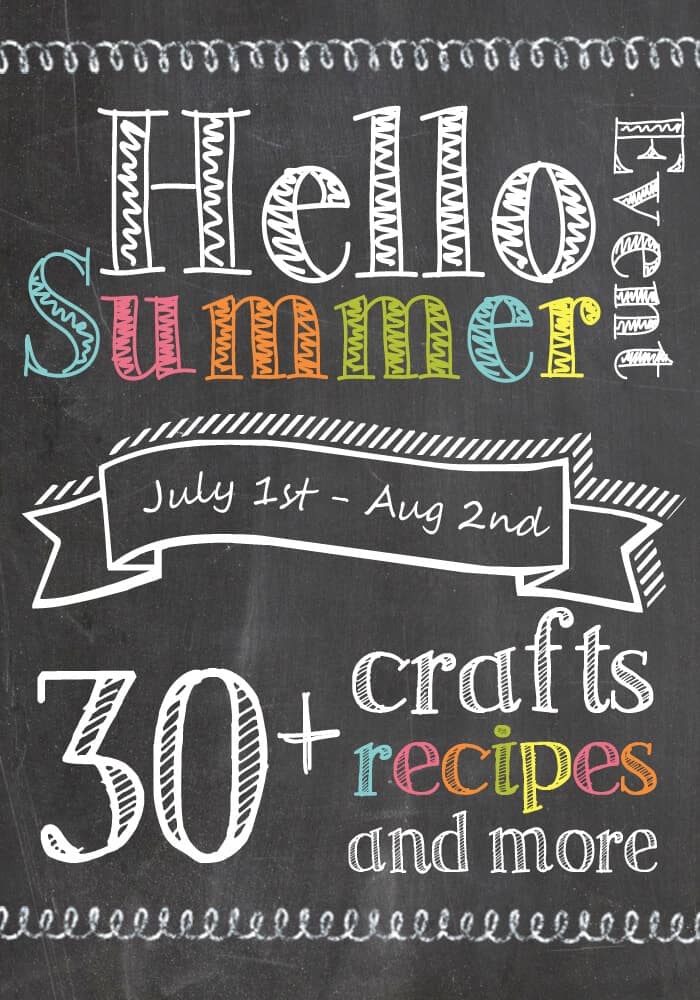 For more pizza recipes, you'll love these too:
Making this recipe? Don't forget to rate the recipe below and tag #iheartnaptime on Instagram. Thank you! XO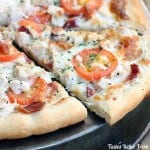 Garlic-Ranch Chicken Pizza
An easy homemade pizza crust smothered in garlic ranch sauce and topped with grilled chicken, bacon, tomatoes and mozzarella cheese.
Print
Ingredients
Dough for 1 large pizza
2 cups Mozzarella cheese shredded
1/2 cup bacon cooked and crumbled
1 cup chicken cooked and shredded
2 tomatoes thinly sliced
For the Garlic-Ranch Sauce:
2 Tbsp sour cream
3 Tbsp mayonnaise
2 1/2 Tbsp milk
1/2 teaspoon garlic salt
1/8 teaspoon chopped dried chives
1/8 teaspoon dill
1/8 teaspoon dried parsley
dash of onion powder
Salt and pepper to taste
Instructions
Mix all ingredients together for the garlic-ranch sauce. Spread mixture over the top of the pizza dough. Sprinkle 1 cup of the mozzarella cheese over top, followed by the chicken, bacon, and tomatoes. Sprinkle remaining cheese on top. Bake at 450°F for 10-12 minutes, or until crust is golden brown and cheese is bubbly.

*For grilled pizzas: Oil your grill and turn heat to medium-low. Shape dough into long, slipper-shaped pieces. Brush dough with olive oil and grill for 2 minutes on one side, with the grill cover on. Flip to the other side and brush again with olive oil. Cook for 2 minutes, with the grill lid on. Remove crust to a plate and add toppings. Return to grill and cook just until cheese is melted, 1-2 more minutes.
Nutrition Facts
Garlic-Ranch Chicken Pizza
Amount Per Serving
Calories 408 Calories from Fat 189
% Daily Value*
Total Fat 21g 32%
Saturated Fat 8g 40%
Cholesterol 50mg 17%
Sodium 858mg 36%
Potassium 169mg 5%
Total Carbohydrates 34g 11%
Dietary Fiber 1g 4%
Sugars 3g
Protein 18g 36%
Vitamin A 13.1%
Vitamin C 7.2%
Calcium 26.6%
Iron 12.4%
* Percent Daily Values are based on a 2000 calorie diet.