These green chile chicken enchiladas are creamy, cheesy, and full of flavor! This recipe is absolutely to die for…better than a Mexican restaurant!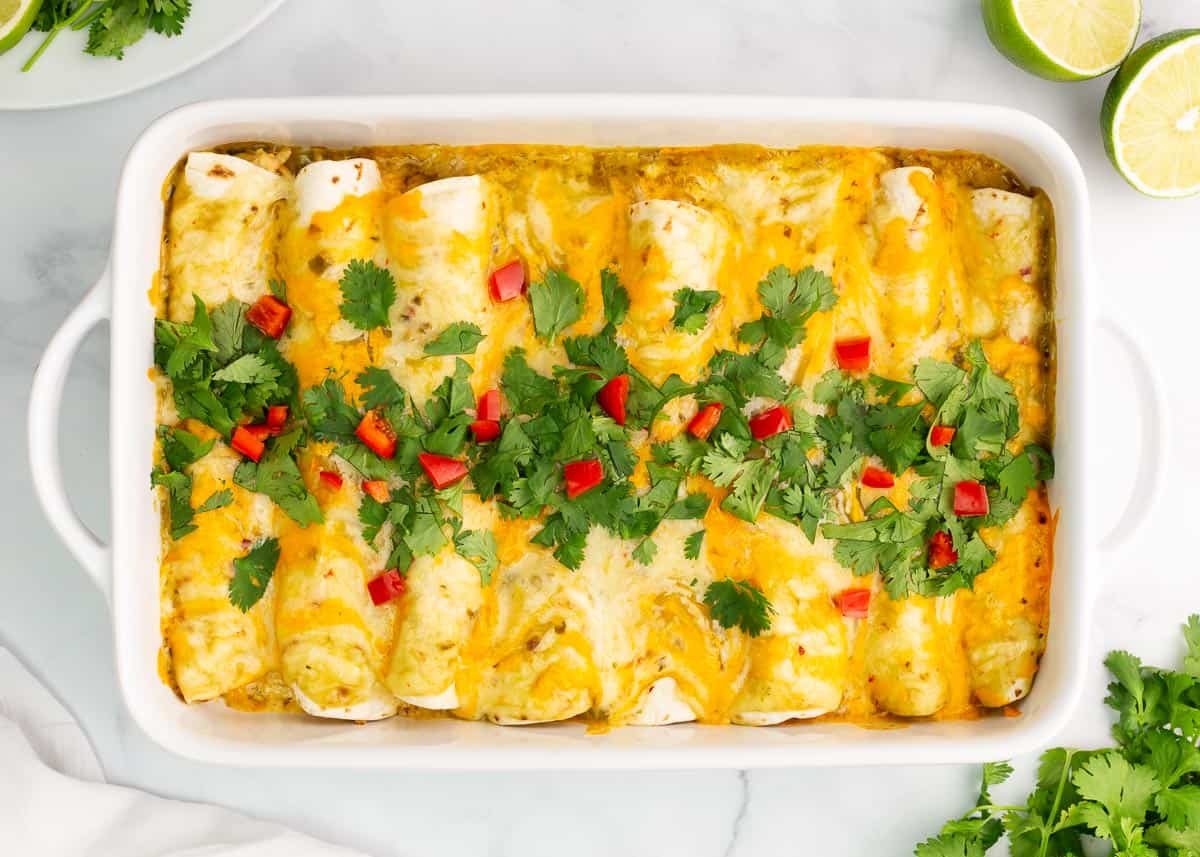 Mexican Green Enchiladas
Creamy green chile chicken enchiladas…cheesy, full of flavor, and super satisfying! Believe me when I say these are SO GOOD! This recipe is an absolute favorite on our list and is requested by anyone who tries it.
These enchiladas taste even better than the ones that I order at my favorite authentic Mexican restaurant. We make these at least once a month at our house…sometimes even 2 or 3 times because we love them so much. If you love enchiladas as much as we do, this breakfast enchilada casserole can be made ahead and is perfect for busy mornings!
These do have a little kick to them, so make sure to omit the chili powder and cumin if you don't like spicy foods. This recipe is so simple and makes the perfect dish to serve at any occasion!
Ingredients
These ingredients are so fresh and delicious with all the flavor in each bite! We love the combination of these simple ingredients to have on hand. Add this homemade chicken enchilada recipe to your weekly menu plan!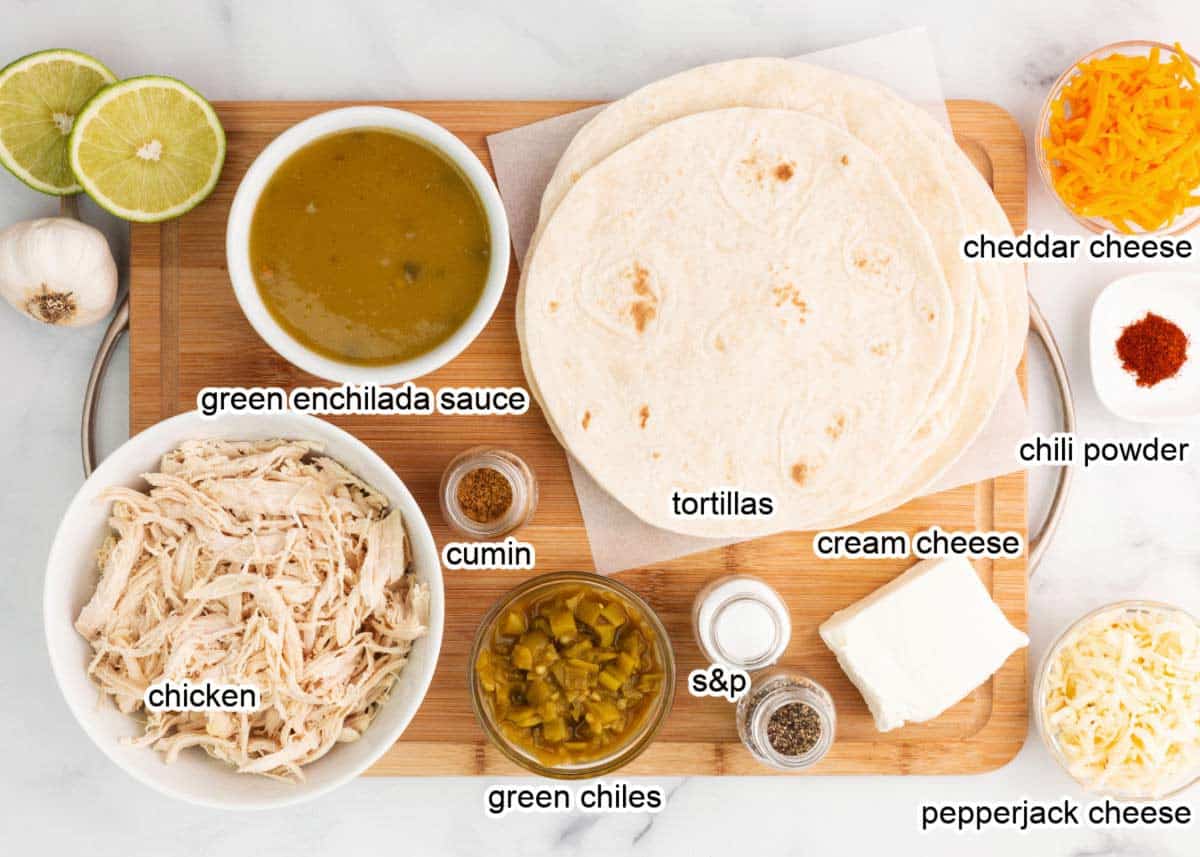 Find the full printable recipe with specific measurements below.
Chicken. Using shredded rotisserie chicken is an easy shortcut for making this recipe. You could also make shredded chicken in the instant pot or crockpot. Leftover kalua pork would also taste delicious!
Tortillas. Flour tortillas are my personal preference, but corn tortillas taste great too. You could even use whole wheat or gluten-free tortillas if you'd like. It helps to soften the tortillas in the microwave for about 20 to 30 seconds before filling them so that they're more flexible and easier to roll.
Cream cheese. Sour cream or Greek yogurt also works great in place of cream cheese.
Spice. These enchiladas do have a little kick to them. You can omit the chili powder and cumin if you prefer a more mild flavor. Or if you like your food spicy, feel free to use hot green chiles or add in some diced jalapenos.
Extras. Feel free to add some extra cooked veggies or beans to bulk up the filling a little. Zucchini, fajita veggies, black beans, or cilantro lime rice are all great options.
Toppings Suggestions
Finish off these green chile enchiladas with any of the delicious toppings below. I love to add some fresh cilantro and an extra squeeze of lime for more flavor. It tastes so fresh and delicious!
Chopped cilantro: This adds color as well as a slight hint of fresh, nutty flavor.
Sour cream: Add a dollop of creamy sour cream over top for a lighter taste and texture.
Sliced avocado: You can't go wrong with a ripe avocado sliced into small pieces. Always so delicious with its creamy and soft texture and flavor.
Pico de gallo: I love the taste of fresh salsa! This pico de gallo is so delicious with a hint of spice. I can even eat it with the spoonfuls!
Jalapenos: Spice it up with jarred jalapenos.
Lime: A squeeze of lime juice just adds a zest of freshness and flavor.
Cilantro lime crema: A specialty to have right on top. You will love the flavor contrast and creaminess it adds to these chicken enchiladas.
Black olives: Sliced black olives give it that extra texture and unique taste.
Cheese: Shred your cheese with only the best types of flavors! Try Monterey jack cheese, pepper jack cheese, or cheddar cheese for different ways of making these enchiladas.
How to Make Green Chile Chicken Enchiladas
Like most enchilada recipes, they have the base of chicken wrapped in tortillas with cream cheese and seasoning. We love this combination and how easily it is to bake in a baking dish. Add a side of mexican rice for a complete meal!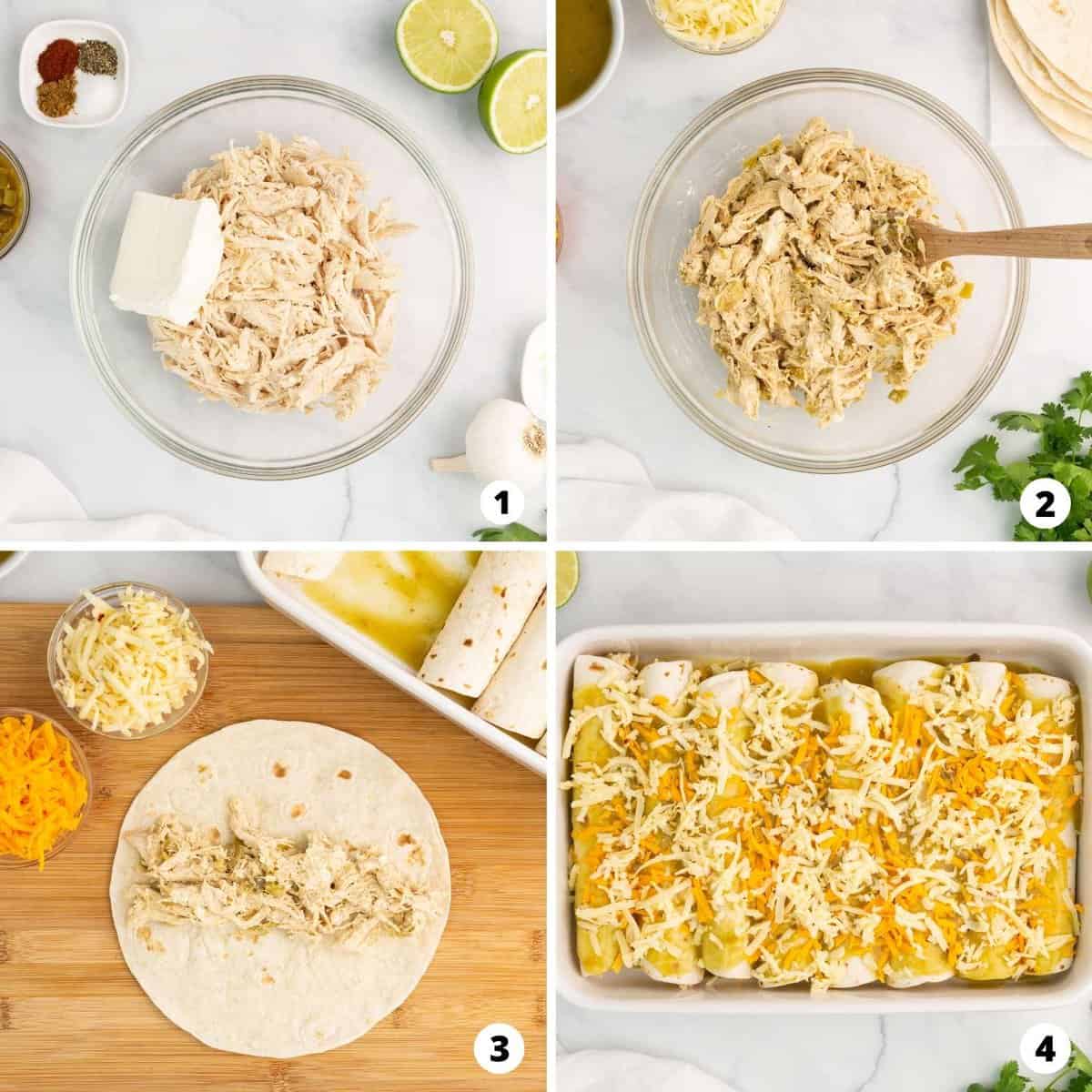 Shred. Cook and shred chicken to use for the enchiladas.
Combine: Combine the shredded chicken, cream cheese, garlic, chili powder, cumin, kosher salt, black pepper, lime juice, and diced green chiles in a medium-sized bowl.
Fold: Spoon three Tablespoons into each tortilla and roll it up like a burrito. You may also add some extra cheese inside.
Bake: Bake the enchiladas until nice and bubbly. If you want the top golden, feel free to broil the last minute. Watch carefully just in case it over flows.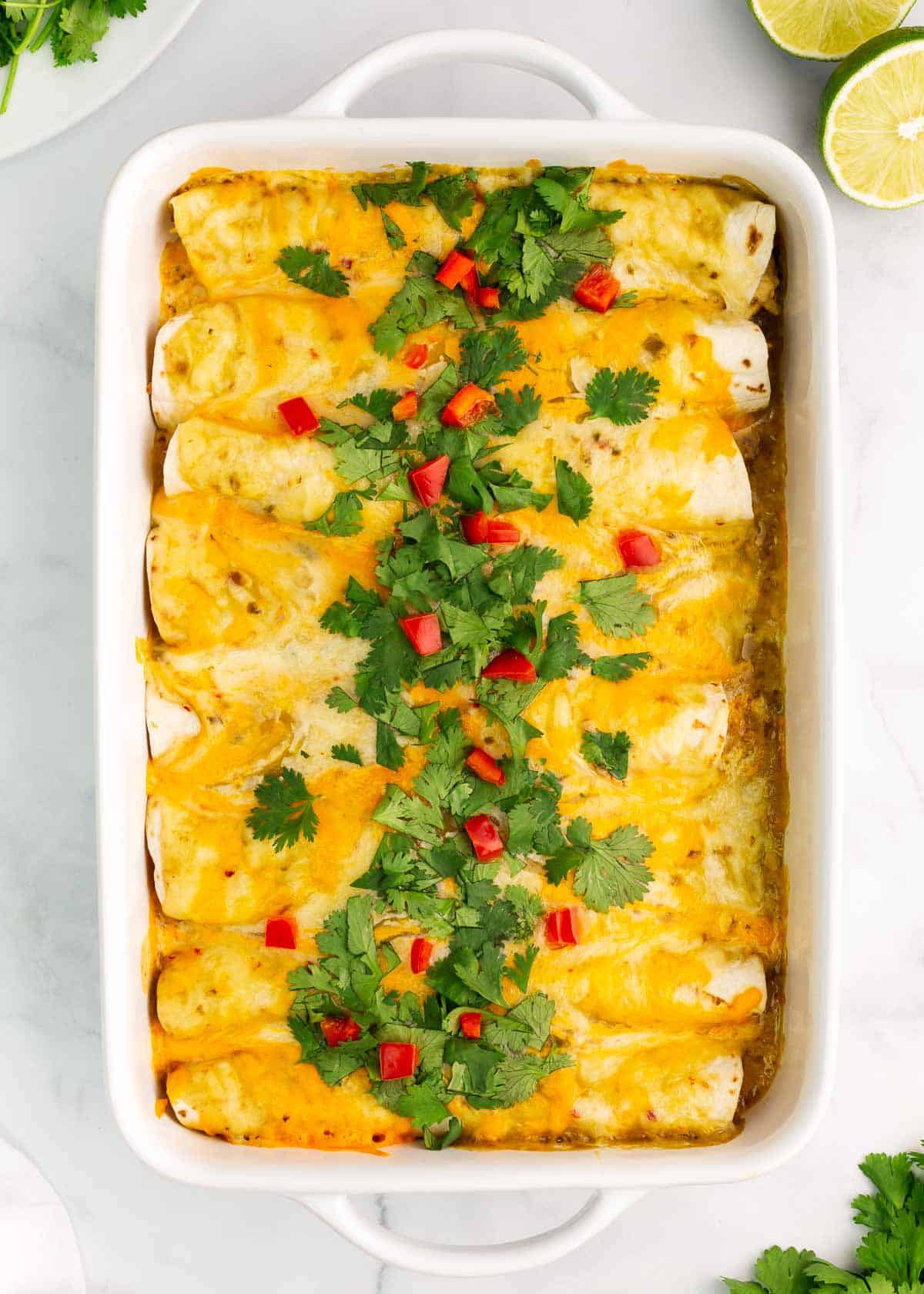 Recipe FAQs
What is green chile enchilada sauce made of?
Green enchilada sauce is a tangy, rich, and easy-to-make sauce. Simmer roast green chiles, tomatillos, onions, garlic, jalapenos, and spices to make a delicious enchilada sauce. Blend together for a smooth and creamy sauce.
Can I use corn tortillas?
Yes, you may. They are a little harder to work with, so I recommend microwaving them in a damp paper towel for 15 seconds before rolling. You could also dip the tortillas in the enchilada sauce before rolling.
Is salsa verde the same as green enchilada sauce?
They are slightly different. Salsa verde is raw (not cooked) and chunky whereas enchilada sauce is cooked down and puréed. You can use it if preferred.
What to serve with enchiladas?
We love to serve these enchiladas with black beans and rice. A chopped salad is always a nice addition as well.
What brand of enchilada sauce do you recommend?
I prefer the Las Palmas green enchilada sauce. It does come in a bigger can, so I usually freeze half the sauce in a zip-top bag for later.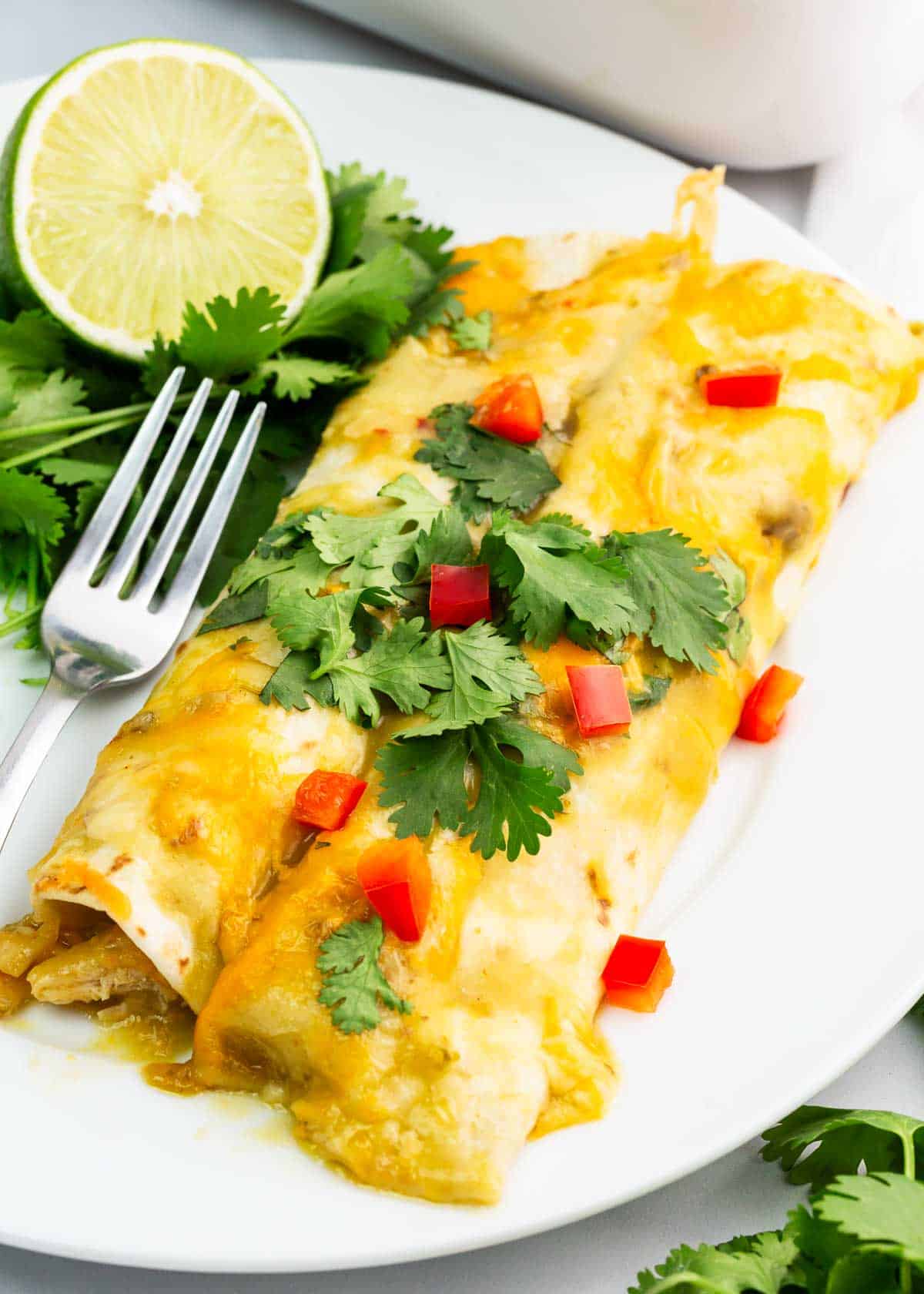 5 star review
"My family AND friends LOVE this amazing recipe! I admit I was a bit timid about the Green Chili Sauce but putting everything all together made it perfect. I'm getting my grocery list together to make this tomorrow!!"

-Kim
Freezing Instructions
This is one of my absolute favorite freezer meals! It's the perfect dish to make in advance for a busy weeknight. Simply prepare the enchiladas in the pan as directed, however, hold off on baking. Cover tightly with foil or a lid and store in the freezer for up to two months.
The night before enjoying, remove from the freezer and place in the fridge overnight to thaw. Then bake according to directions. You may need to bake a few minutes longer (10-15 minutes) since you're baking from frozen.
More Enchilada Recipes
HUNGRY FOR MORE? Subscribe to my newsletter and follow on Facebook, Pinterest and Instagram for all the newest recipes!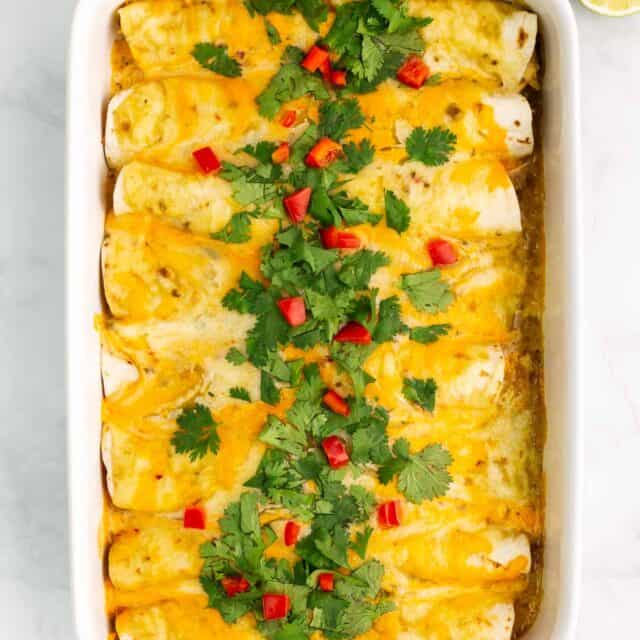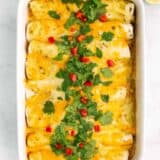 Green Chile Chicken Enchiladas
These green chile chicken enchiladas are creamy, cheesy and full of flavor! This recipe is absolutely to die for…better than a Mexican restaurant!
Ingredients
1 (14-ounce) can green enchilada sauce
8-10 flour or corn tortillas
2-3 cups shredded cooked chicken , about 4 chicken breasts
4 ounces cream cheese , softened
1 (4.5-ounce) can diced green chiles , about 1/2 cup
1 Tablespoon fresh lime juice , optional
1 clove garlic , minced
½ teaspoon chili powder
¼ teaspoon cumin
½ teaspoon Kosher salt
¼ teaspoon ground black pepper
1 cup shredded cheese , I prefer a mix of cheddar or pepper jack
Optional toppings: Chopped cilantro, Tomatoes, Olives, Bell peppers, Sour cream, Lime
Instructions
Preheat the oven to 350°F. Add about 1/3 cup enchilada sauce to the bottom of a 9×13-inch pan and set aside.

In a medium bowl, stir chicken, cream cheese, garlic, chili powder, cumin, salt, pepper, lime juice, and green chiles until combined.

Spoon 3 Tablespoons into each tortilla and roll it up like a burrito. You may also add 1 Tablespoon cheese inside the tortilla, if desired. Place into the pan.

Pour the rest of the sauce over the tortillas and top with shredded cheese. Cover with foil and bake 15 minutes. Remove foil and bake an additional 10 to 15 minutes, or until the cheese is nice and bubbly.

Top with cilantro and desired toppings, if desired. Serve while warm.
---
Notes
Substitutions: You can substitute the cream cheese for sour cream or Greek yogurt, if preferred. Add a squeeze of lime to the chicken mixture, if desired.
Chicken: You can use shredded rotisserie chicken or my favorite shredded chicken.
Freezer instructions: This makes a great freezer meal. Simply go to step 4 and then place the enchiladas in a foil or freezer pan (do not bake). Cover tightly with plastic wrap or foil and then freeze. Remove from the freezer and place in the refrigerator overnight to thaw. Bake accordingly to directions (you may need to add 10 to 15 minutes cooking time).
Nutrition
Calories: 251kcal | Carbohydrates: 23g | Protein: 9g | Fat: 14g | Saturated Fat: 7g | Polyunsaturated Fat: 1g | Monounsaturated Fat: 4g | Cholesterol: 34mg | Sodium: 753mg | Potassium: 124mg | Fiber: 2g | Sugar: 2g | Vitamin A: 460IU | Vitamin C: 8mg | Calcium: 182mg | Iron: 2mg
Nutrition provided is an estimate. It will vary based on specific ingredients used.
Did you make this recipe? Don't forget to give it a star rating below!