This is the ultimate homemade granola recipe. Made with simple pantry staples like oats, honey, coconut, pecans, and spices, it's ideal for snacking, breakfast, or dessert. Follow the foolproof instructions to make homemade granola with your favorite mix-ins.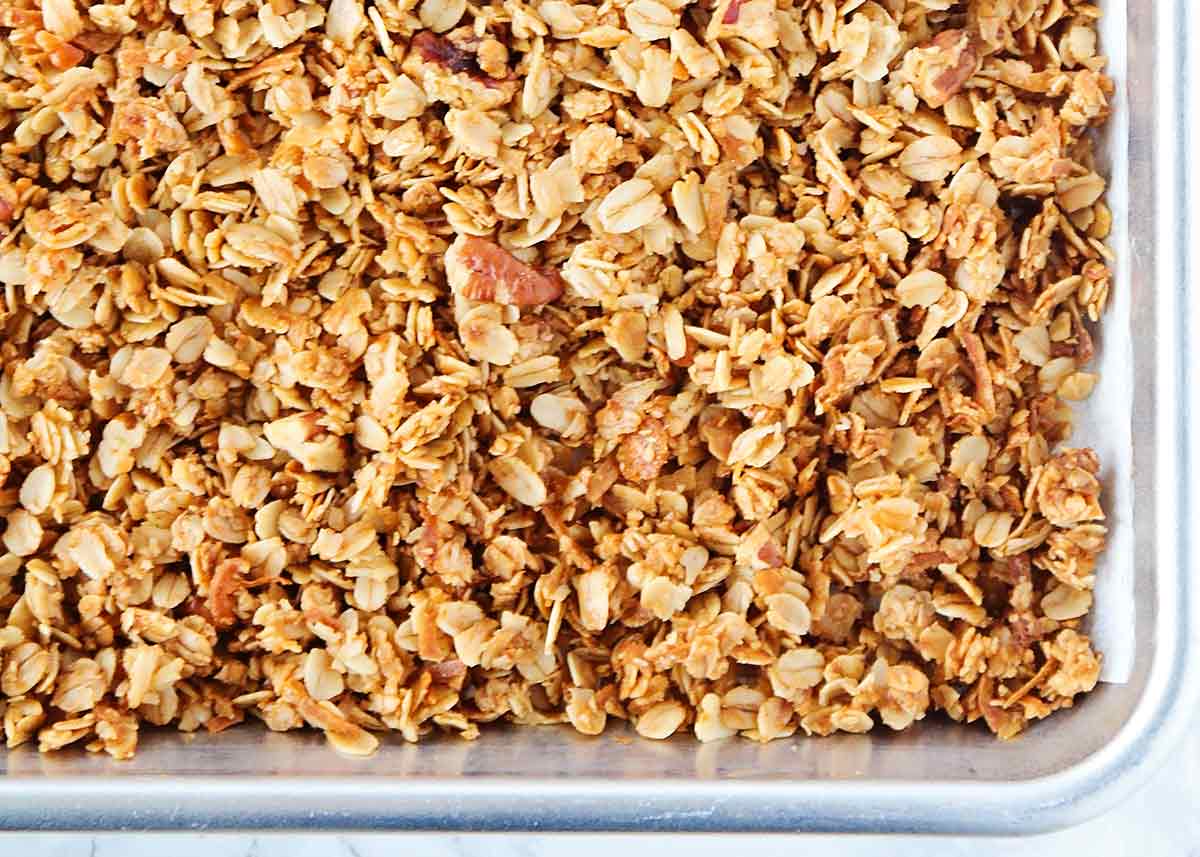 Healthy Easy-to-Make Homemade Granola
If you love wholesome snacks that satisfy your sweet tooth, this is the granola recipe for you. Made with simple pantry staples like oats, nuts, seeds, and natural sweeteners, this customizable recipe toasts to perfection every time, so you can create nutritious homemade granola that make snacking, breakfasts, and desserts irresistible.
Granola is one of my favorite healthy snacks. It tastes amazing on yogurt, smoothies, oatmeal, or even plain. Perfectly crunchy with a delicious sweet taste!
This granola definitely beats my typical "cereal" breakfast. It also makes a great snack as well. Top with a little ice cream or whipped topping and you've got yourself a nice little treat.
Why I Love it
Homemade granola is simple to make and can save money, is customizable, and stays fresh even longer than store-bought granola. You will love how quick and easy it is to make knowing all of the ingredients are fresh and delicious!
Cost-effective. Making homemade granola is much cheaper than store-bought!
Less than 30 minutes. It takes less than 30 minutes, which is always a win in my book.
Customizable. Add in your favorite mix-ins and make fun variations.
Versatile. Use it for snacking, smoothies, oatmeal, yogurt, and more.
Stays fresh for a long. Granola will keep for up to a month stored in an airtight container.
Ingredients
These pantry staples are a perfect blend of sweet and savory mixed together! Granola is a great way to stay healthy and eat the right foods when snacking or adding extra substance to yogurt or cereal. This is a healthy granola recipe that is a great combination stirred together!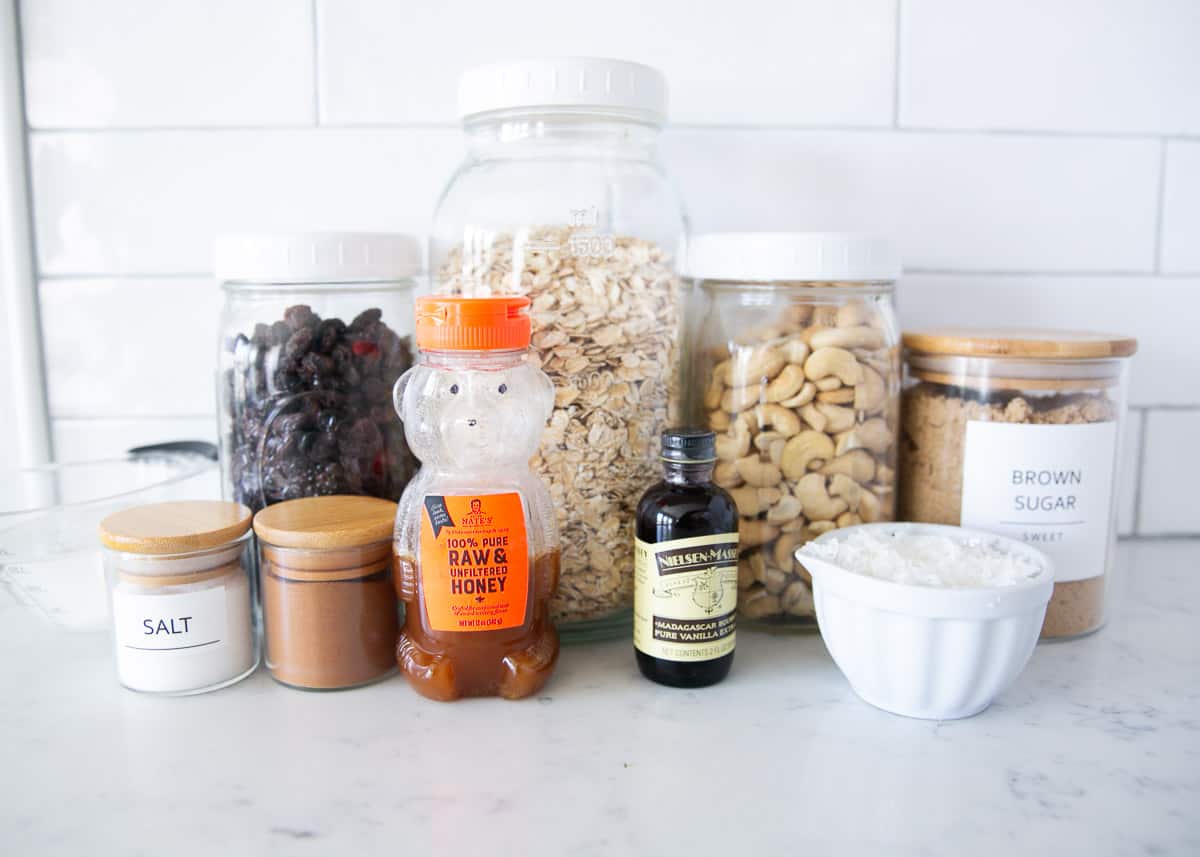 Find the full printable recipe with specific measurements below.
Old-fashioned oats: Heart-healthy rolled oats are perfect for baking in this recipe. Avoid quick oats and use real oats that come in a tall package. If you are gluten-free you can find the packaging for that as well.
Canola oil: This gives the oatmeal a crisp outside. For lighter oil, you can use coconut oil!
Honey: Combine honey and make it sticky but also holds the granola ingredients together on the baking sheet. Maple syrup works well to substitute if needed.
Vanilla: Just a pinch full of vanilla extract gives this granola just what it needs!
Salt: Another pinch of salt will help balance all the flavors together.
Brown sugar: Add sweetness to the homemade granola. This will melt together and is a subtle hint of deliciousness.
Coconut: Coconut flakes are always delicious and give a light and tasty texture and flavor.
Pecans: I love adding hearty nuts that can aid in protein as well.
How to Make Homemade Granola
In just a few steps you can have easy homemade granola baked in minutes. It is a soft and crunchy texture with a sweet and savory flavor. "Wow" your tastebuds with this amazing granola!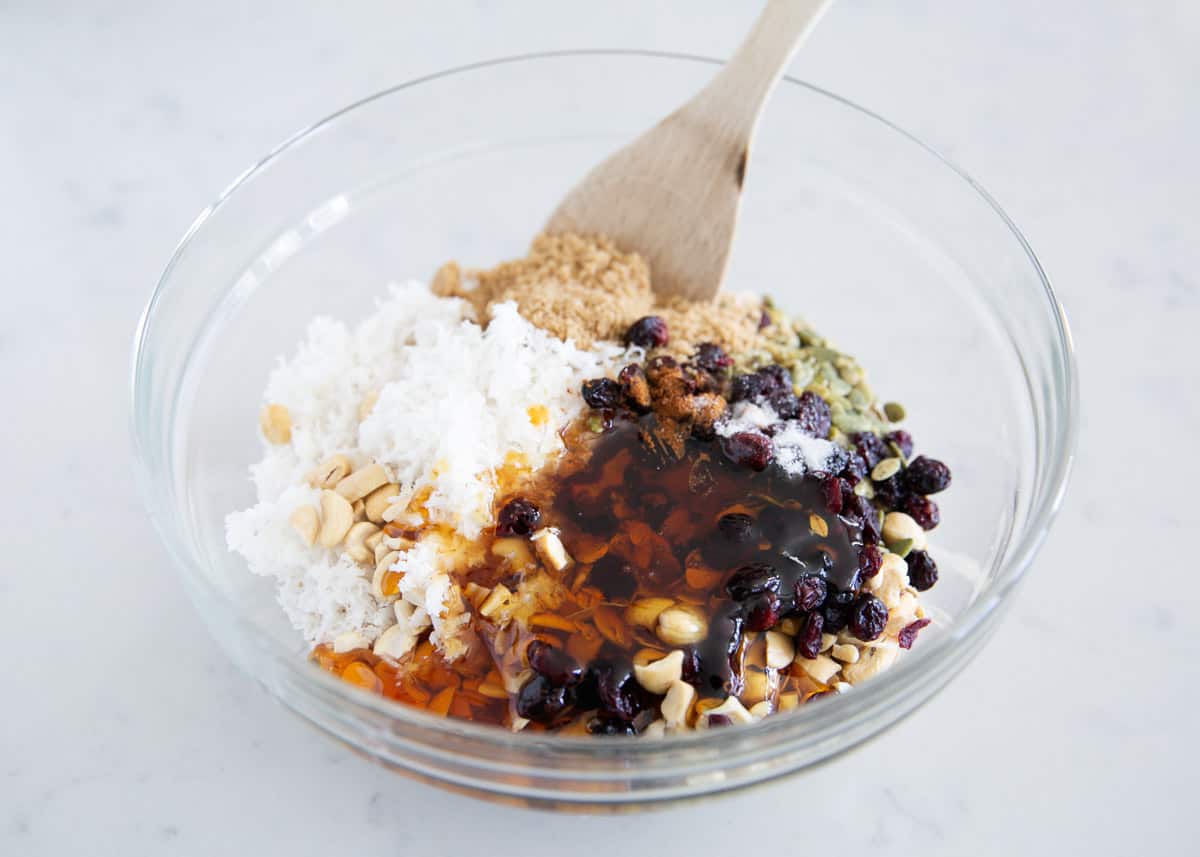 Preheat oven and line pan. Preheat oven to 300°F and use parchment paper or grease a jelly roll pan. Set aside.
Mix ingredients together. In a large bowl, mix all dry ingredients until combined. Spread the granola mixture out evenly onto the jelly roll pan.
Bake granola. Bake the granola for 7 minutes, then remove it from the oven and stir. Place back in the oven and bake for 7-8 more minutes. Remove, stir and let cool.
Optional Add-In's
Create the best granola blend with these extra add-in ideas! Make it even sweeter or healthier with these extra options for the best granola recipe. So many choices and options to use!
Chocolate: Add a little sweeter ingredient with white or chocolate chips. Even peanut butter chips are delicious!
Dried fruit: Apricots, dried cranberries, raisins, or dried cherries give a natural sweetness that is chewy and delicious.
Other nuts: Try almonds, peanuts, or walnuts for classic nuts. If you are more adventurous try it with sunflower seeds, pistachios, or pumpkin seeds.
Small seeds: Chia seeds and flax seeds add a minimum amount of flavor.
Seasoning: Cinnamon or ground ginger, or pumpkin spice gives a savory flavor.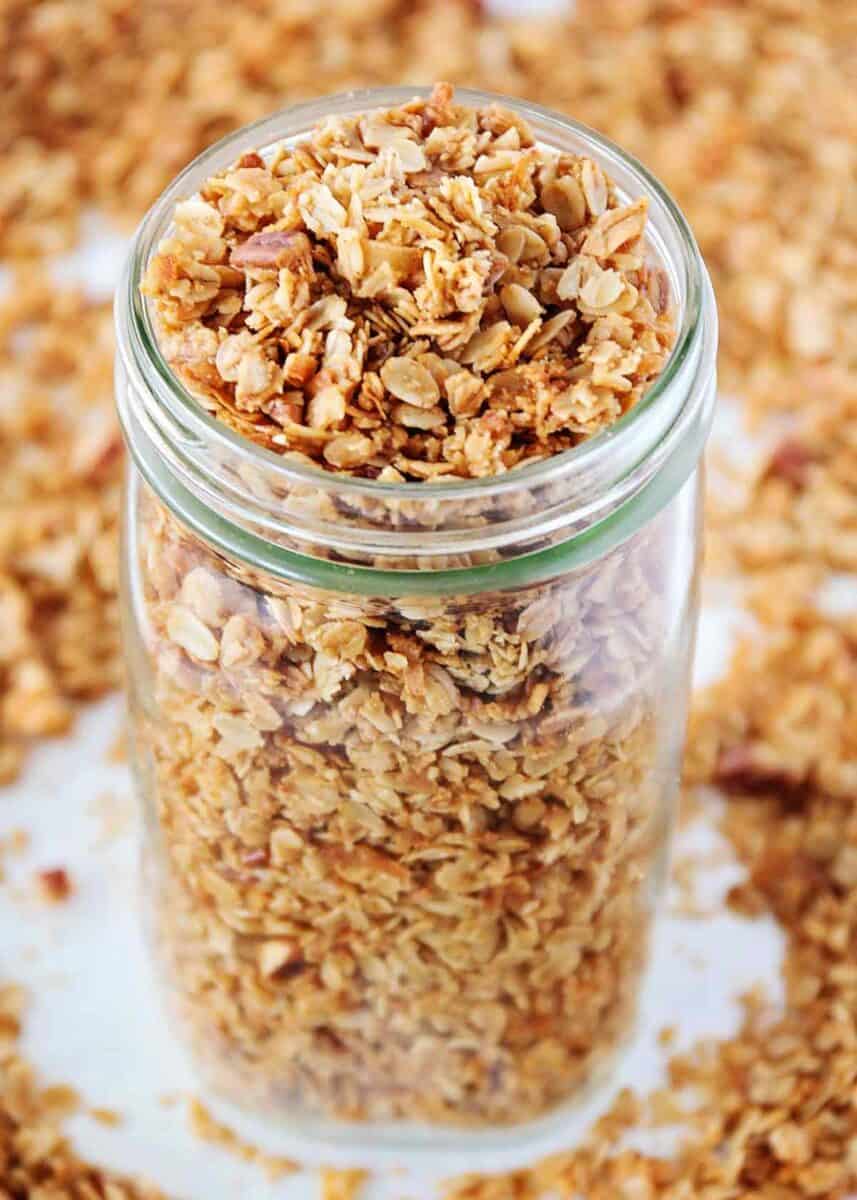 5 star review
"I always love granola. I tried this one and it was perfect. From now on i'll prefer home made granola than buying an instant one. Thanks for the recipe!"

-Latrice
Ways to Use Granola
Granola is SO versatile and delicious. Add it to your breakfast, have a light lunch smoothie with it, or eat it as a snack in your hand. All these choices are delicious and so good! Check out some of my favorite ways to use it below!
Recipe FAQs
Is eating homemade granola healthy?
It depends on what is added to the granola but more than likely it is a healthy combination. There are natural sweeteners that help and then add-ins that can take away the healthiness but adds sweetness to the homemade granola.
Is it cheaper to make homemade granola?
It may not seem like it when purchasing all the ingredients but yes, it is less expensive to make homemade granola. You can make several batches of granola with one trip to the grocery store and it tastes better too!
Why is my homemade granola not crunchy?
When baking at a high temperature in the oven, the nuts and oats can become overcooked or even burnt before the other ingredients can properly dry out and become crispy in the oven. Cook your granola low and slow in the oven. Stir it occasionally to make sure that it is evenly cooking throughout the baking sheet.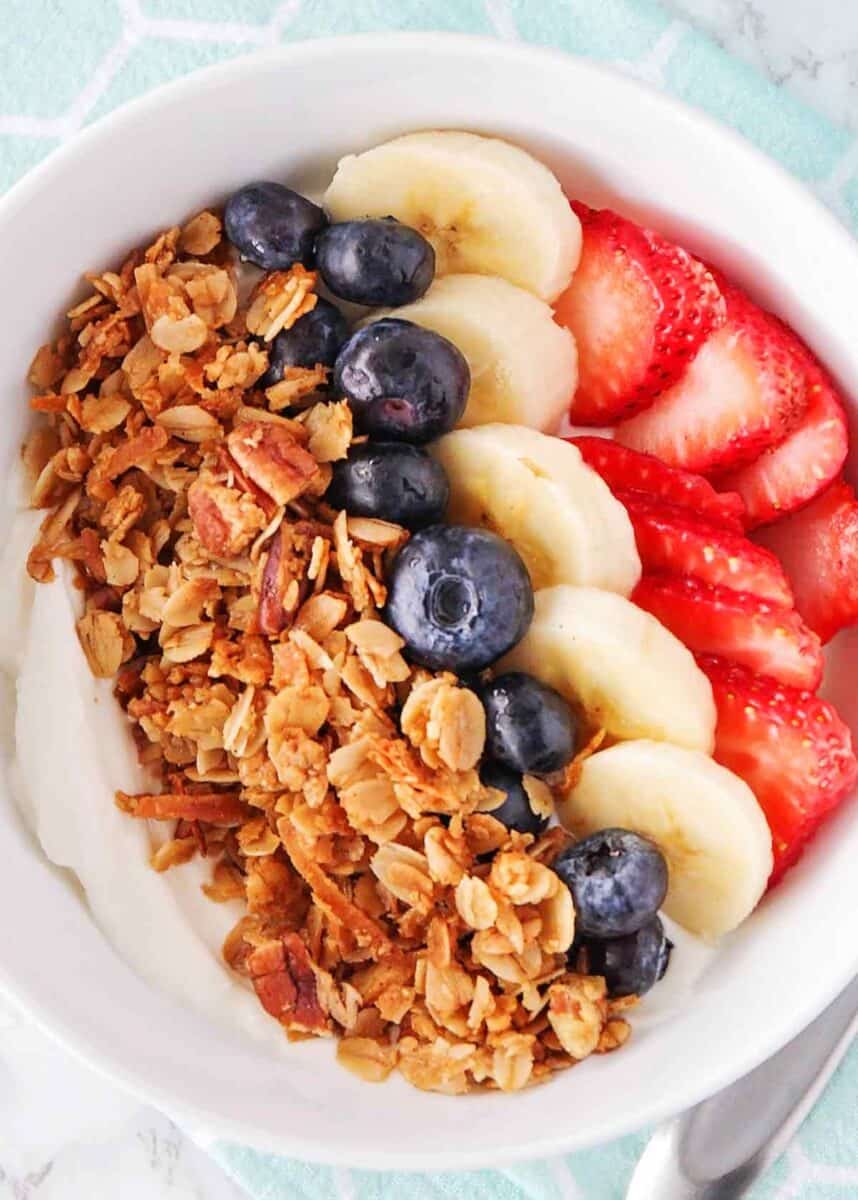 To Store
Add granola to an airtight container or bag. I love to store it in a glass mason jar. It will keep for up to 1 month stored in an airtight container at room temperature.
More Healthy Snacks
HUNGRY FOR MORE? Subscribe to my newsletter and follow on Facebook, Pinterest and Instagram for all the newest recipes!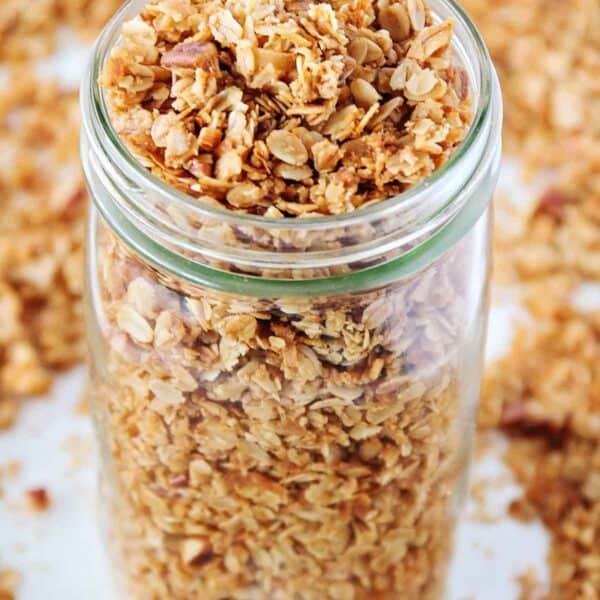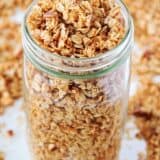 Granola Recipe
Easy homemade granola recipe with oats, honey, coconut, pecans and a delicious crunch. Perfect for snacking, breakfast or dessert!
Ingredients
5 cups rolled old fashioned oats
⅔ cup melted coconut oil , or canola oil
½ cup honey
1 teaspoon vanilla extract
½ teaspoon salt
¼ cup light brown sugar
½ cup coconut
½ cup chopped nuts (I prefer a mix of cashews, almonds or pecans)
½ teaspoon ground cinnamon
Optional mix in's: Additional nuts, seeds or craisins (I love adding in 1/2 cup golden berry blend from TJ)
Instructions
Preheat oven to 300°F. Line or grease a 15×18 jelly roll pan and set aside.

Mix all the ingredients in a large bowl and stir until combined. Spread granola mixture out evenly onto a greased jelly roll pan.

Bake for 7 minutes. Remove from oven and stir. Put back in the oven for 7-10 more minutes or until it reaches desired crunchiness. It will harden more as it cools, so be careful not to burn. Remove from oven, stir and let cool.

Store granola in an air tight container.
---
Notes
Optional add-in's:
chocolate chips (wait to add until after baking)
chopped dried fruit
extra nuts such as macadmia nuts or walnuts
chia seeds, cinnamon
To store: Place in an airtight container or bag and keep at room temperature for up to 1 month.
Nutrition
Serving: 0.25cup | Calories: 163kcal | Carbohydrates: 20g | Protein: 2g | Fat: 9g | Saturated Fat: 1g | Sodium: 51mg | Potassium: 78mg | Fiber: 2g | Sugar: 8g | Vitamin C: 0.1mg | Calcium: 12mg | Iron: 0.8mg
Nutrition provided is an estimate. It will vary based on specific ingredients used.
Did you make this recipe? Don't forget to give it a star rating below!