The BEST healthy smoothie recipes that are quick, easy and full of nutrients! These delicious drinks are the perfect way to pack in lots of fresh fruits and veggies.
Easy Smoothie Recipes
I'm trying to eat healthier this year and smoothies have been my go-to for a quick and nutritious breakfast. When meal prepping each week, I love to make smoothie bags to stick in the freezer for an easy grab-and-go option. If you're on the hunt for other healthy recipes, make sure to check out my healthy snack ideas and healthy dinners too!
I absolutely love smoothies and drink one every morning! They are quick, easy and the perfect way to pack in lots of fruits and veggies. Of course I have my favorite go-to's, but it's definitely nice to switch it up a bit. With this list of healthy smoothie recipes, you'll never get bored!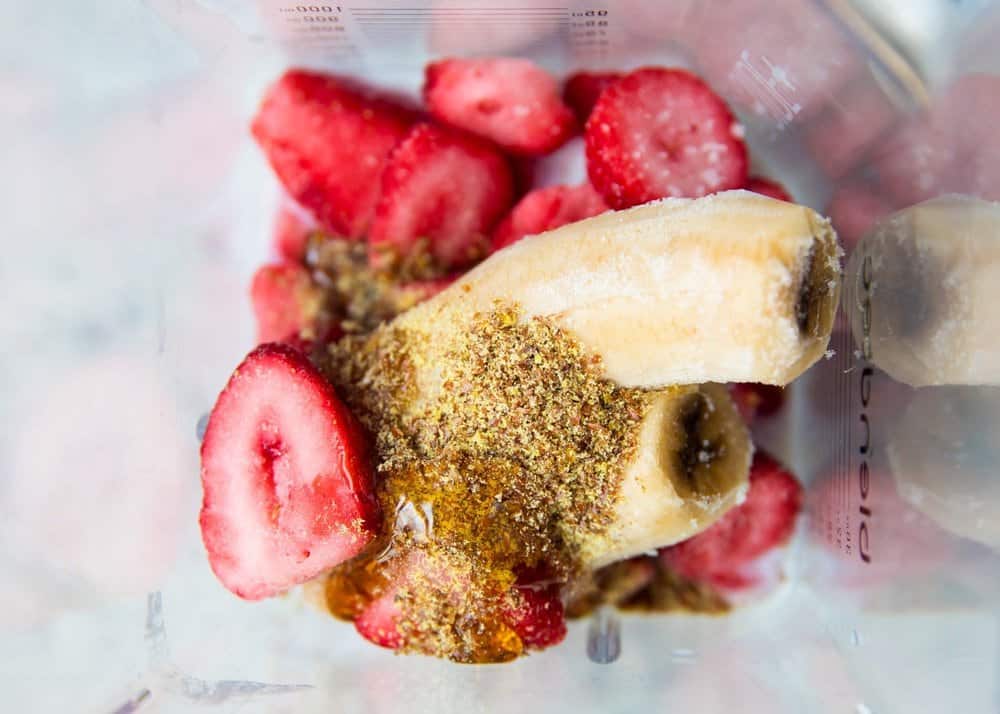 Best Blender to Use
If you make a lot of smoothies, I'd recommend getting a higher quality blender. It's worth the investment and honestly…you'll never look back! They will turn out so creamy and have the best consistency. Especially if you're adding in lots of rough fruits and veggies.
The Blendtec (above) is my all-time favorite blender! I've had it for years and it's held up great. Plus the quality is amazing and it blends up smoothies (and other recipes like soups, sauces and ice cream) so nicely.
One of my favorite things about the Blendtec is that it comes with a large blender base, as well as a twister jar. I typically use the large blender when I'm making smoothies for my family, since it's bigger and can hold more volume.
The twister jar is perfect for making individual-sized smoothies. It's smaller in size and is super easy to clean. I love that it makes just the right amount every time. Sometimes when I use the larger blender, my eyes get big and I end up making too much. The twister jar helps with portion control! I also just recently purchased this Ninja Nutri blender below. It makes the perfect single sized smoothies that are super creamy and delicious.
Favorite Protein Powder for Smoothies
Smoothies are the perfect way to pack in extra protein. I love adding a scoop to mine so that I stay fuller for longer. It took me awhile to find a protein powder that had the right texture, taste and didn't upset my stomach. If you don't normally add it to your smoothies, I'd recommend starting with 1/2 scoop and then increase to a full scoop once you're sure that you like the taste and know it agrees with your stomach.
Clean Simple Eats Vanilla is my absolute favorite type. I also have the chocolate version too.
PEScience is another good option that you can buy on Amazon.
Cotsco is another great place to get protein powders for a cheaper price.
Other protein powders that I've used and liked are HIGH Protein, Ideal Lean and Your Super (this one is plant based).
TIP: There are lots of other ways to add more protein to your smoothies! Try adding in a scoop of collagen, Greek yogurt, cottage cheese, nut butter, egg whites, flaxseed or chia seeds.
Prepping in Advance
One of my favorite things to do when meal prepping is to make smoothie bags. I just portion out the fruit and veggies and place in zip top bags in the freezer. Then when I'm ready to make one, all I need to do is add the other ingredients like milk or yogurt. So easy and the best way to set yourself up for success! I always have a couple of these bags stocked in my freezer for busy mornings.
Best Healthy Smoothies
This list includes green smoothies recipes, breakfast smoothies, protein smoothies, veggie smoothies, fruit smoothie recipes and more. No matter what kind you're searching for…you're bound to find it here. :)
Favorite Smoothie Toppings
Don't forget the toppings! All of these smoothie recipes taste delicious as-is, but adding on extra toppings really takes them up a notch. Below are some of my absolute favorite toppings.
Shredded coconut or coconut flakes
More fresh fruit slices
Nuts
A drizzle of nut butter
Chia seeds
A drizzle of honey
Hemp seeds
Sprinkle of cinnamon
Cereal
Dried fruit