Wow, your guests with a beautiful pancake charcuterie board complete with buttermilk pancakes, bacon, fluffy scrambled eggs, and a variety of toppings to choose from! This fun and easy way to entertain pulls in a crowd every time!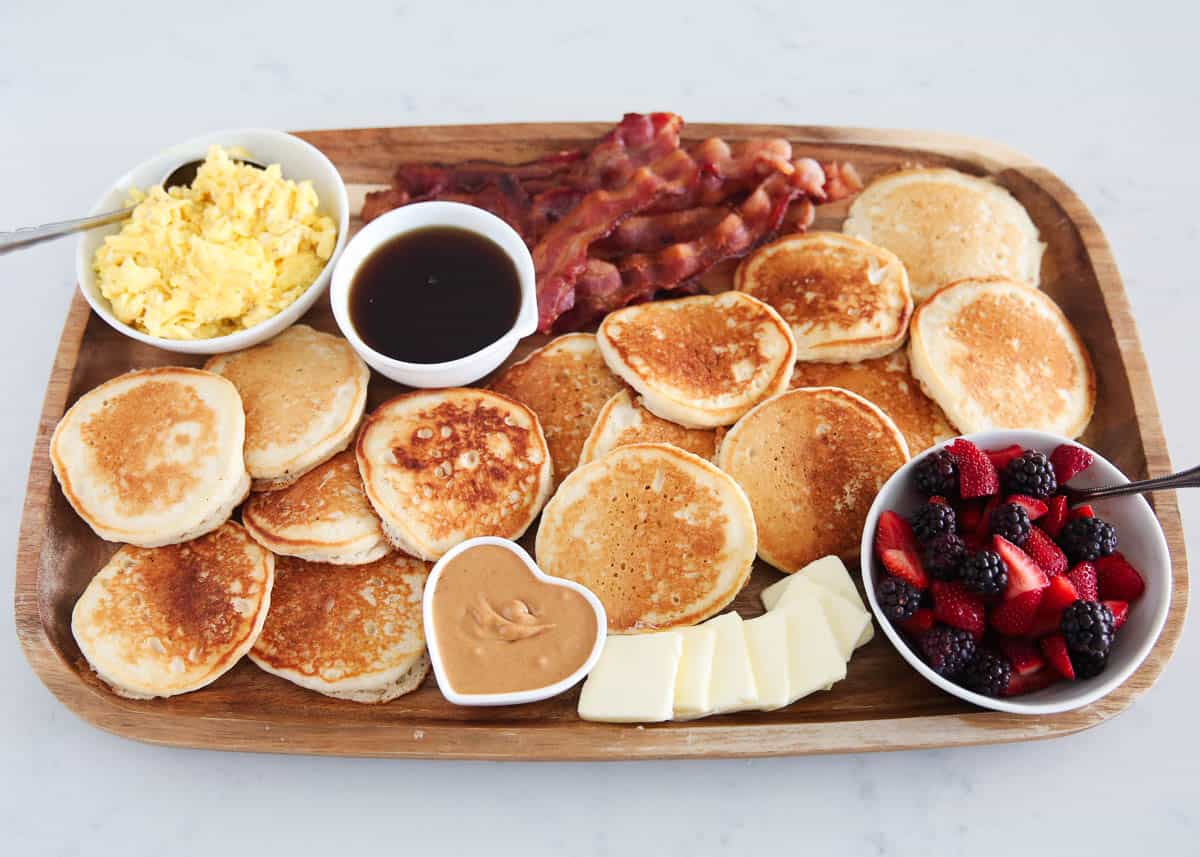 Breakfast Pancake Board
Making and assembling a pancake charcuterie board is one of my favorite ways to set up breakfast or brunch for a crowd! It's the perfect way to assemble a party platter with something that everyone loves. Buttermilk pancakes!
Light and fluffy buttermilk pancakes with a section reserved for scrambled eggs and crispy bacon on the side! A pancake board is such a simple concept but when presented in a fun way like this, it becomes super impressive!
Having a variety of everyone's favorite sweet and savory items to choose from makes entertaining easy and fun! Each person gets to choose how they want to jazz up their flapjacks with things like fresh berries and nut butter to syrup or chocolate sauce!
Why This Recipe Works
So many options! There is no shortage of breakfast charcuterie board ideas when it comes to creating a pancake breakfast board. The pancakes, eggs, and bacon is just a jumping-off point!
Easy to prepare. There are so many components to a board like this that can be made ahead. Washing berries, cutting fruit, and adding syrups to bowls.
Everyone loves pancakes. I don't know many people who don't! You'll get a lot of oohs and ahhs from people which is always worth a bit of effort ;)
Perfect for any occasion. Learn how to make the ultimate pancake platter for the upcoming holidays, the next time you host a bridal shower or a casual Sunday brunch with your family. The more people you feed, the more creative it forces you to get!
What Do You Put On a Pancake Platter?
Fluffy pancakes: I have a great homemade pancake recipe for buttermilk pancakes I like to use. Most often I have an easy pancake mix on hand that I can just add my wet ingredients to which saves me time. You could even make something a little more fancy like these ricotta pancakes.
Bacon: If you're wondering how to cook bacon in the oven to save room on the stove, I've got you covered. No splatter, easy clean-up, and the strips are always cooked flat!
Eggs: I typically serve scrambled eggs because they're the most popular, however, that's not to say you can't whip up a few fried eggs, make an omelette or even include some easy deviled eggs.
Butter: Cut into slices, also known as pats of butter.
Jam: Whatever kind you have on hand. Homemade strawberry jam or peach jam would be extra special!
Mixed berries: Washed, dried, and placed in a bowl. For a little something extra you could serve a berry fruit salad.
Maple syrup: Any or all of the following maple syrup, buttermilk syrup, or cinnamon pancake syrup would be great. I love warming up my syrup just before assembling the pancake charcuterie board.
Peanut butter: Creamy or chunky, regular, or natural the choice is yours.
How to Make a Pancake Charcuterie Board
The beauty of making a pancake charcuterie board is that there are so many ways to customize the platter to your liking! Scrambled eggs, bacon and pancakes are always a must-have on ours, but feel free to get creative when preparing your own breakfast charcuterie.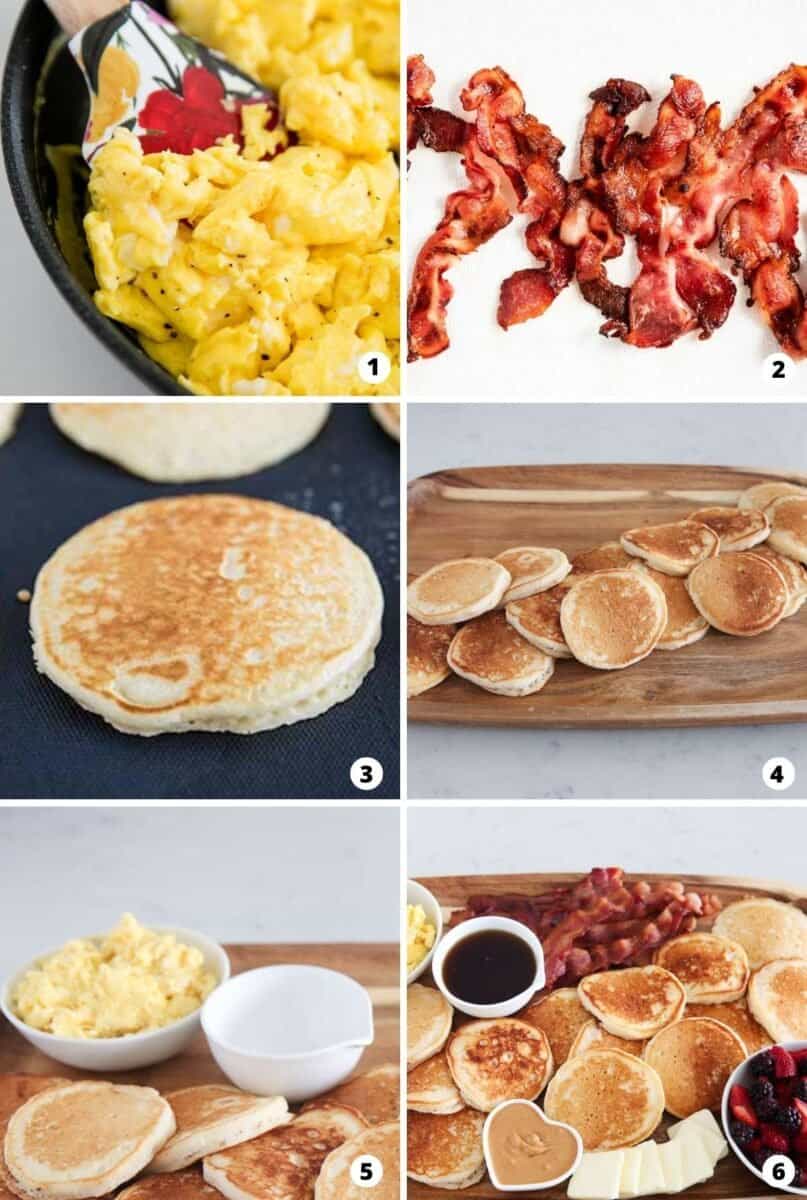 Find the full printable recipe below.
Scramble the eggs. Cook eggs in a nonstick skillet over medium-low heat. Cook half of the eggs at a time, pouring half into the pan and using a spatula to move the eggs around until nearly cooked through, but still a little loose. Season with salt and pepper and transfer out of the pan to a bowl. Do this with the remaining eggs.
Cook the bacon. Lay bacon strips in a single layer on a foil-lined bacon sheet. If you prefer it crispy, lay them on a wire rack on top of the foil so the heat gets to all sides. Cook for 15-20 minutes until it's reached desired crispness. Transfer to a plate lined with a paper towel to absorb extra grease.
Make the pancakes. Coat the preheated griddle with butter and scoop out 1/4 cup batter and pour it into the griddle. Cook for 2 minutes until bubbles appear and flip to cook 1 minute more until lightly golden. Do this with the remaining batter.
Lay the pancakes on the board. Arrange warm pancakes across the large wooden board, overlapping as needed. I like to place them down the middle as they are the star of the show.
Set the bowls down. Place eggs in a medium size bowl on the board along with a couple of small bowls for the fruit, syrup, peanut butter, and jam.
Fill in the gaps. Add the bacon and slices of butter on opposite sides of the pancakes and fill any empty spaces with extras like whole strawberries, blueberries, raspberries, or blackberries for garnish, if you like.
A Tiny Twist!
Make some mini silver dollar pancakes for a fun mini pancake charcuterie board option! Do this by using just a Tablespoon of pancake batter for each one! Then you'd have room for mini muffins, mini donuts, and mini cinnamon rolls. You get the idea!
More Favorite Pancake Topping Ideas
This pancake charcuterie board is easily adaptable which makes it all the more fun to put together!
Here are some things you can swap out or add in:
Chocolate chips, chocolate sauce, or Nutella
Fresh fruit (apples, grapes, peaches, oranges, kiwi watermelon, cantaloupe, etc.)
Nuts (walnuts, almonds, pistachios, pecans)
Almond butter (or sun butter)
Honey or other preserves
Cream cheese
Sliced bananas & coconut flakes
Whipped cream & sprinkles
Sausage links or ham
Granola & Greek yogurt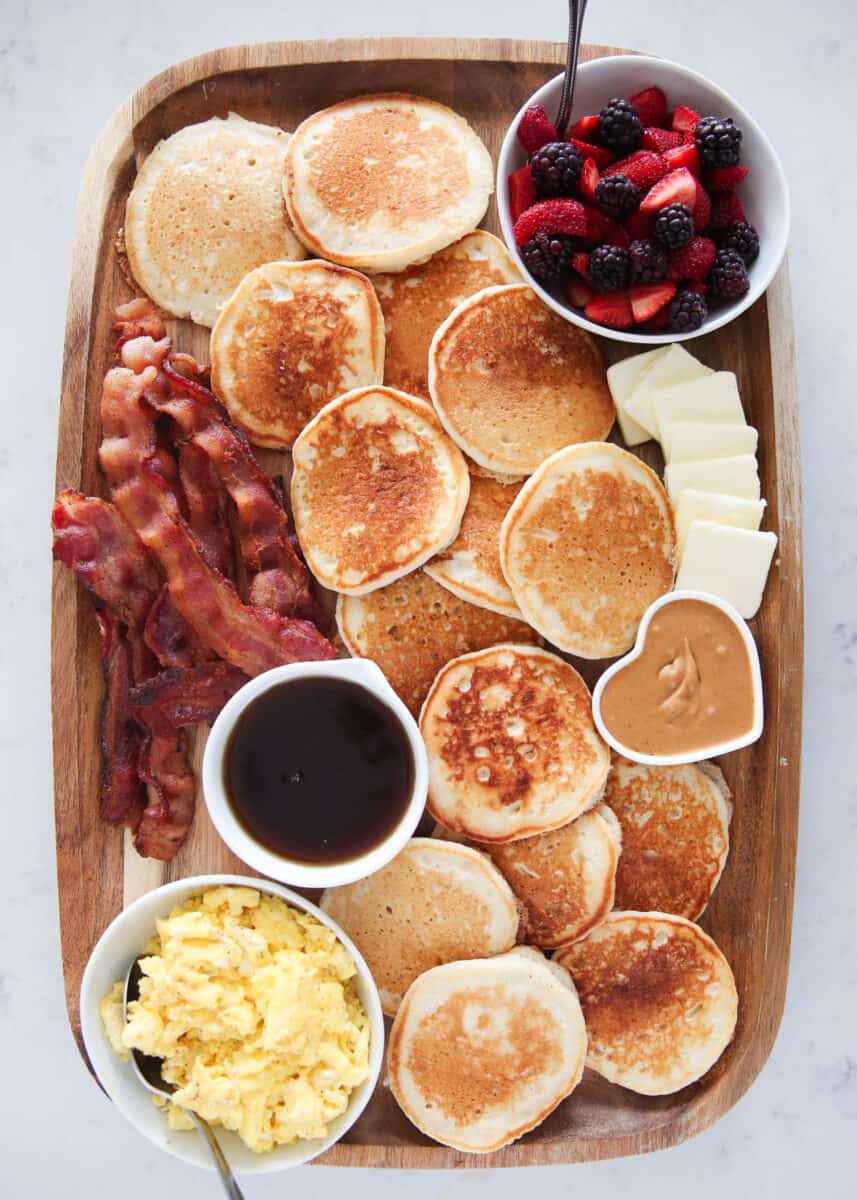 Expert Tips
Use high-quality fresh eggs for your scrambled eggs. Cooking half at a time allows them to cook evenly without getting overcrowded.
Adding milk to the eggs helps create a fluffier texture.
Always grease the skillet so the eggs don't stick and cook on low heat.
Season the eggs at the end so that the salt doesn't draw out any moisture.
Keep pancakes warm while you wait. Place them on a baking sheet and keep them in the oven at 175 degrees.
Recipe FAQs
What is a proper charcuterie board?
Traditionally, it's a way of serving appetizers such as cured deli meats, cheese, crackers, and things like olives, pickles, and preserves. Since then, it's been widely adapted to dessert boards, just cheese platters or just fruit platters.

Some will use as a brunch board, while others will have it for breakfast or lunch. It's a great way to provide guests with a little bit of everything!
Can you freeze leftover pancakes?
Yes, so go ahead and make more than you need! Once they are completely cooled, place the in a freezer-friendly bag. Separate them with parchment paper if you don't think you'll thaw them all at once later on.

Keep them frozen for up to 3 months and reheat in the microwave or toaster when you're ready to eat them or make another pancake charcuterie board!
How do you keep this pancake charcuterie board warm?
You don't really! You can keep the pancakes warm in the oven on low, as well as the bacon, but other than that, you'll need to assemble it just before serving. The same goes for the warm syrup, heat it just before pouring.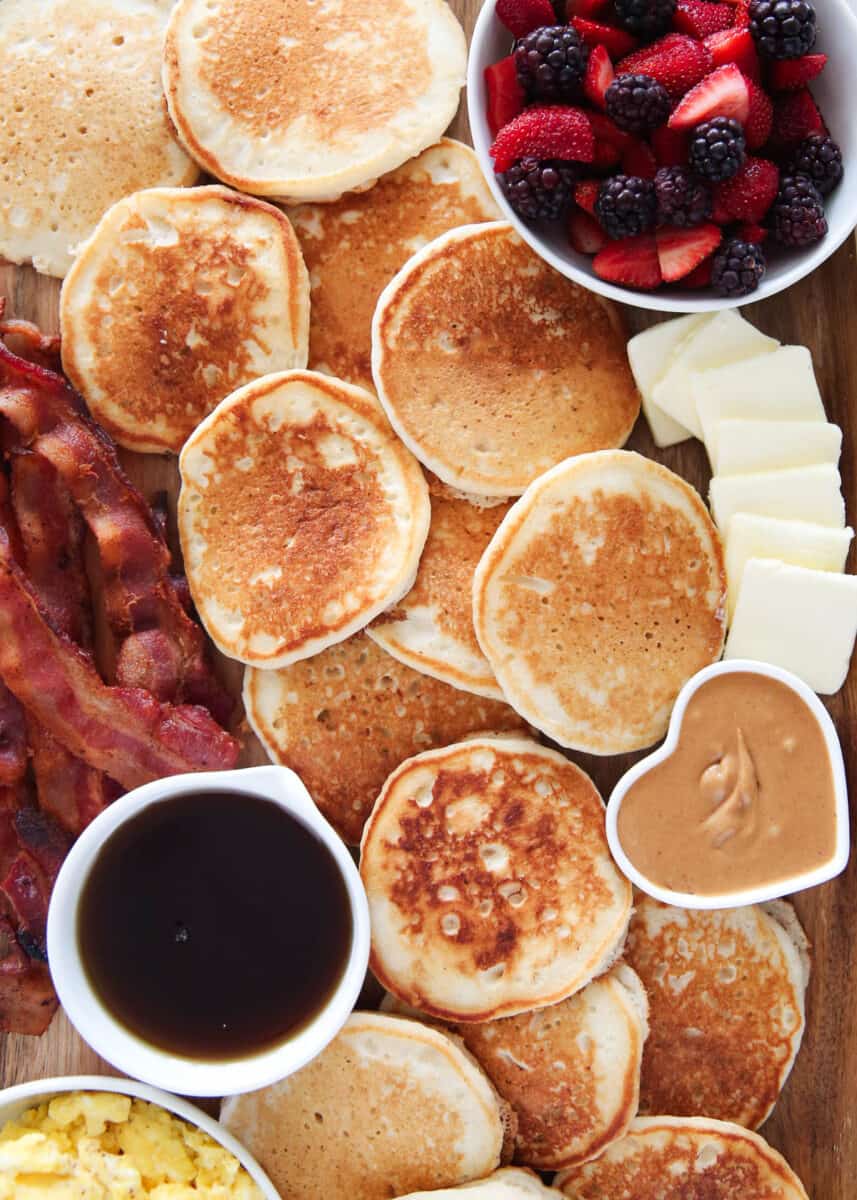 HUNGRY FOR MORE? Subscribe to my newsletter and follow on Facebook, Pinterest and Instagram for all the newest recipes!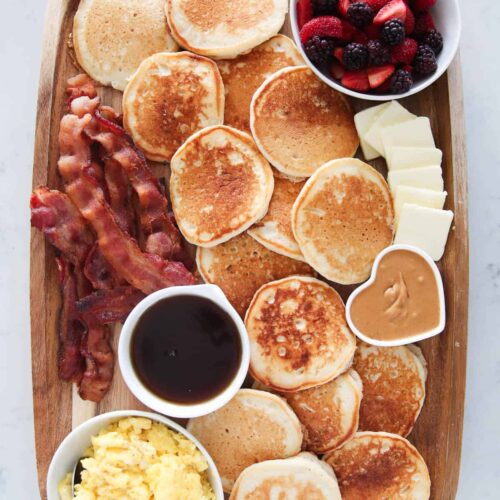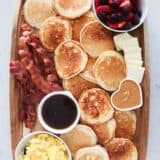 Pancake Charcuterie Board
Wow, your guests with a beautiful pancake charcuterie board complete with buttermilk pancakes, bacon, fluffy scrambled eggs, and a variety of toppings to choose from! This fun and easy way to entertain pulls in a crowd every time!
Ingredients
Buttermilk Pancakes
¼ cup unsalted butter , plus more for the griddle
2 cups all-purpose flour
¼ cup granulated sugar
2 teaspoons baking powder
1 ½ teaspoons baking soda
¾ teaspoon salt
2 cups buttermilk
2 large eggs , whisked
2 teaspoons vanilla extract
Scrambled Eggs
1 dozen large eggs
¼ cup milk or water
1 Tablespoon unsalted butter , divided
Salt , to taste
Ground black pepper , to taste
Assemble the Board
Butter , sliced
2 cups mixed berries , rinsed and in a serving bowl
Maple syrup , warmed and in a serving bowl
Peanut Butter , in a serving bowl
Jam , in a serving bowl
Instructions
Bacon
Preheat the oven to 400ºF. Line a baking sheet with foil. If you prefer crispy bacon, place a wire rack on top of the foil.

Lay the bacon strips in a single layer. Cook 15 to 20 minutes, or until bacon has reached desired crispness.

Using tongs, transfer the bacon to a paper towel-lined plate to absorb any extra grease.
Buttermilk Pancakes
Preheat a griddle to 325°F, or place a skillet over medium-high heat. Melt the butter in the microwave and set aside to cool for 3 minutes.

In a large bowl, whisk together the flour, sugar, baking powder, baking soda and salt. Stir in the buttermilk and butter until combined. Stir in the eggs and vanilla, just until the batter is smooth with only a few lumps. If the batter is too thick, add another splash of milk. If it's too thin, add another Tablespoon flour.

Coat the griddle (or skillet) with butter and pour 1/4 cup batter into small circles. Cook the pancakes until bubbles appear, about 2 minutes. Flip and cook the other side 1 minute, or just until lightly browned.

Place pancakes on a baking sheet in the oven at 175°F to keep warm.
Scrambled Eggs
In a large bowl, whisk the eggs and milk 1 minute.

Heat a large non-stick skillet over medium-low heat. Add 1/2 Tablespoon butter or grease lightly with cooking spray.

Pour half of the egg mixture into the skillet. Using a spatula, pull the cooked outer edge of the eggs to the center and create circles in the middle. Keep stirring. Turn off the heat once they are nearly cooked through, but still a little loose. Season with salt and pepper. Transfer to a serving bowl. Repeat with remaining 1/2 Tablespoon butter and egg mixture. Once cooked, add to the other eggs.
Assemble the Board
On a large charcuterie board, place pancakes down the center. Add bacon and slices of butter around the pancakes. Arrange the bowls of eggs, mixed berries, maple syrup, and peanut butter or jam in the open spaces. Fill in any gaps with pancakes or bacon.
---
Notes
Variations: This recipe is endlessly adaptable and so much fun to mix things up. Try it with waffles, French toast, crepes, breakfast potatoes, or even mini egg fritattas. The key is just to have fun.
Fruit: You can also decorate the board with whole strawberries, blueberries, raspberries, or blackberries, if you like.
Cook bacon on the stove:
Start with a cold skillet. Place 6 to 8 strips of bacon onto the pan.
Cook over medium-low heat. Low and slow is the key.
Turn bacon occasionally to evenly cook both sides.
When bacon has reached desired crispiness transfer to a paper towel-lined plate.
Tips for the perfect scrambled eggs:
Use high quality and fresh eggs for better results. Don't cook more than 6 at a time or the pan will get too crowded.
Add 2 Tablespoons milk or water to create a fluffier texture.
Whisk the eggs for a good minute. The mixture should be light and completely mixed.
Lightly grease the skillet with non-stick oil or butter.
The key is to keep the heat low. Cooking them too fast will make them hard.
Season the eggs towards the end to avoid drawing any moisture out.
Remove from heat while they still seem a little wet. They will continue to cook in the pan until done.
Freezing pancakes: Allow to cool and then place in a large zip-top bag. Place in freezer for use within 2 to 3 months. When ready to eat, reheat in the microwave or toaster oven for 30 seconds.
Nutrition
Serving: 1g | Calories: 593kcal | Carbohydrates: 35g | Protein: 22g | Fat: 40g | Saturated Fat: 16g | Polyunsaturated Fat: 6g | Monounsaturated Fat: 15g | Trans Fat: 1g | Cholesterol: 350mg | Sodium: 976mg | Potassium: 449mg | Fiber: 1g | Sugar: 10g | Vitamin A: 769IU | Calcium: 175mg | Iron: 3mg
Nutrition provided is an estimate. It will vary based on specific ingredients used.
Did you make this recipe? Don't forget to give it a star rating below!