EASY Fajita Salad Recipe
EASY Fajita Salad Recipe… done in 20 minutes or less. This salad is packed with flavorful chicken, veggies and green salsa. Perfect for a quick dinner or lunch!
One thing I love about this salad is how much veggies is packed into it. It is very filling and also super healthy. I usually end up doing a no-carb cleanse once or twice a year, and this is always my go-to salad when I am up to such craziness. It's always rotated into the menu once or twice a month as well. My whole family loves it. My kids eat everything separate of course. ;)
The fresh avocado, lime and cilantro really make this salad, so don't skip out on those. The Old El Paso fajita seasoning also gives the chicken the perfect flavor! And the dressing couldn't be any easier with the green salsa. I make this salad with a cilantro lime ranch dressing when I have extra time and that tastes amazing as well. Adding tortilla strips adds a great crunch to the salad as well if you have those on hand.

MY OTHER RECIPES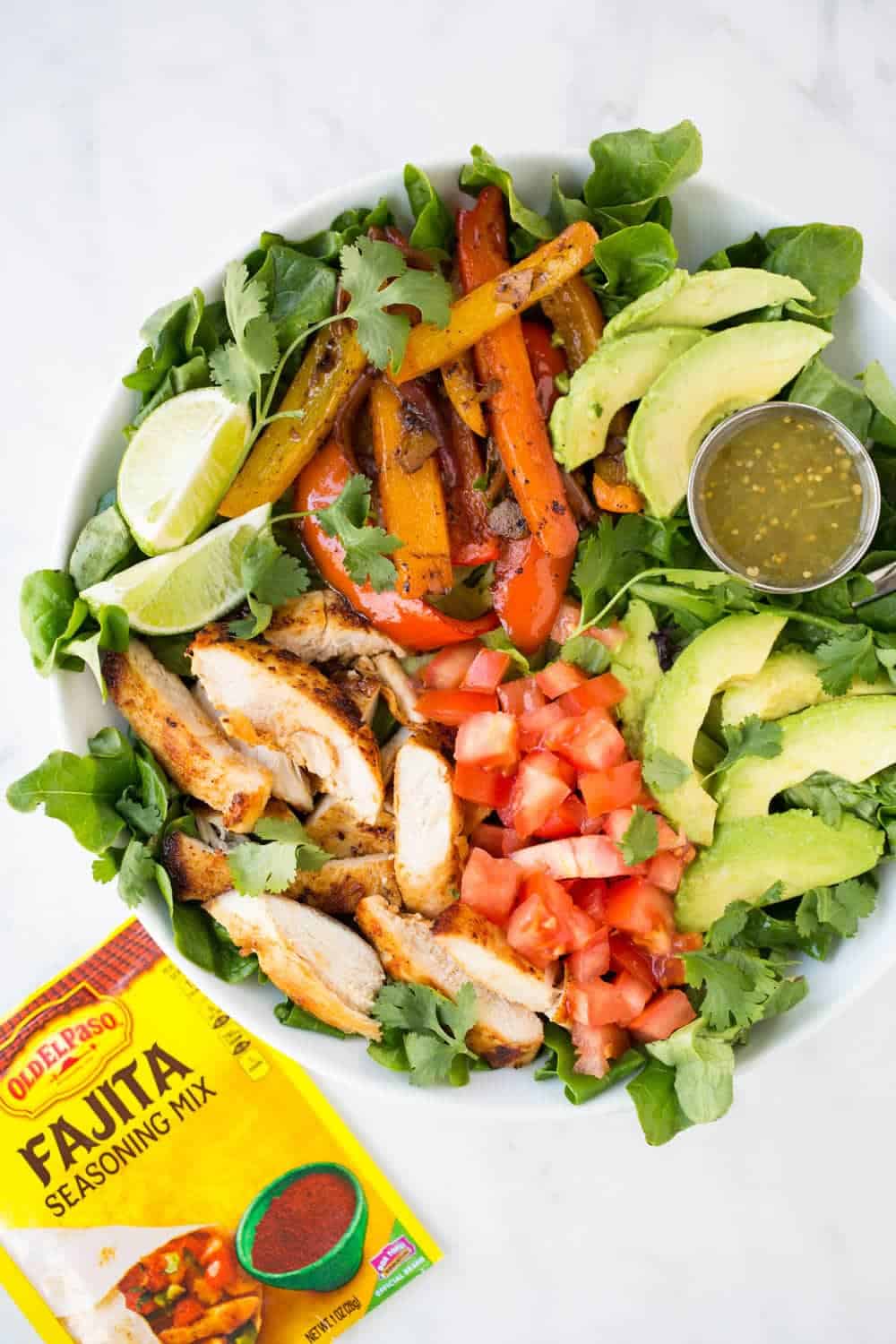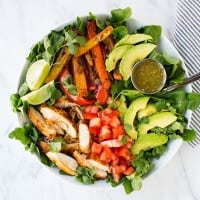 Fajita Salad
Yield: 4 servings
Prep Time: 5 to 8 minutes
Cook Time: 8 minutes
Total Time: 20 minutes
Ingredients:
4 chicken breasts, pounded and trimmed
2 to 3 Tablespoons Old El Paso Fajita seasoning
2 Tablespoons olive oil
1 Tablespoon butter
1 (4-ounce) can Old El Paso chopped green chiles
1 of each: red, yellow, orange bell pepper, sliced
1 small purple onion, sliced thin
Lettuce (about 8 to 10 cups)
2 tomatoes, diced
1 avocado, sliced
Fresh cilantro
Green salsa
2 limes, cut into wedges
Directions:
Place the chicken on a plate and pat dry with a paper towel. Rub the seasoning on both sides of the chicken.
Place 1 tablespoon oil and butter into a frying pan over medium heat. Once it has warmed up, place the chicken into the pan and allow to cook for 4 minutes on each side, or until the center is cooked through and the edges are golden. Remove chicken from the pan and allow to cool slightly. Then cut chicken into strips.
Place another tablespoon oil into the same pan. Then cook the peppers, onions and green chiles for 3 to 5 minutes, or until tender.
Next place your lettuce into a bowl and then layer with the chicken, bell pepper mixture, avocados, tomatoes, cilantro and limes. Then just before serving squeeze the lime over the top and drizzle the green salsa on top.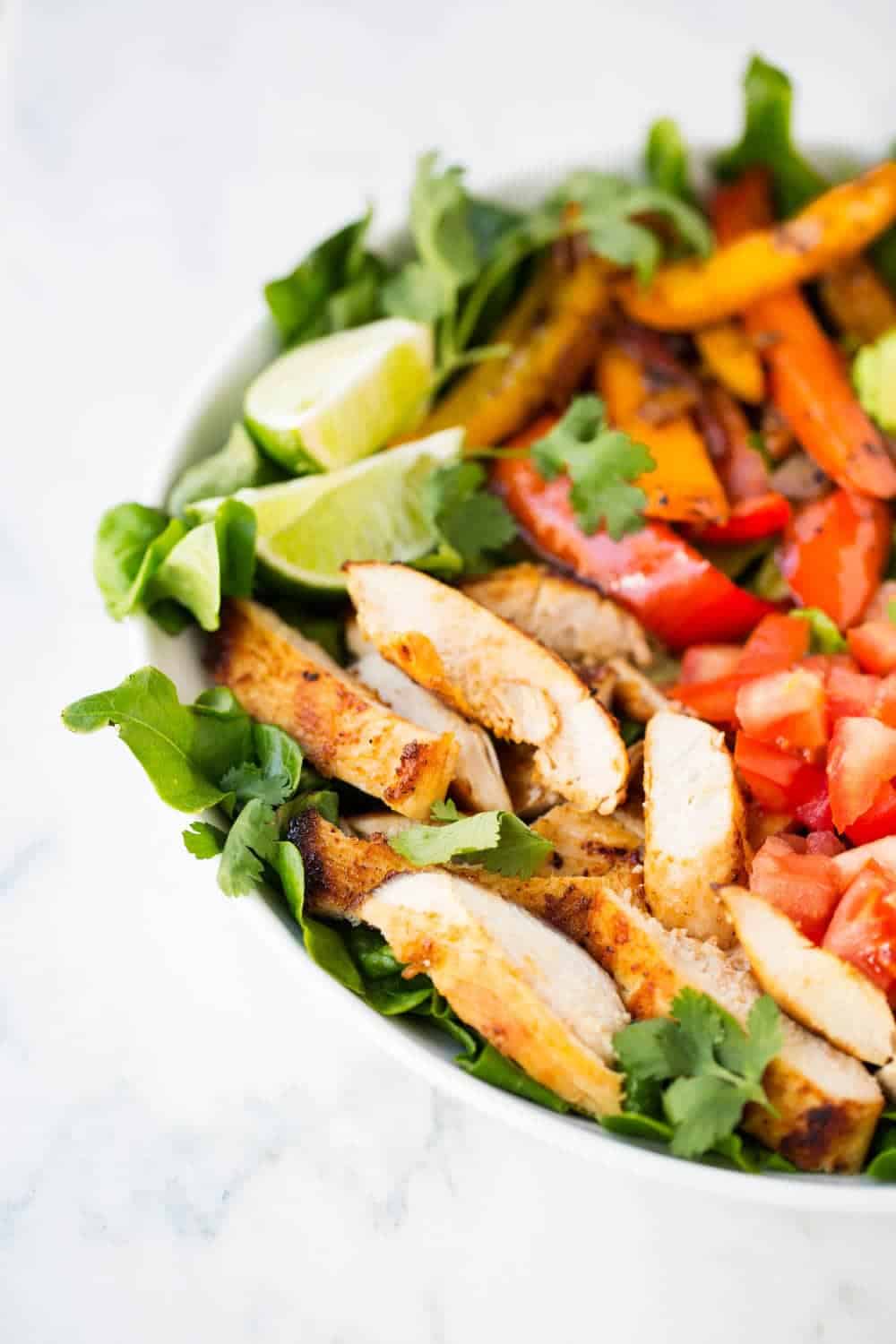 During the summer we love to grill the chicken and bell peppers. We are counting down the days until summer and weekly BBQ's. Can't wait!
Enjoy!

Looking for more salad recipes? You'll love these too:
This post was brought to you by Old El Paso. All opinions are 100% my own. Find out more about their products here or connect with them on Facebook. 
Join in! Leave a comment!
Comments