Halloween desserts {dipped ice cream cones}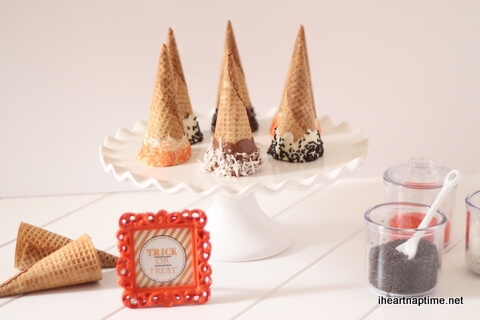 You all know how much I LOVE ice cream.  My blog was first named I Heart Nap Time with Chocolate Sundaes for crying out loud! LOL. I love Halloween desserts as well… so I made the ice cream cones festive for the upcoming holiday! ;)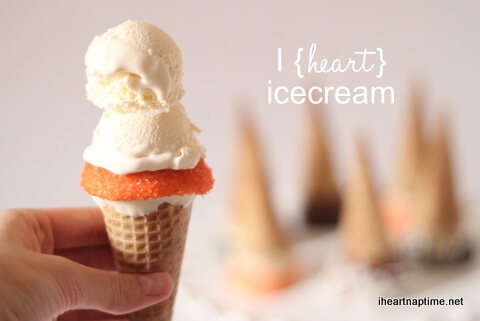 First off… have any of you been to Smart and Final?! I remember going there back in high school when I was Jr. Class President. I was in charge of Prom (I may have been still setting up when my date arrived-but that's a whole different post). I bought EVERYTHING there because they're paper products were so well priced. Well this was my first time I had been back since high school and boy have I been missing out! I found so many fun containers, cake decorating supplies and lots more for super cheap!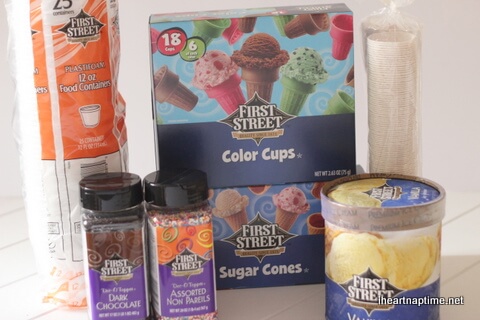 Today I got to review their ice cream products… did I mention how excited I was about that?! Didn't think so! ;) I've been wanting to make some chocolate dipped cones for awhile, so I thought I would try those out.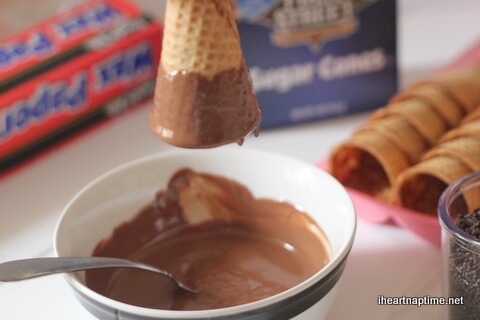 Dipping cones is seriously so easy/fun … and it makes ALL the difference. All you do is melt your chocolate in a bowl for one minute. Stir around…then dip your cone in the chocolate. You can use a spoon to help get the chocolate up on the edges.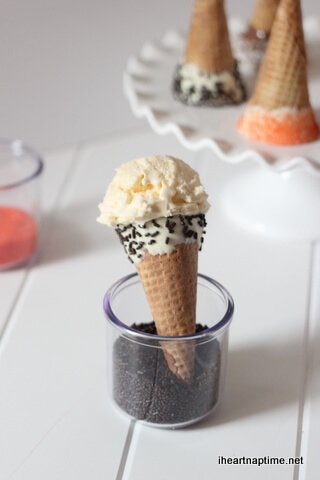 Then sprinkle on your favorite toppings… sprinkles, coconut, crushed oroes, toffee bits…anything you'd like!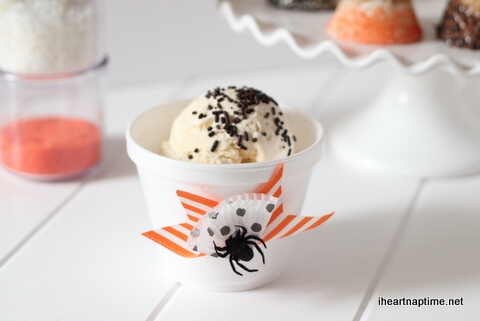 For people who don't love cones (cough -my husband- cough) you can put ice cream in these First Street Food containers. They were 25 for a dollar… can't beat that! They are pretty plain… so I wanted to dress them up a little. All I did was add a folded ribbon with glue, then folded a cupcake wrapper on top of that and added the spider for Halloween. SO cute!!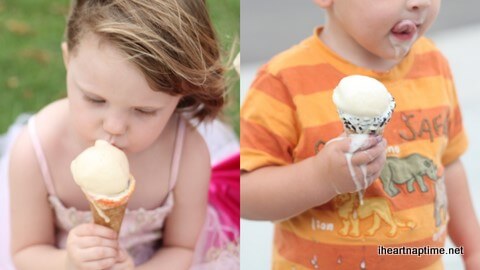 P.S. I think the kids enjoyed the ice cream cones too! ;) They were SUPER yummy! Aren't they cute?! mmm…
Disclosure: This project has been compensated as part of a social shopper insights study for #collectivebias.