Today's post is in partnership with Downy. It's a yummy one! :)
Do you ever have those day where you just want to hide in the closet with some chocolate?! Saturday was one of those days. My husband was working late, the kids were destroying everything in site, deadlines were approaching and the stress was rising. I decided once the kids were in bed I was just going to relax! That's what Saturday nights are for right?! ;)
I spotted these pumpkin kisses at Target earlier that day and decided to bake up these yummy chocolate pumpkin cookies. I wanted something easy and fast and these hit the spot just right! So so good! I turned on some good ol' Friday night lights, sat down on the couch and it felt SO good to just relax. I think sometimes I forget that it is good to just have no plans. Suddenly my day was softened while I was all snuggled up on the couch with a warm blanket and cookie.
Now I have to say you are either going to LOVE or hate these pumpkin spice hershey kisses… so you can make these cookies with or without the kisses. I absolutely LOVE them with the pumpkin kisses, but my husband preferred the cookies without them. You can also turn this recipe into muffins too, which is really yummy.
Chocolate pumpkin kiss cookies
Ingredients
1 box devil's food cake mix (chocolate will work too or your favorite cake mix)
1 15 oz can pumpkin (not pie filling)
1 bag pumpkin spice Hershey's Kisses
Instructions
Pre-heat oven to 350°.
In a large bowl combine cake mix and pumpkin. Stir or use a mixer until dough is smooth.
Line baking sheet with parchment paper or a baking mat. Scoop cookie dough onto the pan and then bake for 8-10 minutes.
Remove pan and allow to cool for one minute on pan. Gently press kisses in the center of the cookies and then place cookies on a cooling rack.
Enjoy!
http://www.iheartnaptime.net/chocolate-pumpkin-cookies/
Helpful links:
That's it! Can it get any easier? Theses chocolate pumpkin cookies are perfect for the "non-baker." ;) Here's what they look like as muffins. Note: You will need to bake the muffins for about 20-30 minutes. I found those cute baking cups here.
Yummy both ways! With one batch you can get about 24 cookies or 12 muffins. Feel free to double it!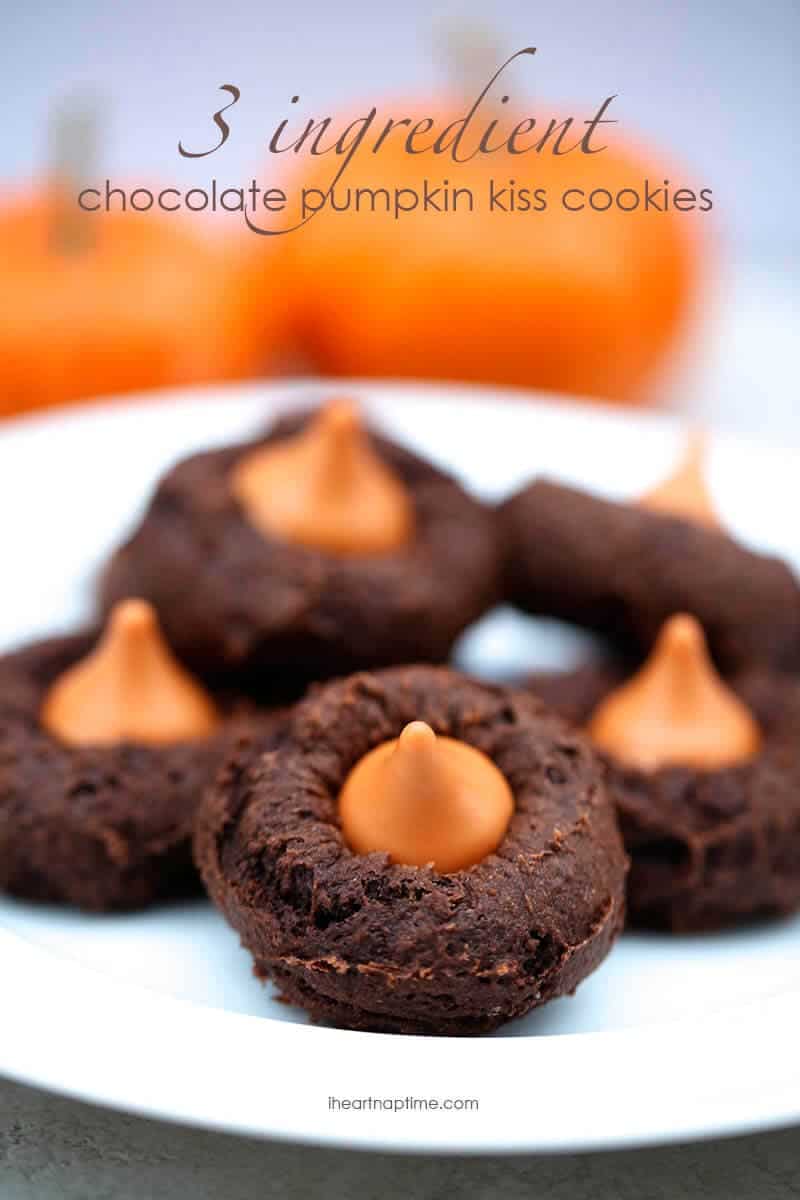 Make some of these bad boys! You deserve a treat! With back to school and busy schedules these are the perfect treat to make any hard day "soft."
 $100 giveaway (CLOSED)
I would love to hear how you make life's harder moments soft. Use the rafflecopter below to be entered to win a $100 master card!
Connect with Downy: Facebook – Twitter
Thanks for reading! Come back soon. :D
Disclosure: Downy has asked me to participate in this program. I am being compensated for my participation in the program but all opinions expressed in the post are my own and not those of Downy or the Procter & Gamble Company.