Buttery and tender blueberry buttermilk cake topped with lightly sweetened berries and baked to perfection! This simple and sweet cake is quick, easy and the perfect way to enjoy those fresh summer berries!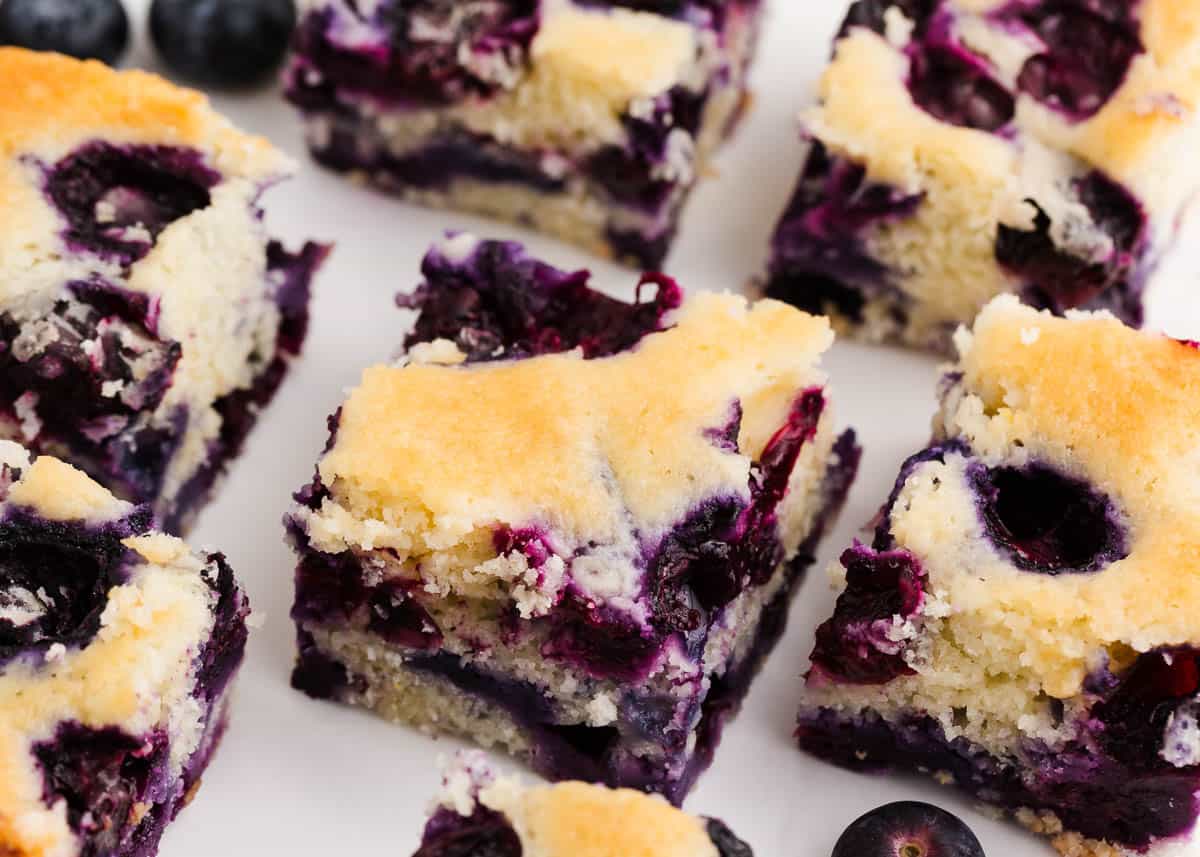 Lemon Blueberry Buttermilk Cake
I have to confess, I am totally a dessert girl. I love to end the day with a little something sweet! And during the spring and summer months, I love to stock up on all the fresh berries and use them not only to make favorite blueberry jam for for making delicious treats, too!
This blueberry buttermilk cake is a favorite around here. It's simple to make, I nearly always have the ingredients on hand and it tastes fantastic! It really doesn't get better than this – buttery, tender cake topped with lightly sweetened berries and baked to perfection!
It tastes almost like a giant blueberry muffin, but for dessert. The fresh blueberries add such great flavor and make it so delicious. It tastes amazing as is, but for an extra treat, you can serve it with freshly whipped cream or even vanilla ice cream.
The best thing about this cake is that it can be eaten for dessert or breakfast. It makes a delicious blueberry breakfast cake and is the perfect sweet breakfast to enjoy on the weekends. It's one of my favorite summer berry recipes. Yum!
What Does Buttermilk Do To Cake?
If you've never baked with buttermilk, you are in for a real treat! Buttermilk is different from regular milk due to it's added acidity, making it a bit more sour! When combined with sweet ingredients, it adds a sweet and tangy taste, like in this buttermilk pie. In baking, it's used as a leavening agent and contributes to super fluffy, tender and moist texture.
Easy DIY Buttermilk
You can easily make your own buttermilk from scratch with just 2 simple ingredients. Simply mix together 1/2 cup milk with 1 Tablespoon lemon juice or distilled vinegar and let sit for 5 minutes. Make sure to discard 1 Tablespoon of the mixture before using so you don't have too much liquid in the batter.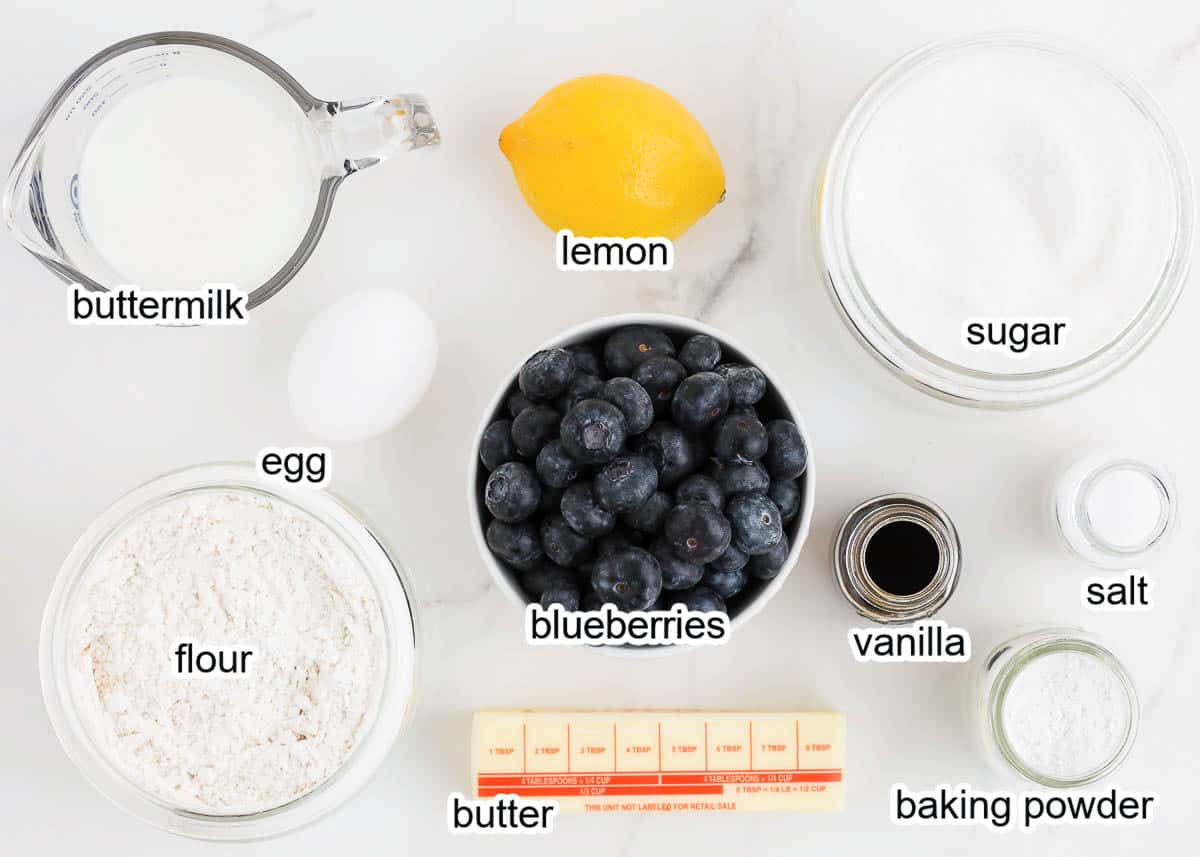 Ingredients Needed
Flour: All-purpose flour works best in this recipe. Learn how to measure flour accurately with the spoon and level technique for the perfect texture.
Blueberries: Fresh, juicy blueberries are the star of this recipe. Look for blueberries that are plump, with a vibrant blue color. We love to get ours from our local farmer's market.
Butter: Using unsalted butter will help you control the amount of salt in this recipe. Make sure it's at room temperature before getting started. Learn how to soften butter quickly if you're in a pinch.
Sugar: Granulated sugar is mixed into the batter, but I also like to top the cake with a sprinkle of coarse sugar for the perfect finishing touch.
Lemon zest: This adds a bright and refreshing flavor and tastes amazing paired with the fresh blueberries. Learning how to zest a lemon is super easy with the right tools!
Egg: Gives the cake structure while baking.
Buttermilk: A secret weapon used to tenderize baked goods, creating a perfectly light and fluffy texture. Check out my tips above on how to make buttermilk from scratch.
Vanilla: A high quality pure vanilla extract will add the best flavor.
Baking powder: A leavening agent that helps the cake rise as it bakes.
Salt: Helps balance out the other flavors in the cake. I like to use fine sea salt in this recipe.
Tips for Making Blueberry Buttermilk Cake
Type of pan. I like to bake mine in a 9-inch baking dish, but you could also use a pie plate, springform pan or a cake pan.
Fresh berries. Using fresh berries (instead of frozen) definitely makes a difference in this recipe. The flavor really shines through and the berries are super juicy and delicious.
Don't over mix. If you over mix the batter, the cake won't be as soft and tender. So make sure not to get heavy handed and only mix the batter until just combined.
Toothpick test. To test if the cake is done, stick a toothpick in the center. It should come out completely clean. If there is batter on the toothpick, continue baking the cake for a few more minutes then retest with another toothpick.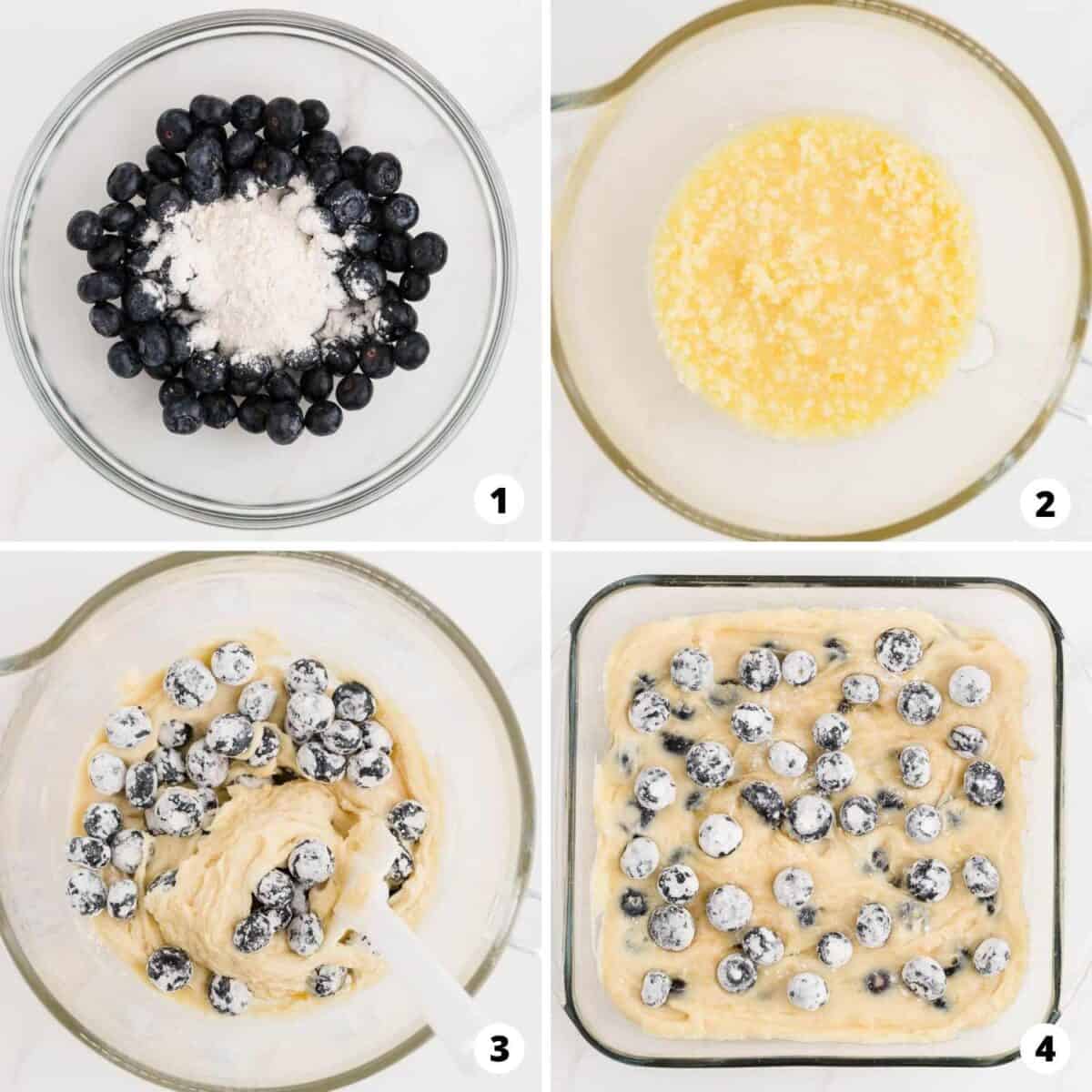 Variations
Other types of fruit. If you don't like blueberries or don't have any on hand, you could substitute with pretty much any fresh berry (strawberries, raspberries, blackberries). I also like this cake with fresh peaches or pears on top. You really can't go wrong!
Plain. You could always bake this cake plain without the fruit, then serve with fresh blueberry sauce, strawberry jam or caramelized bananas on top.
Sugar. Instead of sprinkling coarse sugar on top, finish it off with a dusting of powdered sugar.
Glaze. Sometimes I add a powdered sugar icing or lemon glaze on top. Simply combine 1 cup powdered sugar with the juice from 1 lemon. You can sub milk for lemon (use about 2-3 Tablespoons) and add a splash of vanilla.
Crumb topping. For a fun twist, sprinkle on a sweet crumble topping or streusel topping before baking like I do in this blueberry coffee cake.
FAQs
Can I use frozen blueberries?
Yes, frozen blueberries will also work in this recipe. Fold them into the batter while still frozen (do not thaw) or else the batter will become too runny from the excess moisture.
How do you keep blueberries from sinking?
Before folding them into the batter, toss the blueberries with 1/4 cup of the flour. This will prevent them from sinking to the bottom of the cake.
Can I use regular milk instead of buttermilk?
You can, although the texture of the cake won't be as tender and light. Don't forget that you can easily make your own buttermilk with a simple combination of milk and lemon juice (or distilled vinegar). So if you don't have buttermilk on hand, try making your own!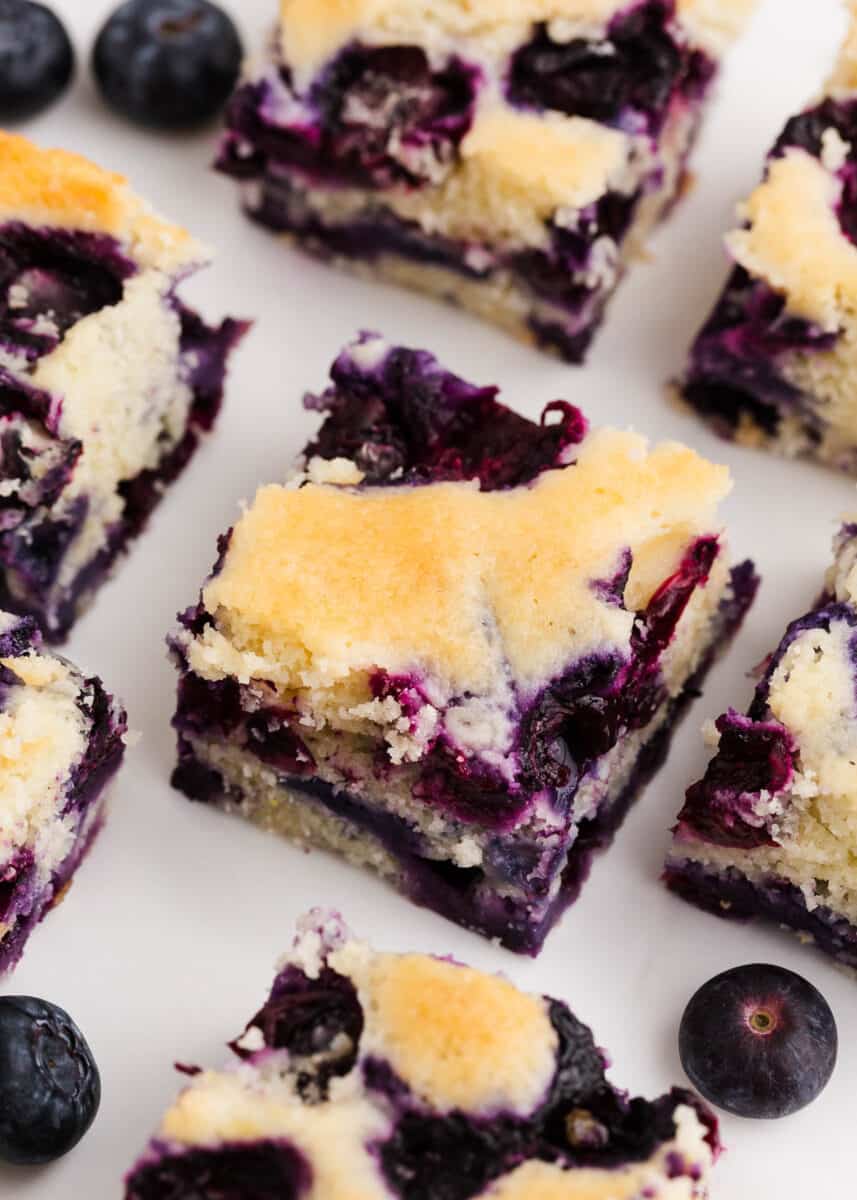 How to Store Blueberry Buttermilk Cake
Store any leftover cake in a covered container in the fridge for up to 3 days. To warm before serving, pop it in the microwave for a few seconds.
You may also freeze this cake for up to 3 months. Make sure to wrap tightly with plastic wrap and store in a freezer container or bag so it stays fresh.
5 star review
"I can't even tell you how delicious this cake is! The buttermilk adds the best texture!"

-Shannon R.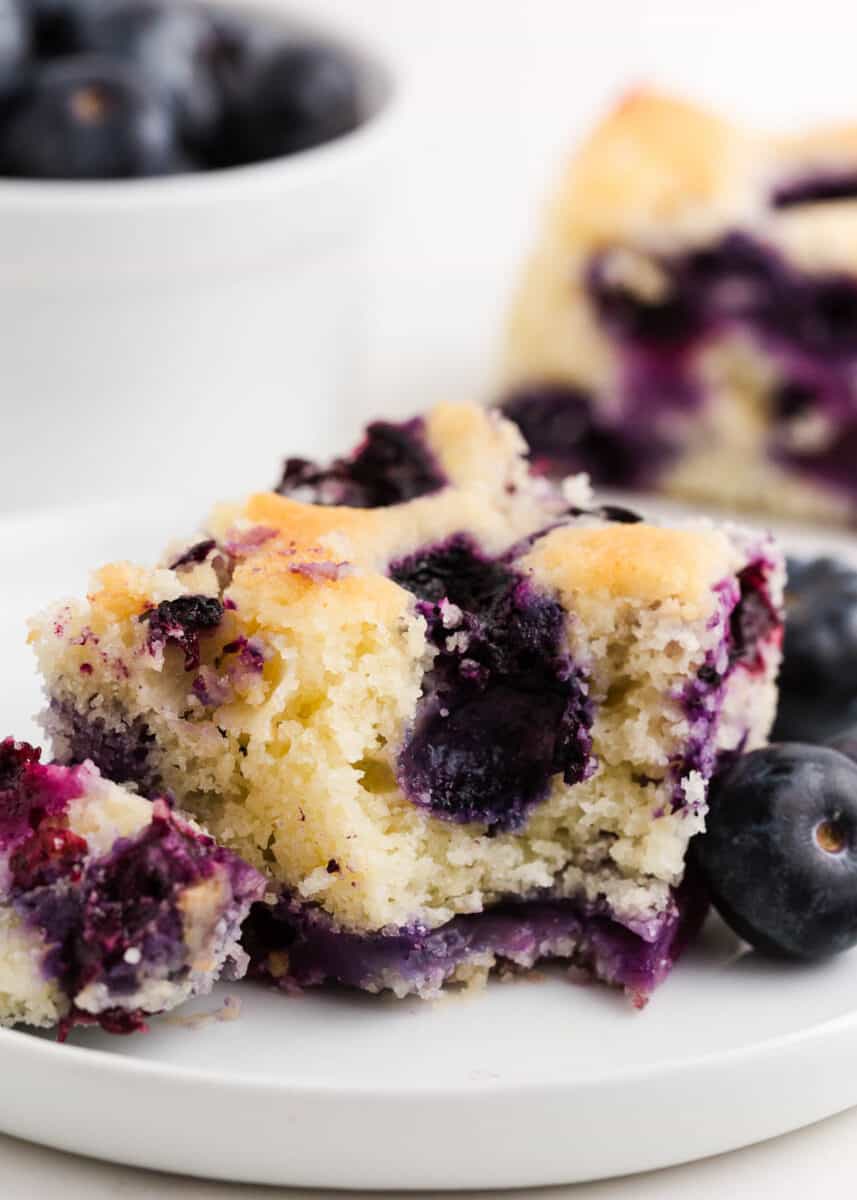 More Delicious Berry Desserts
HUNGRY FOR MORE? Subscribe to my newsletter and follow on Facebook, Pinterest and Instagram for all the newest recipes!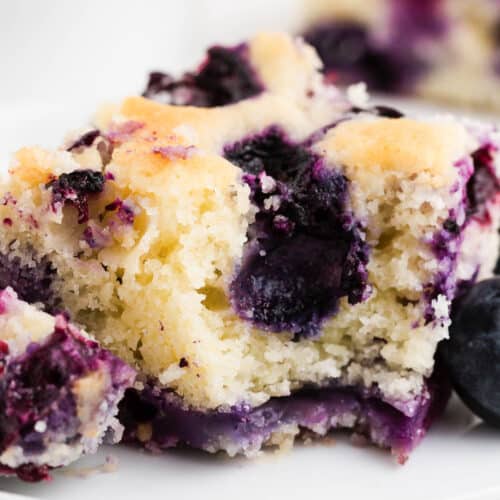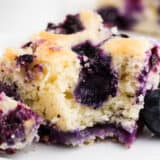 Blueberry Buttermilk Cake
Buttery and tender blueberry buttermilk cake topped with lightly sweetened berries and baked to perfection! This simple and sweet cake is quick, easy and the perfect way to enjoy those fresh summer berries!
Ingredients
1 ¾ cups all-purpose flour , divided
2 cups fresh blueberries
½ cup (1 stick) unsalted butter , at room temperature
1 cup granulated sugar
Zest of 1 lemon
1 large egg
½ cup buttermilk
1 teaspoon vanilla extract
1 ½ teaspoons baking powder
¾ teaspoon fine sea salt
2 Tablespoons coarse sugar , optional
Instructions
Preheat the oven to 350°F. Butter a 9-inch baking dish.

In a medium bowl, toss the blueberries with 1/4 cup of the flour and set aside.

In a large bowl or the bowl of a stand mixer fitted with a paddle attachment, beat the butter and sugar until light and fluffy. Add the lemon zest, egg, buttermilk, and vanilla and mix until combined.

Mix in the remaining 1 1/2 cups flour, baking powder. and salt until combined. Gently fold in half of the blueberries.

Spread the batter in the buttered dish. Top with the remaining blueberries. Sprinkle with course sugar, if desired.

Bake 50 to 60 minutes, or until the cake is lightly golden and a toothpick inserted in the center comes out clean. Serve warm.
---
Notes
Sugar: For the top, I like to sprinkle a coarse (like an organic sugar or demerara sugar) on top. It adds a nice touch on top. Blueberries: You can also use frozen blueberries for this recipe. Don't thaw or they will be too runny. Buttermilk: If you don't have buttermilk, you can make your own by adding 1 Tablespoon lemon juice to the milk and let sit 5 minutes. Discard 1 Tablespoon when ready to mix in since you added an extra Tablespoon of liquid. Storage: Cover the cake in a covered container and refrigerate up to 3 days. Warm in the microwave before serving. Freezer instructions: Wrap cake with plastic wrap and place in a freezer container for up to 3 months.
Nutrition
Calories: 156kcal | Carbohydrates: 25g | Protein: 2g | Fat: 6g | Saturated Fat: 3g | Polyunsaturated Fat: 1g | Monounsaturated Fat: 2g | Trans Fat: 1g | Cholesterol: 25mg | Sodium: 109mg | Potassium: 75mg | Fiber: 1g | Sugar: 14g | Vitamin A: 192IU | Vitamin C: 2mg | Calcium: 28mg | Iron: 1mg
Nutrition provided is an estimate. It will vary based on specific ingredients used.
Did you make this recipe? Don't forget to give it a star rating below!