This sweet potato salad recipe is both colorful and crave-worthy! It's a bowl full of sweet and savory flavors and textures made with kale, roasted sweet potatoes, avocados, pecans, feta, and cranberries, tossed in a homemade balsamic glaze.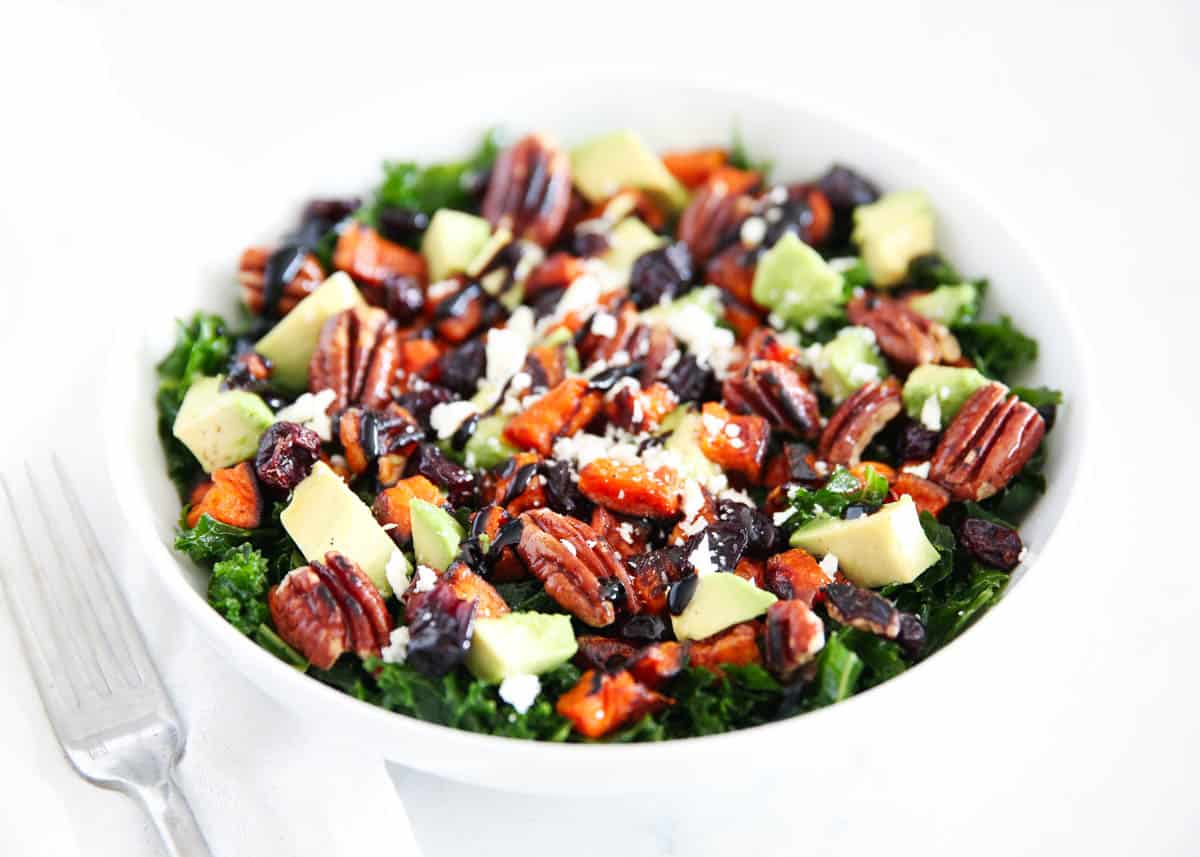 A Satisfying Healthier Salad
Salad has never really been thought of as comfort food before, but maybe it's high time we start! A beautiful salad like this is one I keep coming back to, especially when I'm looking for a quick, fresh, and healthy dinner idea that just happens to taste incredible!
Sweet potato salad is gluten-free, nutrient-dense, and loaded with good fats, vitamins, minerals, and antioxidants. It's a nice light addition to any winter potluck or BBQ menu. I mean, we don't always have to bring dessert, right?
This is a meal on its own like my fall salad or my kale and quinoa salad and has so many earthy flavors. My favorite part about the entire dish has got to be the warmth of the sweet potatoes balanced by the cold salad. It's just the perfect combination!
Sweet Potato Salad Ingredients
A few basic ingredients is all you need for this sweet potato salad recipe!
Sweet potatoes: Roasted until caramelized and tender.
Extra-virgin olive oil, kosher salt and pepper: For roasting the sweet potatoes.
Kale: Kale is my preference but baby arugula or any other baby lettuces works.
Pecans: Toasted for some crunch. You could use pepitas (pumpkin seeds) or any other nut you prefer.
Avocado: A ripe avocado adds a touch of creaminess to the hearty sweet potato salad.
Dried cranberries: You could also use dried cherries.
Feta cheese: The tanginess of feta works so well with caramelized sweet potatoes. Goat cheese could be used or if you are vegan you can just skip this.
Balsamic glaze: A simple 2 ingredients balsamic glaze with balsamic vinegar and honey.
Flaky sea salt: Adds the perfect finishing taste.
Variations
Sweet potatoes. Roasted butternut squash or pumpkin can be used in place of sweet potatoes. This is especially true in the winter months!
Nuts. Substitute pecans for walnuts, slivered almonds, or roasted pumpkin seeds. For a sweet twist try homemade candied pecans.
Fruit. Add fresh fruit like diced apples or pears. Or swap the dried cranberries for raisins or pomegranate seeds (aka arils).
Greens. Instead of kale, you can use baby spinach, arugula, or a spring mix.
Dressing. There is so much going on in this salad that all it needs is a drizzle of olive oil and balsamic or apple cider vinegar. However, if you want to make a balsamic dressing or balsamic glaze, you should! A lemon tahini dressing or honey mustard would both taste fabulous, too.
A sweet dressing. As delicious as this is with the tang of a vinegar-based dressing, the nuts, cranberries, and sweet potato would all pair nicely with a sweet dressing made from either maple syrup or honey with perhaps a little fresh lime juice.
How to Make the Salad
This recipe comes together in only a few simple steps! You can even roast the sweet potatoes ahead of time to make it even easier.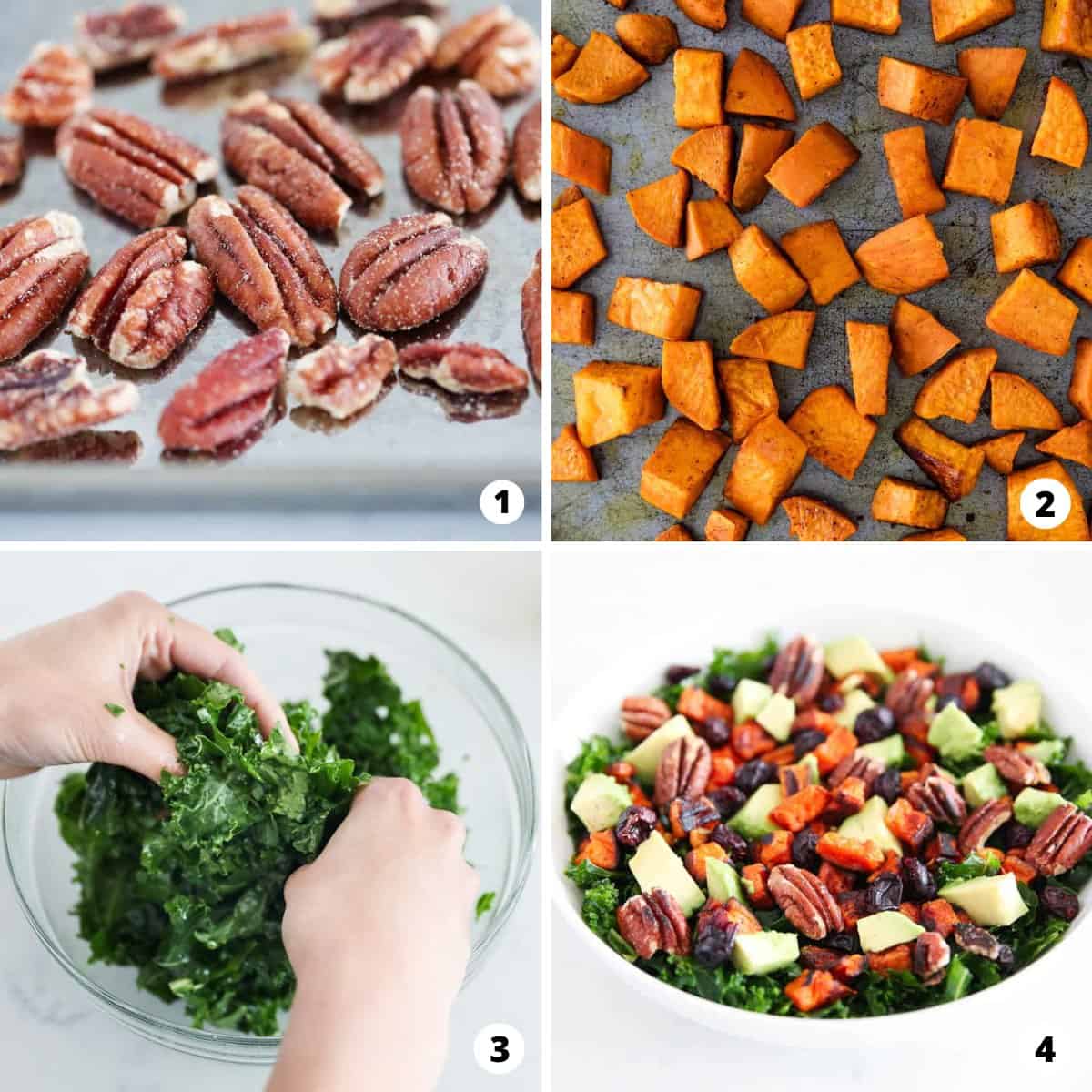 Tips for Roasted Sweet Potato Salad
Massage the kale. Kale on its own is quite tough and bitter, so knowing how to massage kale helps to break down the fibers and tenderize the leaves making it easier to chew. Some people say that if you chop up your kale small enough there's no need to massage it. I'm not one of those people. I like to massage it no matter what!
Toasting the pecans brings out a nuttier, crispier texture which is nice but completely optional.
Roast the sweet potatoes until they are nice and tender on the inside and have those caramelized slightly charred edges for flavor. It adds another element of flavor. Instead of the oven, you can make air fryer sweet potato cubes just as easily!
Easily double or triple this recipe for a large crowd. Present it in a large bowl and then share. It's too pretty not to show it off first!
Enjoy as a side dish or a main dish, it works for both.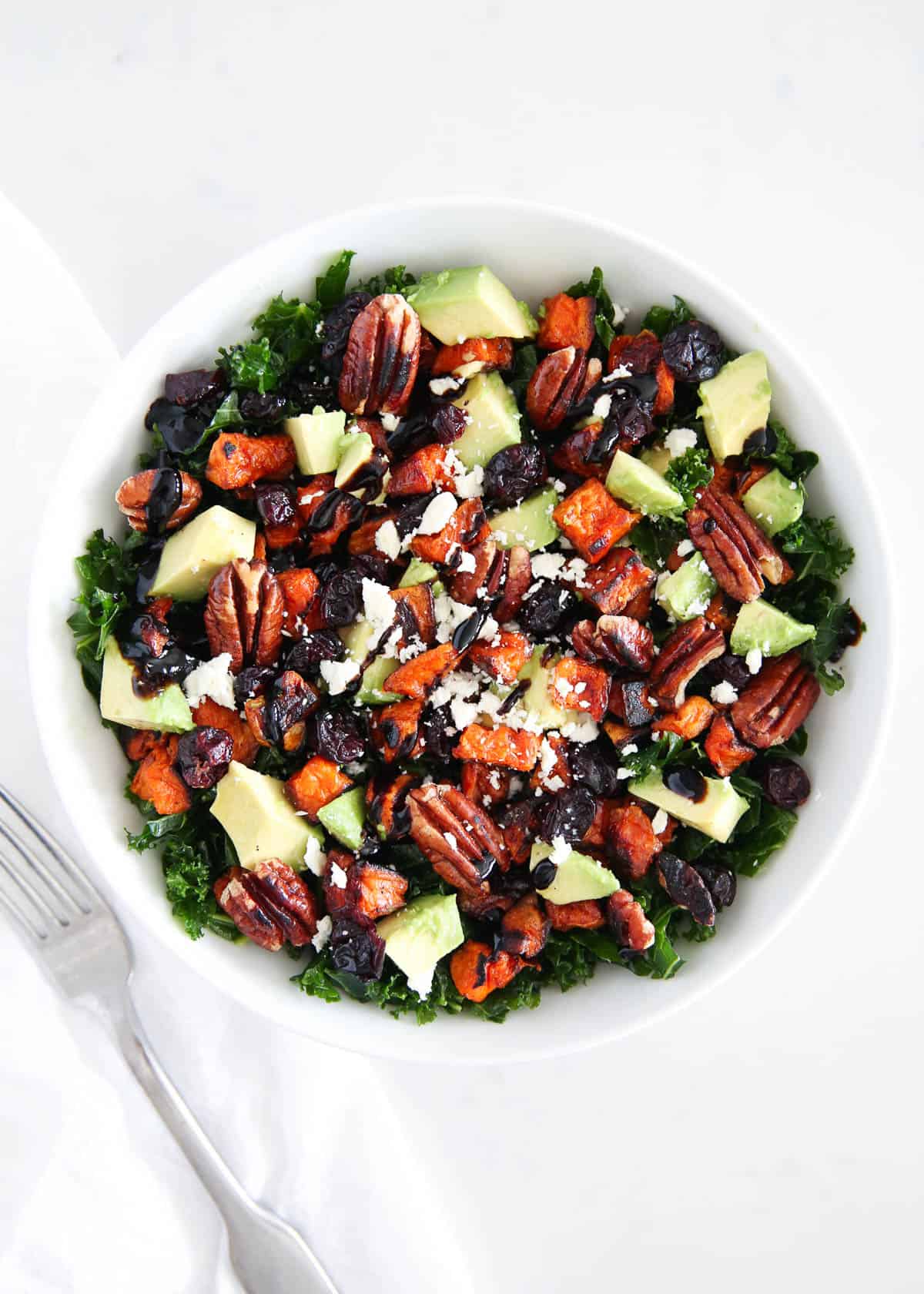 FAQs
Can I make this salad ahead of time?
This salad is best eaten right away once it has been assembled but there are ways to prepare parts of it ahead of time for meal prep.

Cut the avocado, toast the pecans, and even chop the apple if you drizzle it with lemon juice to keep it from turning brown. Chop, wash, and dry your kale too! Keep everything stored separately covered in the fridge, and assemble when ready.
Do you eat this salad hot or cold?
Either! That is the beauty of this salad and what makes it perfect year round. Serve it with cold sweet potatoes during the summer or warm during the fall. It's just as great on Thanksgiving as it is Fourth of July.
Should I serve this is a light entree or side dish?
It can be either! Serve it as a light entree with soup and salad or pair with your favorite protein for a delicious side dish.
Serving Suggestions
This sweet potato salad is perfect to serve in so many different ways year round!
For a healthy lunch pair it with avocado toast or rosemary focaccia. You could also pair it with a grilled cheese and a cup of soup like tomato basil soup or chicken vegetable soup.
You can also serve this sweet potato salad as a side dish. Pair it with your favorite protein like baked chicken breast or grilled shrimp skewers. Try it with quinoa stuffed peppers or a frittata for a fresh healthy dinner.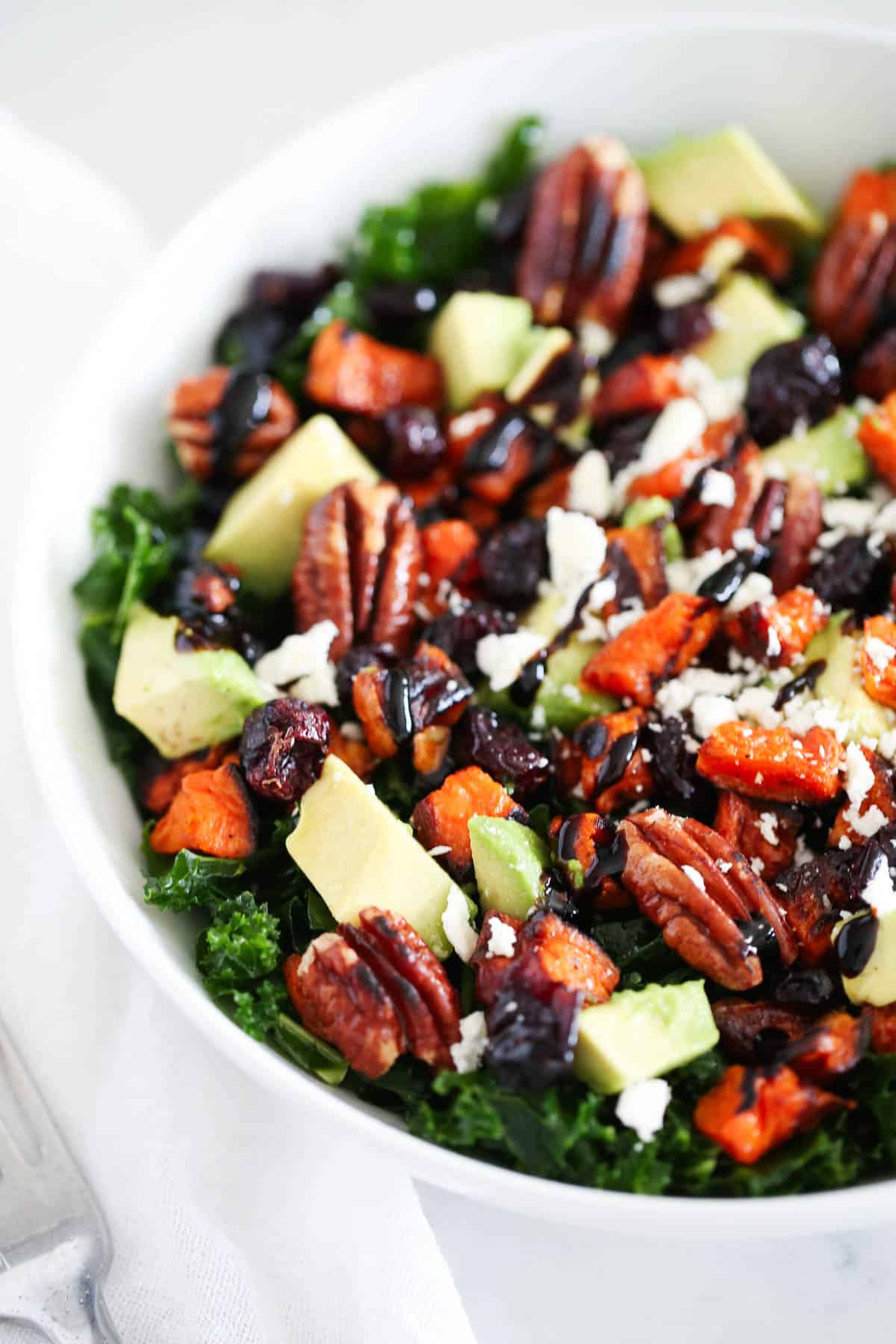 HUNGRY FOR MORE? Subscribe to my newsletter and follow on Facebook, Pinterest and Instagram for all the newest recipes!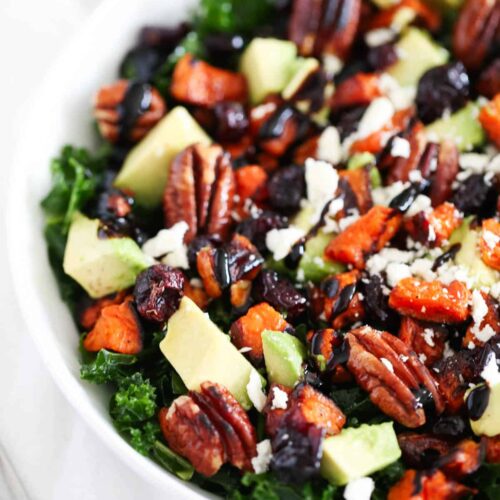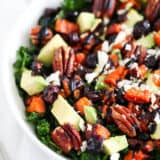 Sweet Potato Salad
This sweet potato salad recipe is both colorful and crave-worthy! It's a bowl full of sweet and savory flavors and textures made with kale, roasted sweet potatoes, avocados, pecans, feta, and cranberries, tossed in a homemade balsamic glaze.
Ingredients
1/4-1/2 cup pecans , more as desired
Salad
8 cups kale , washed and chopped into small pieces
1 avocado , diced
½ cup dried cranberries
1-2 ounces feta cheese , or goat cheese
Balsamic glaze or vinegar , for serving
Flake sea salt , for serving
Instructions
Preheat the oven to 425°F. Add the pecans to a baking sheet and bake for a few minutes, tossing every minute. Bake until toasted and fragrant.

Remove pecans from the pan. Then add the sweet potatoes to the pan. Drizzle with the remaining olive oil. Then sprinkle with salt and pepper. Toss until combined. Then bake for 20 minutes or until the edges are crispy, tossing half way through.

While the potatoes are cooking, add the kale to a bowl. Then add 1/2 Tablespoon of olive oil and lemon juice. Massage the kale with your hands for a minute or two or until it turns a deep green color. Let rest for 15 minutes.

Remove sweet potatoes from oven and allow to cool for a few minutes. Then add on top of the kale. Then add the cranberries and avocado. Sprinkle the pecans and cheese on top.

Drizzle with a little more olive oil and balsamic vinegar or balsamic glaze. You could also use a vinaigrette dressing if desired. Sprinkle flake sea salt on top of desired. Toss and serve.
---
Notes
Nuts: You can substitute the pecans for almonds, walnuts or pumpkin seeds. For a delicious addition, try using these candied pecans.
Fruit: You can substitute the apple for pear or dried cranberries for pomegranate seeds.
Greens: You could also substitute the kale for spinach or a spring mix.
Dressing: I usually just add a drizzle of olive oil and balsamic vinegar. However you can use whichever dressing you prefer. This balsamic dressing or vinaigrette would be a great addition.
Nutrition
Calories: 101kcal | Carbohydrates: 12g | Protein: 4g | Fat: 6g | Saturated Fat: 1g | Polyunsaturated Fat: 1g | Monounsaturated Fat: 3g | Cholesterol: 3mg | Sodium: 66mg | Potassium: 431mg | Fiber: 1g | Sugar: 3g | Vitamin A: 8583IU | Vitamin C: 85mg | Calcium: 130mg | Iron: 1mg
Nutrition provided is an estimate. It will vary based on specific ingredients used.
Did you make this recipe? Don't forget to give it a star rating below!