After many requests I thought I'd share my experience on whole 30. If you've been following me on instagram, you probably know I did the whole 30 during May. I know some of you were in shock I was going 30 days without one bit of sugar. So was I! ;) I've done the whole "no sugar" before, but never this strict. I still had salad dressings that had sugar in them, yogurt and other things I never realized had added sugar. Everything has sugar in it! Holy cow!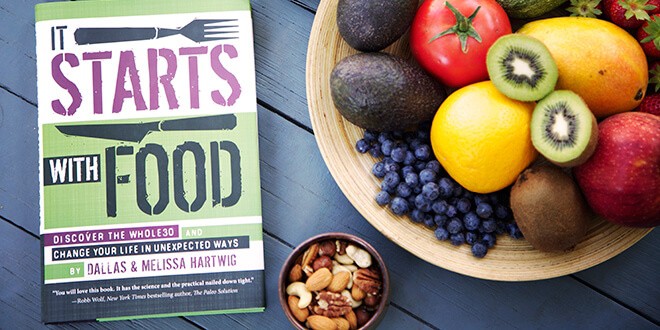 I'm happy to report I completed the 30 days with not one ounce of sugar, grains or dairy. No cheats! I was determined to complete the challenge and was so happy my husband and friend came along for the ride. If you're going to do it, I definitely recommend having someone do it with you. And seriously, if I can do this…anyone can! During the 30 days I went on a weekend trip with one of my best friends. I went to a baby shower. I went to BBQ's and church events with lots of yummy goodies. I even survived Mother's Day with no chocolate or yummy breakfast in bed. It was hard. REAL hard. But I DID IT!! And I'm happy to report I'm whole 30. And let's be honest here… on day 31, I had doughnuts for breakfast. I'm a rebel like that. :D
I do plan on continuing to eat clean most of the time, but I'm definitely not going to be as strict. I've already added back in some dairy, grains and sugar and have had no problems so far. I plan to still make desserts on Sunday. If I go to a birthday party I want to be able to eat cake. And I love that it states that that's okay in the book.

So what is whole 30?
"Established by Dallas and Melissa Hartwig (of Whole9), the Whole30® is our original nutritional program designed to change your life in 30 days. Think of it as a short-term nutritional reset, designed to help you put an end to unhealthy cravings and habits, restore a healthy metabolism, heal your digestive tract, and balance your immune system." – See more here. Basically you cut all sugar, dairy, grains and legumes. Once you strip those things from your diet completely you can see if any of them are having a negative impact on your health. I highly recommend reading the book It Starts With Food before starting the program. PS- no this is not a sponsored post and I was not asked to post about this. I'm just sharing my personal review for those of you who have been asking about it. :) 
Why did I do whole 30?
Well first off… I had heard so many great things about the book It Starts With Food. Supposedly you sleep better, you're happier, you'll eat more vegetables (and like them), you'll say goodbye to digestive distress, you'll slay the sugar demon, you'll lose some weight, your skin will be brighter and most importantly you'll stop dieting and just eat good REAL food. Since last November I had gained about 10 lbs. I think it had to do with the holidays and a little bit of the winter blues. I'm happy to report I lost those 10 lbs on the whole 30. And you're not going to believe this, but my husband lost 20 pounds! Crazy, huh? I swear, men lose weight so easy!
During the whole 30 I also slept better, slayed the sugar dragon (after week 1), and had more energy throughout the day. I actually had more digestive problems on it though, which is weird. I found out that nuts were the main issue. After I cut macadamia nuts (the culprit) I was fine. One thing I loved about this diet (techically you're not supposed to call it that), is that I was never hungry after a meal. I always felt satisfied. And if I got hungry in the afternoon, I would grab an apple or a larabar. I loved getting to try new foods, but I hated having to cook 3 meals a day. I was constantly doing dishes. Meal prepping definitely helped cut down on that. Overall all it was a great experience and I would recommend it to anyone. I loved the way I felt eating only whole foods. I was also amazed that after the first week I no longer craved sweets. My taste buds started liking more vegetables. Now that I know whole grains and a little bit of dairy doesn't give me issues, I will be adding those back in regularly because they are still healthy.
Whole 30 meal planning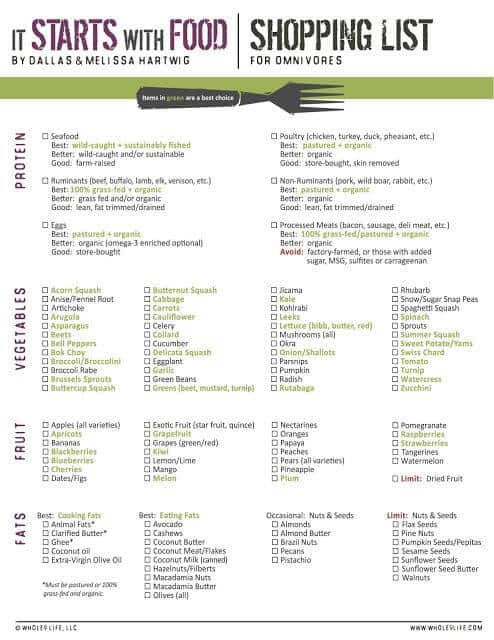 Here is the whole 30 shopping list I used from the whole 30 website. They also have lots of other downloads to help get you started. On that shopping list is everything you can have. Print it out and take it with you everywhere! Here are some of my favorite products that I found. Please excuse all the grainy photos in this post… they are courtesy of my iPhone. :)
1. Tessemae's Italian Dressing (found at Whole Foods) 2. Kelapo coconut oil spray 3. Avocado oil (found at Whole Foods -great for cooking veggies) 4. Almond butter salted (from Trader Joe's) 5. Shredded coconut (Whole Foods) 6. Dried Mango (Trader Joe's) 7. Guacamole minis (Costco -great for dipping veggies) 8. Yawp bars 9. Larabar (coconut cream pie, key lime pie, blueberry muffin and banana bread are my favorites)
These are also some of my favorite foods to stock up on at Costco. :)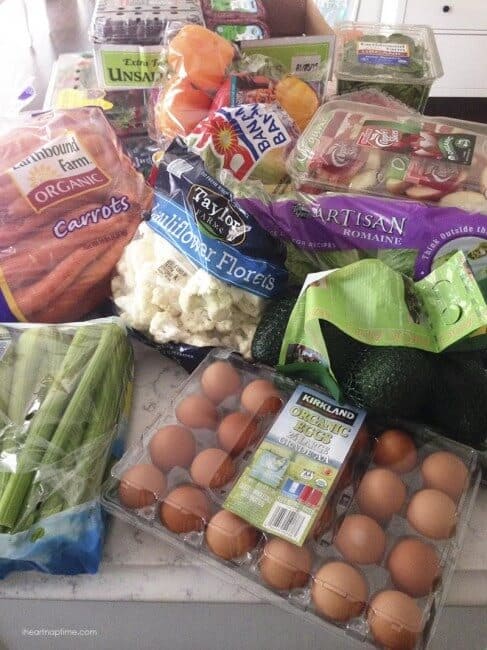 We also went through lots of berries! I still laugh at this pic below. I asked my husband to pick up some strawberries at the store and he brought me this. Yes we did end up eating them all and this is officially the most liked photo on my instagram account. I guess you guys love berries too. ;)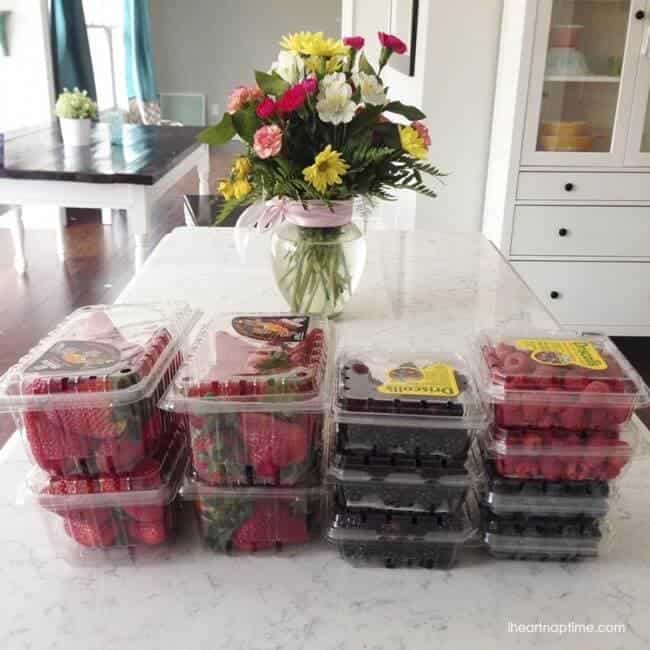 One of the first things I would do after heading to the store was wash all my fruit and vegetables and then cut them up for the week. This was a huge time saver and it was great for busy days on the go.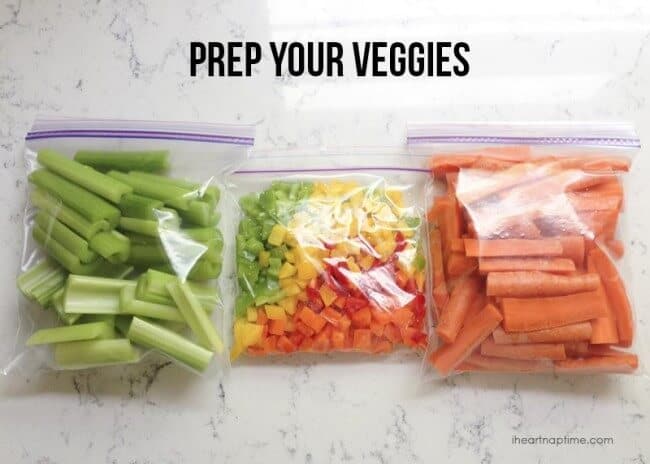 Some days I would even buy pre-cut veggies. Yes I know they are more expensive, but some days it was just worth it. ;)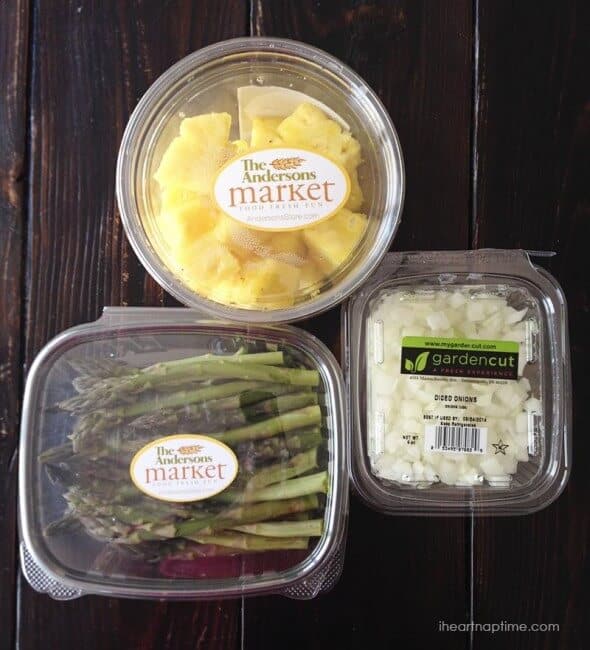 Whole 30 breakfast ideas
So here is what I ate for breakfast. For me it was easier to stick with a few different recipes and rotate them. I don't mind eating the same thing for breakfast twice a week. So one day would be sweet potato hash, the next would be scrambled eggs with a banana (sprinkled with cinnamon) and almond butter. Then the next day I would make an omelet with veggies inside. If I was in a hurry I would just make 2 fried eggs and a green smoothie. I probably only had 3 smoothies on the whole 30, because they really don't encourage them. Some days it was just easier.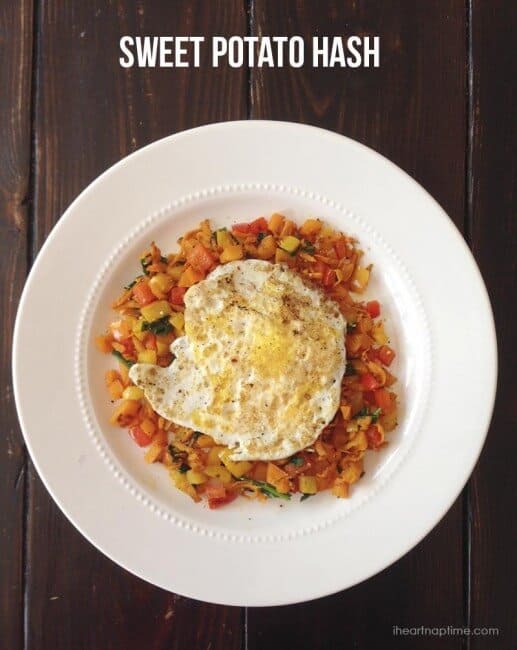 For the sweet potato hash, all I did was cook chopped bell peppers, a handful of spinach and shredded sweet potatoes in avocado oil for a few minutes. Then I would fry an egg and serve it on top.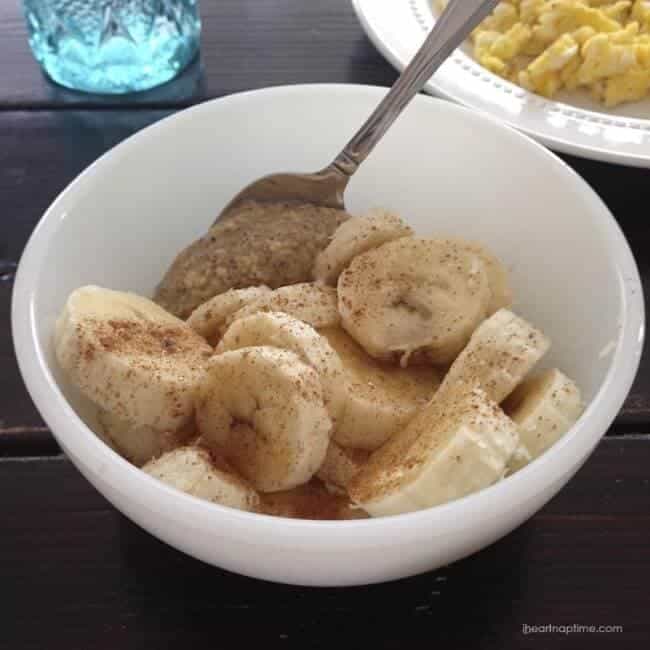 These lemon coconut energy balls are also a nice thing to have on the go.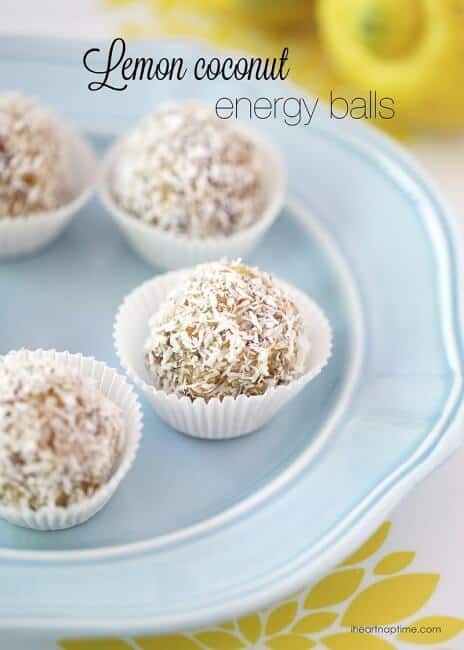 Whole 30 lunch ideas
For lunch I usually rotated between some type of lettuce wrap or a salad. The only turkey you can have while on whole 30 is the Applegate turkey breast (found at Whole Foods and some other stores). I would roll it up, place it inside my lettuce and top it with mustard, avocado and sometimes tomato. I would also make BLT's the same way. The only bacon I found that doesn't have sugar is also from Whole Foods. It's the Pederson's brand and is really good!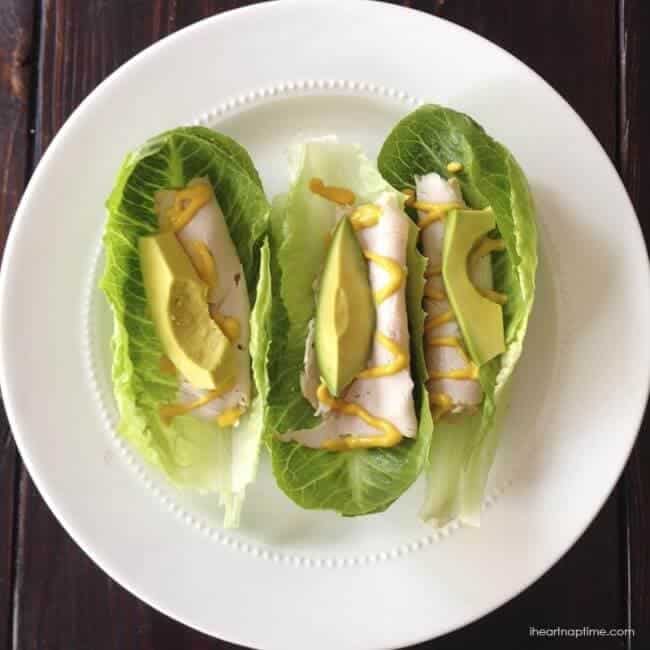 I also made this summer berry salad with lemon dressing LOTS. It is one of my favorites. :) I also would just do plain salads with veggies, chicken and the Tessemaes dressing as well. It helps to grill a lot of chicken at the beginning of the week, so you can have it in your salads.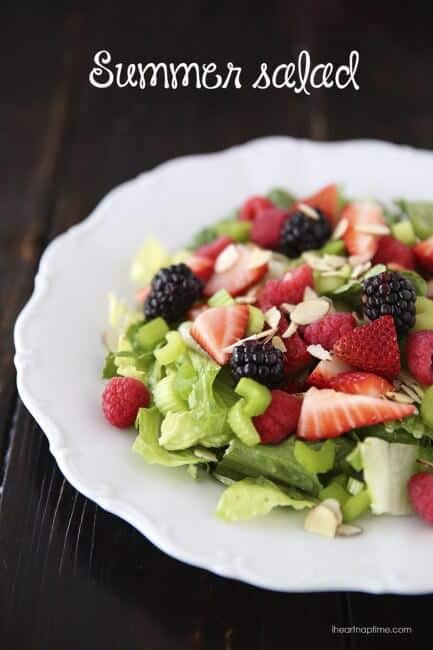 Whole 30 dinner ideas
One of my favorite dinners was this Mexican chicken soup that I posted about a few weeks ago. I made that about once a week.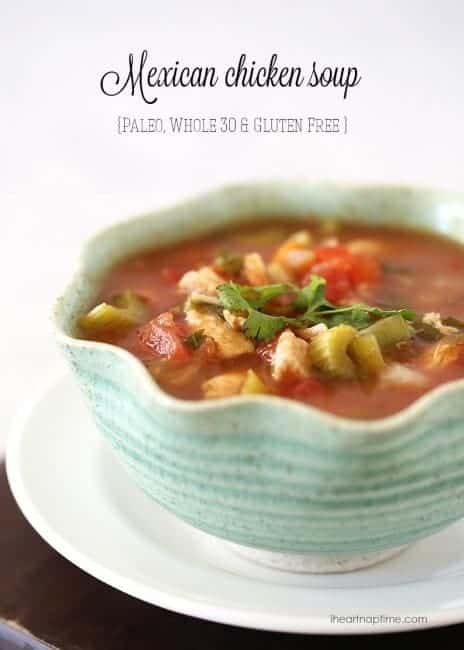 We also grilled a lot! We grilled steaks, hamburgers and chicken most of the time. We did a lot of shish kabobs too! I LOVED the lettuce wrapped burger.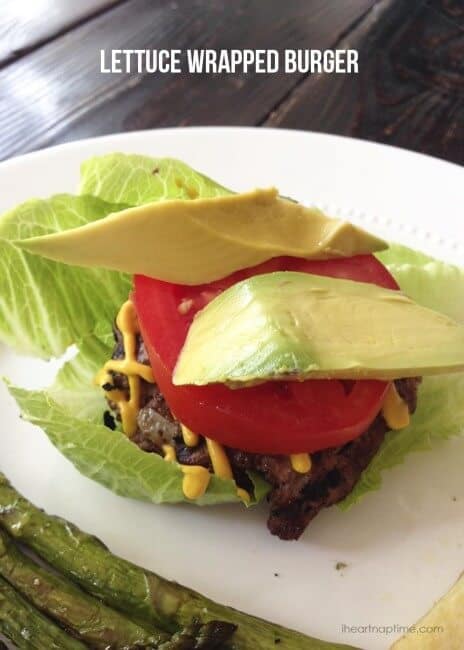 I also love these taco lettuce wraps I posted last week.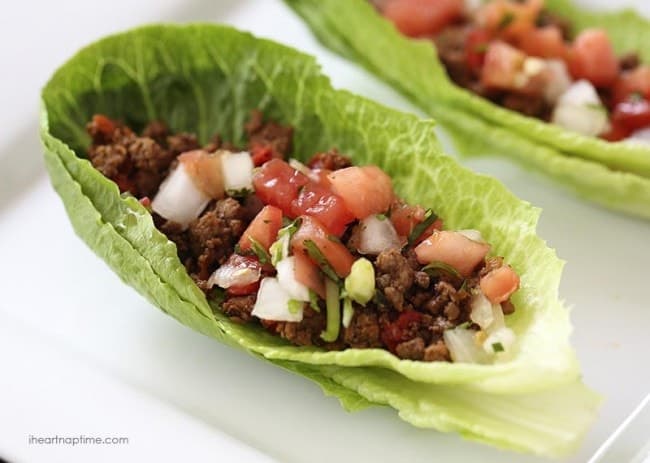 This vegetable soup was another favorite.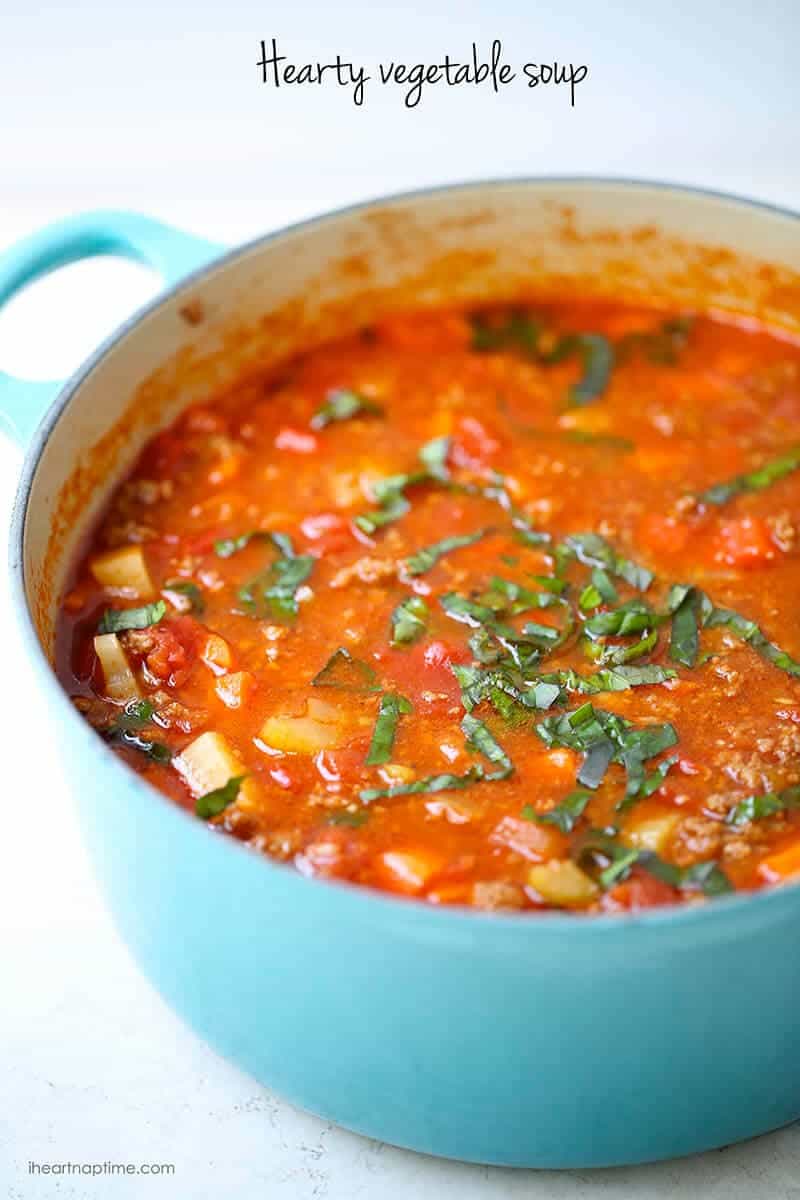 Another one of my favorite things to make was cauliflower rice with meatballs and marinara. I will have to make that again, so I can take a picture.
With pretty much every meal we had roasted vegetables. Not the best pic (sorry iPhone), but carrots and asparagus were my all time favorite! Just cut up your veggies and place in a zip lock bag. Then pour some olive oil in, add some salt and pepper and shake. Then bake at 400° for about 20 minutes. SO good!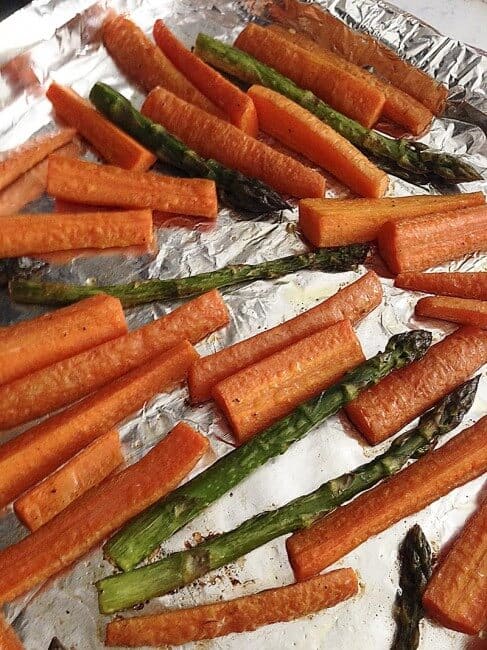 Whole 30 snacks
One of my favorite snacks was carrot chips and guacamole. Sometimes I would use plantains too. Cut your carrots super thin and then bake the carrots the same way I listed above.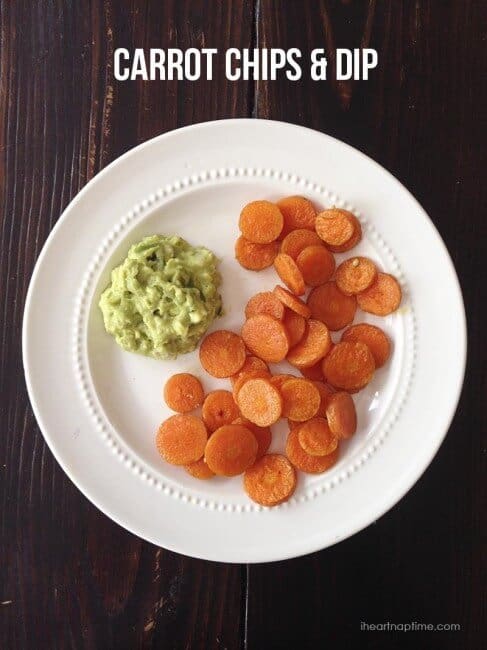 As far as drinks go, I drank LOTS of water. If I was getting bored with water, I would make some infused water and that hit the spot.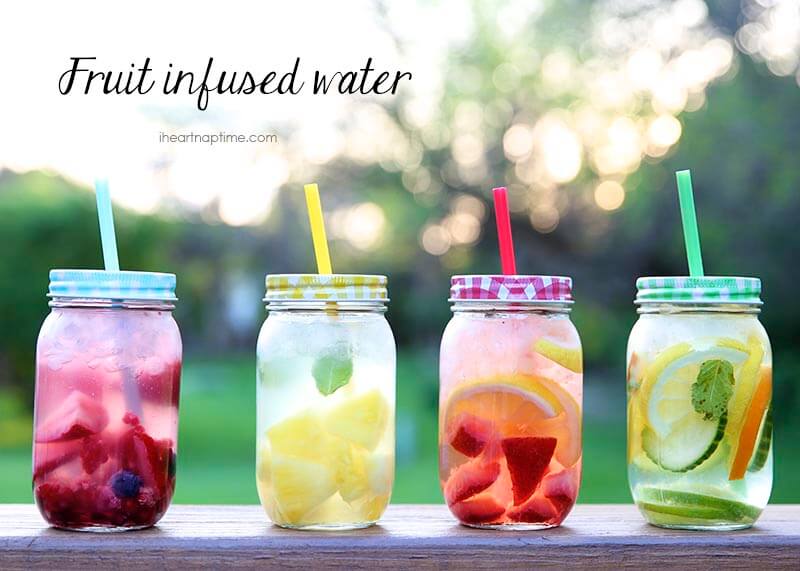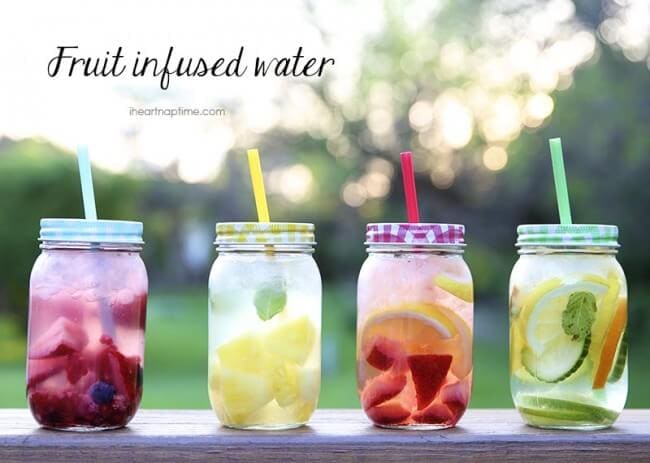 So there you have it… how I survived the whole 30. I even started a Pinterest board where I have more recipes pinned if you'd like more ideas. You can also search #whole30 on instagram for TONS of recipe ideas and inspiration. Hopefully you found this post hopeful. Overall I think it was a great challenge and I'll most definitely do it again! 
So let's hear it… who's tried the whole 30? Who wants to try it? Share your favorite recipes below.