Greek chicken marinade comes together with just a few simple ingredients and is an easy way to infuse classic Greek flavors into all your favorite chicken recipes!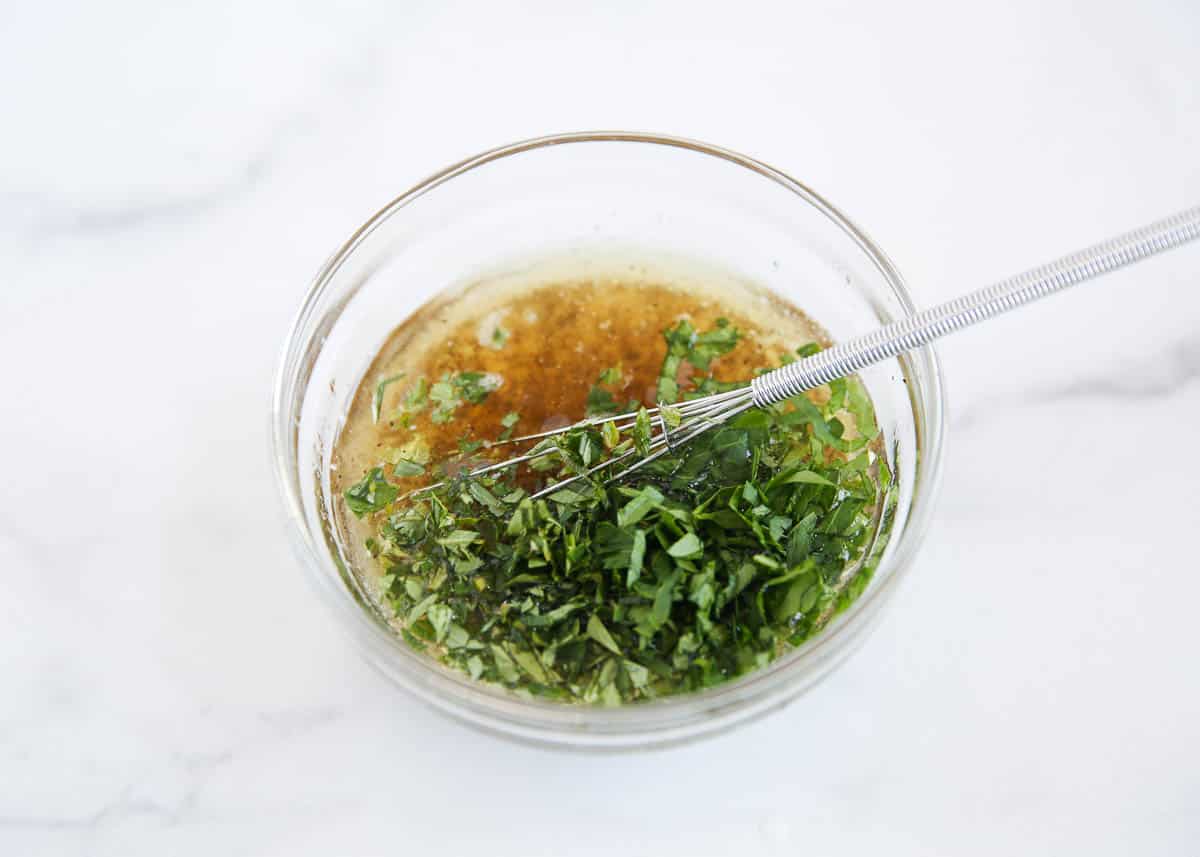 The Best Greek Chicken Marinade
I'm a firm believer that you can never have too many easy chicken marinade recipes. Each one can give your meat an entirely different flavor which makes being creative and versatile in the kitchen so easy!
This Greek chicken marinade recipe will be a staple during grilling season for sure!
It's a brilliant yet simple combination of a handful of fresh and healthy ingredients. Lemon, garlic, herbs, oil, and a bit of seasoning is all it takes to bring recipes like Greek chicken kabobs, grilled chicken, Greek sheet pan chicken, and chicken gyro to the next level.
The tasty marinade penetrates right down into the meat infusing it with traditional Greek flavors and people just can't get enough!
Why We Love This Recipe
Multipurpose. This mouthwatering marinade is for more than just marinating chicken! Use it on fish, or pork, or turn it into a dressing and use it on a Greek pasta salad, a classic Greek salad, or as a dip for bread.
Super simple. You more than likely have all the ingredients needed on hand to make this anytime. Other than learning how to mince garlic, there's nothing to it!
No long marinating time. When there's any citrus or acid present in a marinade, it can start to "cook" whatever you're marinating. This is why even just 1 hour is plenty to have the ingredients marry!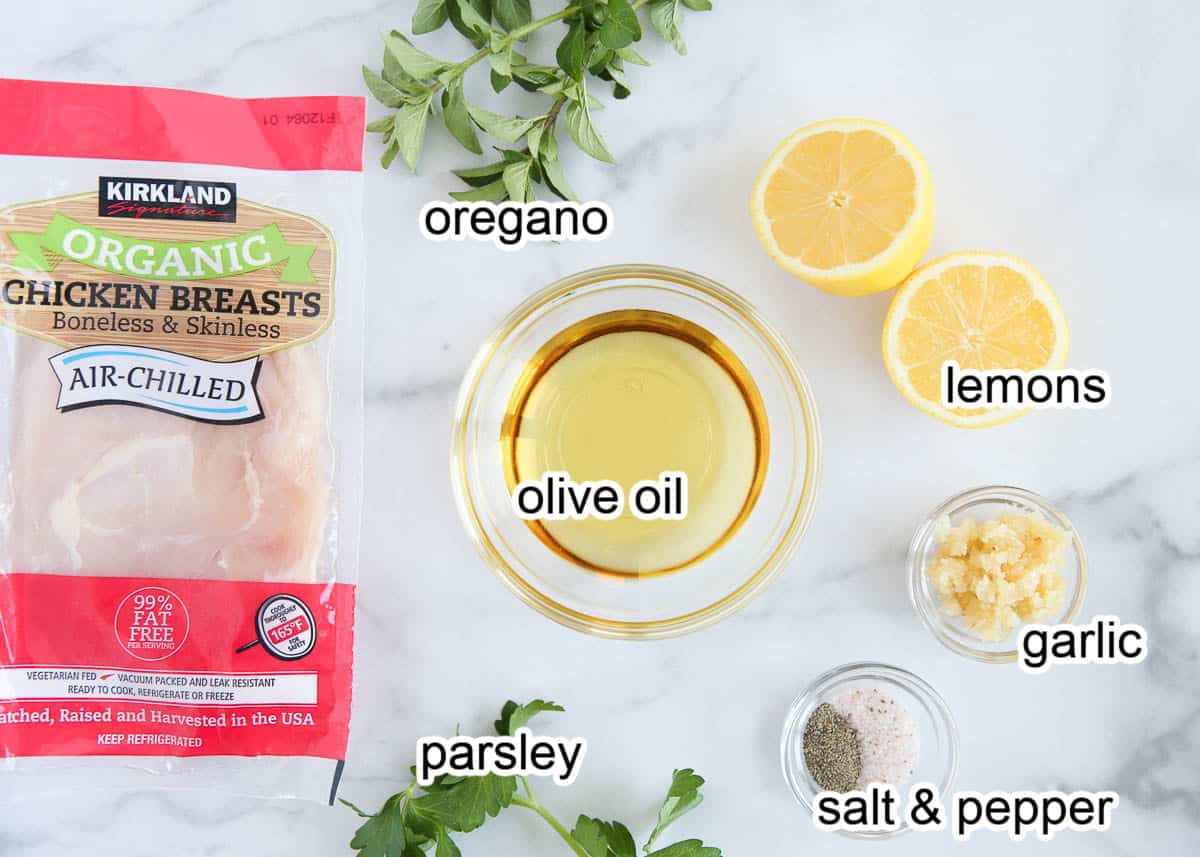 Marinade Ingredients
Chicken breasts: Boneless skinless chicken breast.
Olive oil: The base of the mixture is neutral-flavored olive oil, which is why it makes a great dressing!
Lemon juice: Freshly squeezed, please! If you've got a bottle of lemon juice on hand, by all means, use it. I just find the fresh lemon tastes much fresher and more vibrant.
Oregano: Fresh or dried, it's up to you. You'll need 3 Tablespoons of dried oregano or 1 Tablespoon of fresh.
Parsley: Also, fresh or dried, but for the parsley, it's an even 1 Tablespoon for either one.
Salt & pepper: For seasoning and enhancing the whole mixture.
How to Make Greek Marinade for Chicken
Prepare. Start by preparing the marinade ingredients. Add the olive oil in a small bowl.
Mix the marinade. Whisk in the lemon juice, herbs, garlic, and seasoning.
Marinate the meat. Trim the chicken and pat down with paper towels. Place the meat in a Ziploc bag. Pour the marinade into the bag and use your hands to ensure all pieces of meat are submerged and coated. Place it in the fridge for at least 1 hour but no more than 6 hours.
Grill and rest. Preheat the grill to medium-high heat. Remove the meat from the bag and place onto the grill for 10-12 minutes, flipping halfway. Allow to settle so the juices don't run out as soon as you slice into it.
For Thicker Chicken Breasts
If the breasts are thick, I like to pound the meat down with a rolling pin or meat tenderizer once they are in the zip-top bag.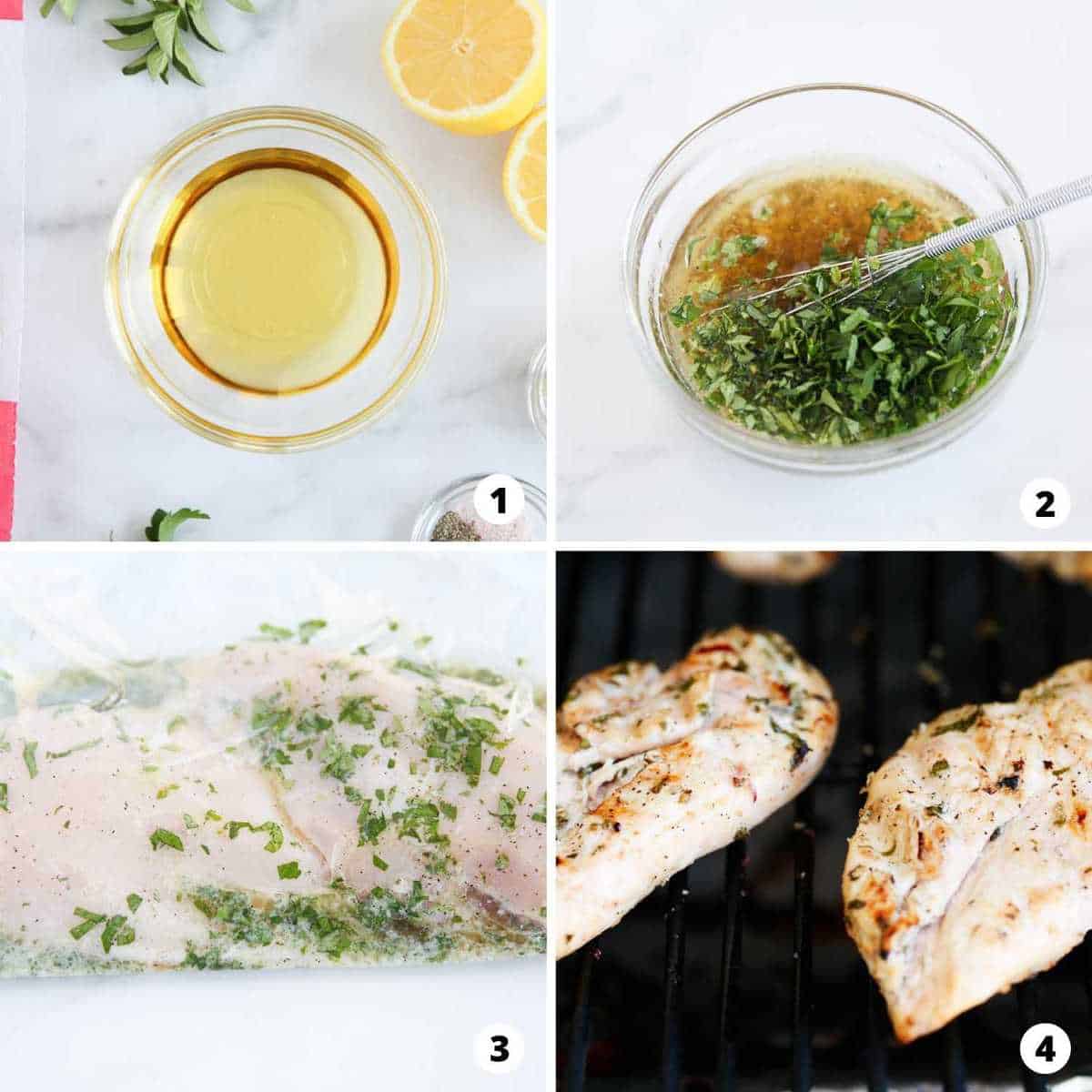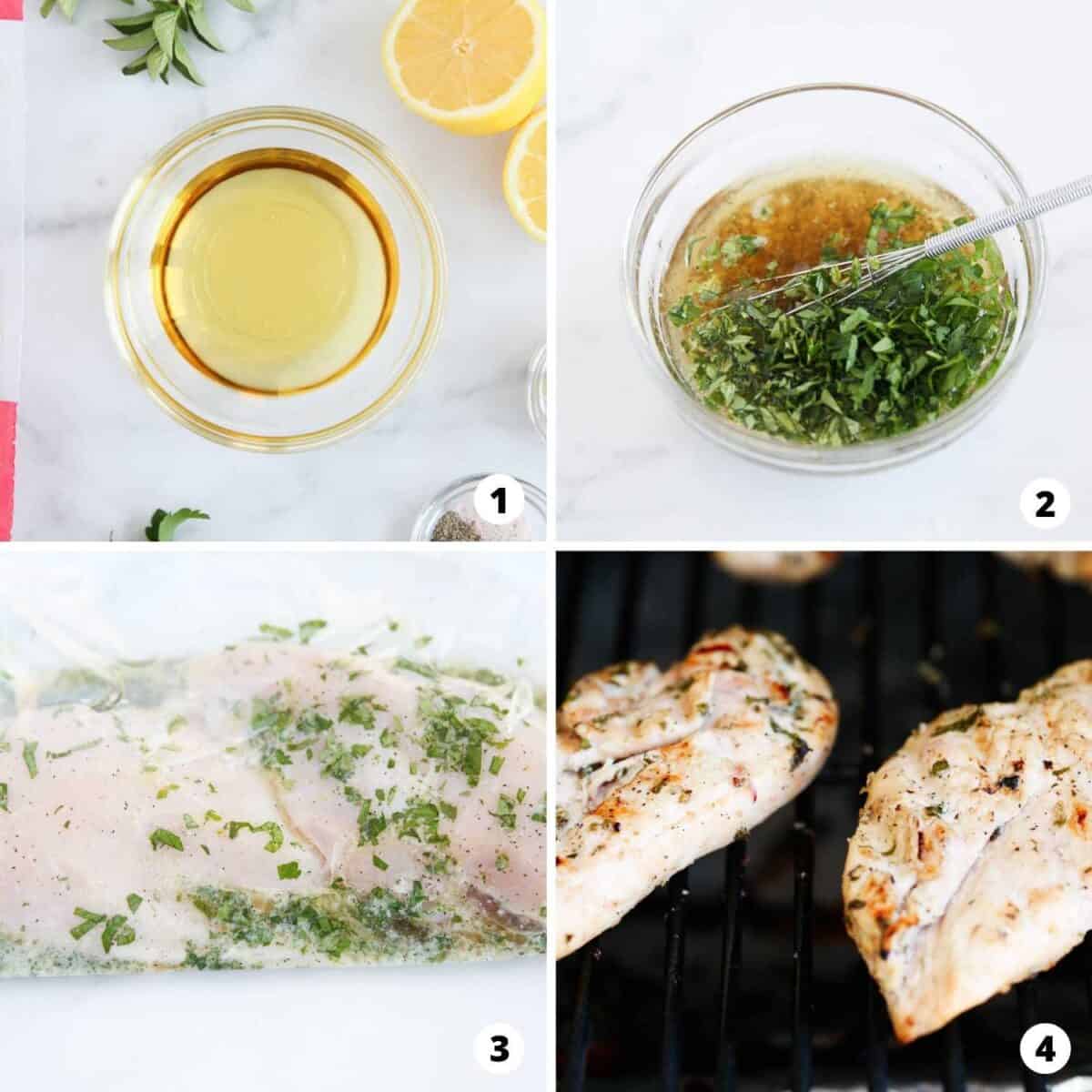 Tips & Variations
Fresh herbs. Whenever possible, I like to use fresh herbs from my garden for this Greek chicken marinade. If you've got some too, this is a great way to use them up.
Dried herbs. Substitute Greek seasoning for the herbs for a bit of extra zip. I like to make batches of this and keep it handy for occasions just like this!
Discard the marinade. Any remaining mixture should be thrown out immediately. It is contaminated with raw poultry and is not safe for consumption.
Extra flavor. Fresh garlic cloves (or garlic powder), rosemary, and lemon zest are just some of the ways you can boost the flavor of this marinade.
Add some yogurt. Adding Greek yogurt to the marinade will help to tenderize the meat even further. The acid will help break down the fibers, and the fat will help to keep them moist.
How Long Should You Marinate Chicken?
Leaving it to marinate for 1 hour, using this Greek chicken marinade recipe, results in just as much flavor as if you were to leave it for 6 hours. If you know you need time to walk away and get some other things done, by all means, use up the extra time.
Ways to Serve Grilled Chicken
FAQs
What else can I use this Greek chicken marinade for?

Everything! It's also great on lamb, fish, and pork! I am using chicken breasts because I'll sometimes make kabobs or slice up the chicken and make a Greek chicken salad. You can use chicken thighs, drumsticks, or chicken wings too!
How do I know when my chicken breast is ready?

It will no longer be pink on the inside and juices run clear. I suggest using a meat thermometer if you have one. It's more accurate, plus I hesitate to open up the meat too soon and have all those juices run out.
When the internal temperature reaches anywhere between 160 degrees F and 165 degrees F, it's done.
Can I bake the chicken instead of using the grill?

Follow the same marinade instructions. Once you're ready to bake, place chicken breast in a baking dish and transfer to a 400-degree oven for 25-40 minutes. Flip halfway.
Does marinating chicken make it more tender?

Absolutely! Chicken breast is quite lean and tender all on its own, so in this case, it's a bonus. It becomes apparent when you marinate tougher cuts of meat like steak. The acid helps to break down the fibers making them easier to chew and overall a better taste experience.
Can I make the Greek chicken marinade in advance?

Definitely! Prepare it the night before and keep it in a jar in the fridge. Give it a shake and use it as needed.
Storage
Store leftover cooked meat in a covered container in the refrigerator for up to 3 days.
More Ways to Marinate Your Meat
HUNGRY FOR MORE? Subscribe to my newsletter and follow on Facebook, Pinterest and Instagram for all the newest recipes!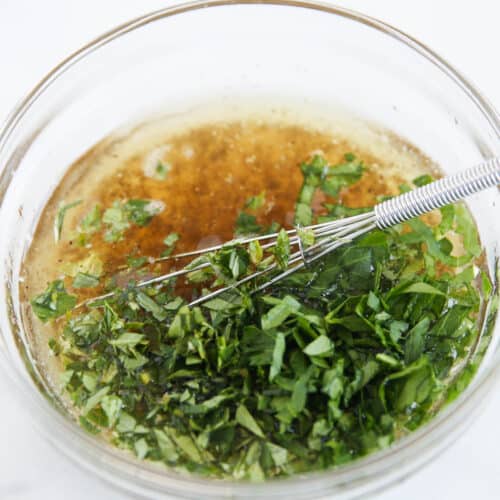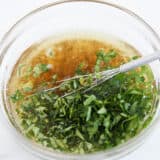 Greek Chicken Marinade
Greek chicken marinade comes together with just a few simple ingredients and is an easy way to infuse classic Greek flavors into all your favorite chicken recipes!
Ingredients
1 ½ pounds boneless, skinless chicken breasts
⅓ cup olive oil
2 lemons , juiced
3 Tablespoons freshly chopped oregano , or 1 Tablespoon dried
1 Tablespoon freashly chopped parsley , or 1 teaspoon dried
2 teaspoons minced garlic
1 ½ teaspoons Kosher salt
½ teaspoon ground black pepper
Instructions
Trim chicken breasts. Pat down with paper towels and place in a zip-top bag or a large bowl.

In a small bowl, mix together the olive oil, lemon juice, oregano, parsley, garlic, salt, and pepper.

Pour the marinade over the chicken. Place in the refrigerator for at least 1 hour, but up to 6 hours.

Preheat the grill to medium high heat. Place chicken on the grill 5 to 6 minutes per side, or until a thermometer reads 160°F to 165°F and the center is no longer pink. Let rest about 5 minutes before serving.
---
Notes
Note: If the breasts are thick, I like to pound the chicken down with a rolling pin once they are in the zip-top bag. Storage: Store leftovers in a covered container in the refrigerator for up to 3 days.
Nutrition
Calories: 248kcal | Carbohydrates: 4g | Protein: 25g | Fat: 15g | Saturated Fat: 2g | Polyunsaturated Fat: 2g | Monounsaturated Fat: 10g | Trans Fat: 1g | Cholesterol: 73mg | Sodium: 714mg | Potassium: 476mg | Fiber: 1g | Sugar: 1g | Vitamin A: 43IU | Vitamin C: 21mg | Calcium: 18mg | Iron: 1mg
Nutrition provided is an estimate. It will vary based on specific ingredients used.
Did you make this recipe? Don't forget to give it a star rating below!