Elevate your peach game this summer with this delicious recipe for grilled peaches. Sweet and juicy with a hint of smoky flavor, these peaches are the perfect summer dessert!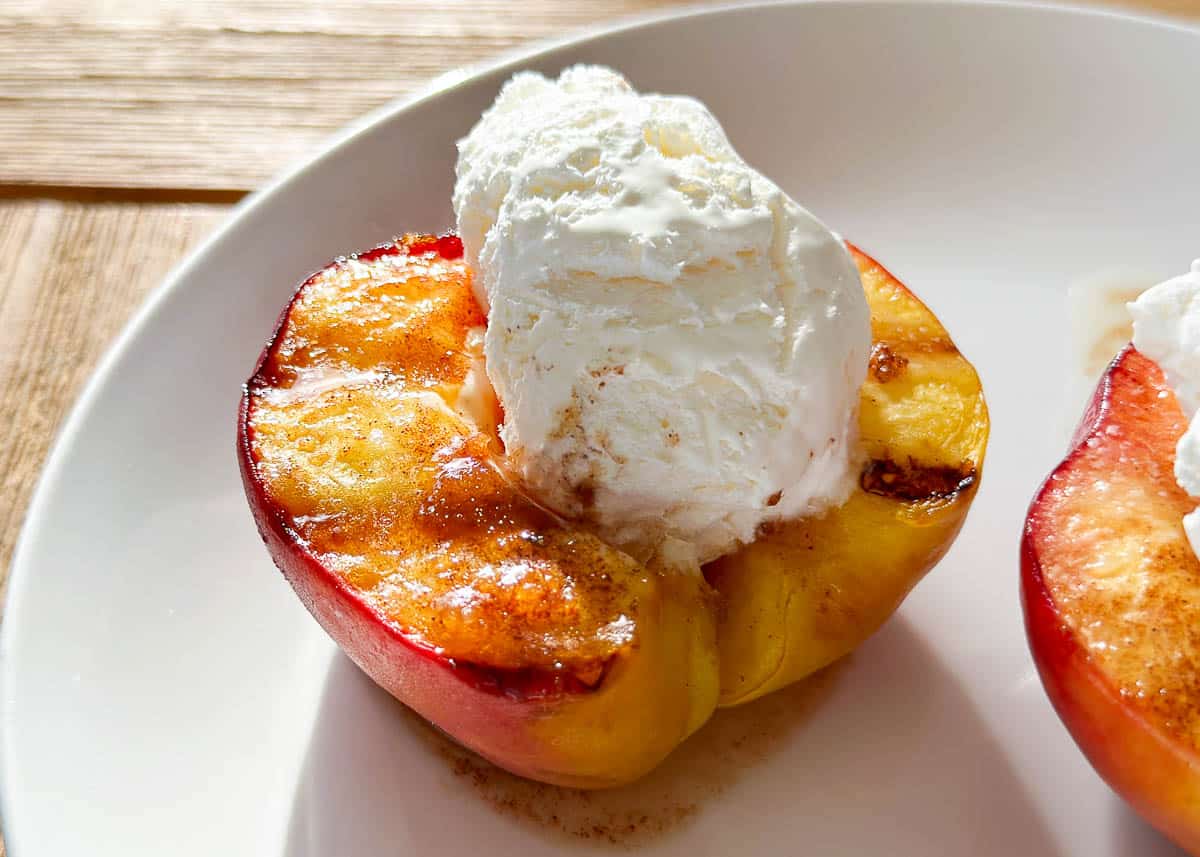 They're Just Peachy!
I'm always trying to get the best out of every peach season. Baked peaches, peach pie, and peach crumble are all on a heavy rotation at our house!
I'm a huge fan of grilling fruit like in this grilled pineapple recipe and let me tell you, grilled peaches have a unique taste that you just can't get from any other cooking method.
They're sweet and juicy and they take on a touch of a smoky flavor which is the absolute best!
Serve them warm with a scoop of homemade vanilla ice cream and a drizzle of sticky caramel sauce and you've got yourself the perfect dessert!
Grilling peaches is a simple and delicious way to enjoy them in their prime. Here's everything you need to know about how to make them, including some helpful tips and serving ideas!
Recipe Ingredients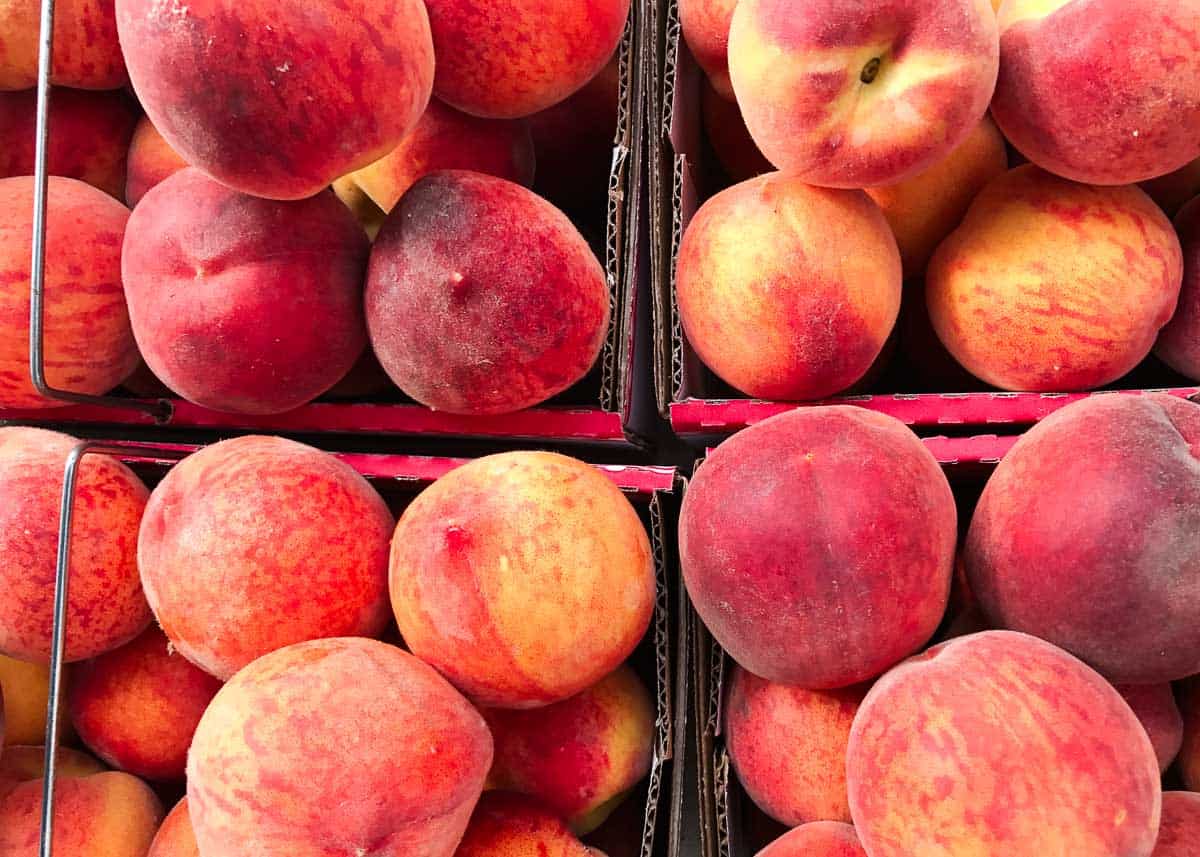 Find the full printable recipe with specific measurements below.
Peaches: Any type of ripe juicy peach will work well for grilling. You don't want them overly ripe though, just slightly soft, so that they can hold still their shape when grilled. If you can find freestone peaches, then go with them as the pit is easier to remove than smaller clingstone peaches.
Topping: A thin layer of butter, brown sugar and warm cinnamon. The topping is sprinkled over them during the last minute of grilling.
For serving: Vanilla ice cream, toasted nuts, whipped cream, a drizzle of honey, or caramel sauce are all great choices for toppings.
Preparing Peaches for Grilling
Look for fresh peaches that are slightly soft to the touch but not too ripe. Wash them and pat the skin dry.
Use a sharp paring knife to carefully cut the fruit in half along the natural seam and remove the pit, then brush the cut side of the peaches with olive oil or a neutral-flavored oil like vegetable or canola oil.
Next, it's time to get your grill or grill pan nice and hot before you add your slices.
How to Grill Peaches
Grilling them brings out their natural sweetness and adds a hint of a smoky flavor. Here's what you'll need to do step-by-step to make your peaches: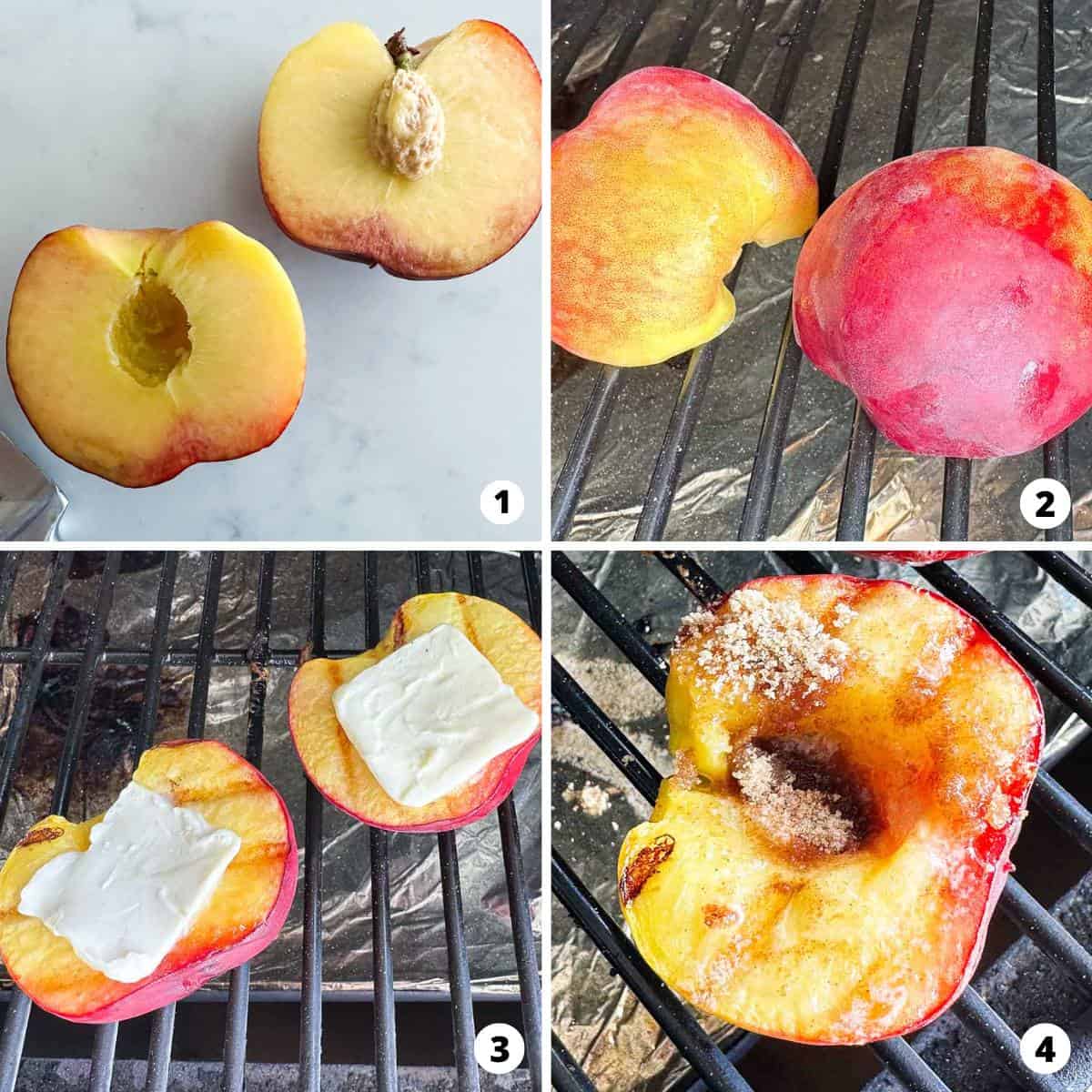 Preheat a grill or grill pan to medium heat.
Grill. Brush the flesh of the peaches with oil and place cut-side down on the grill for 3-5 minutes.
Add. Flip the peaches and cook until tender, adding the butter, cinnamon and brown sugar topping the last minute.
Serve. Sprinkle the peaches with toasted nuts if desired and serve with ice cream or whipped cream and a drizzle of caramel sauce or honey. Garnish with fresh mint leaves for a little something extra!
Expert Tips for the Best Grilled Peaches
Choose firm but ripe peaches so they still hold their shape after grilling.
Make sure your grill is hot enough before adding the fruit. It will prevent them from sticking and you'll get the grill marks you're looking for on the skin.
Use a grill basket if you're worried about the peaches falling through the grates.
Leave your peaches alone! Let the slices sit on the grill for the full 3-5 minutes so they have time to sear. They'll be easier to lift off the grill without sticking.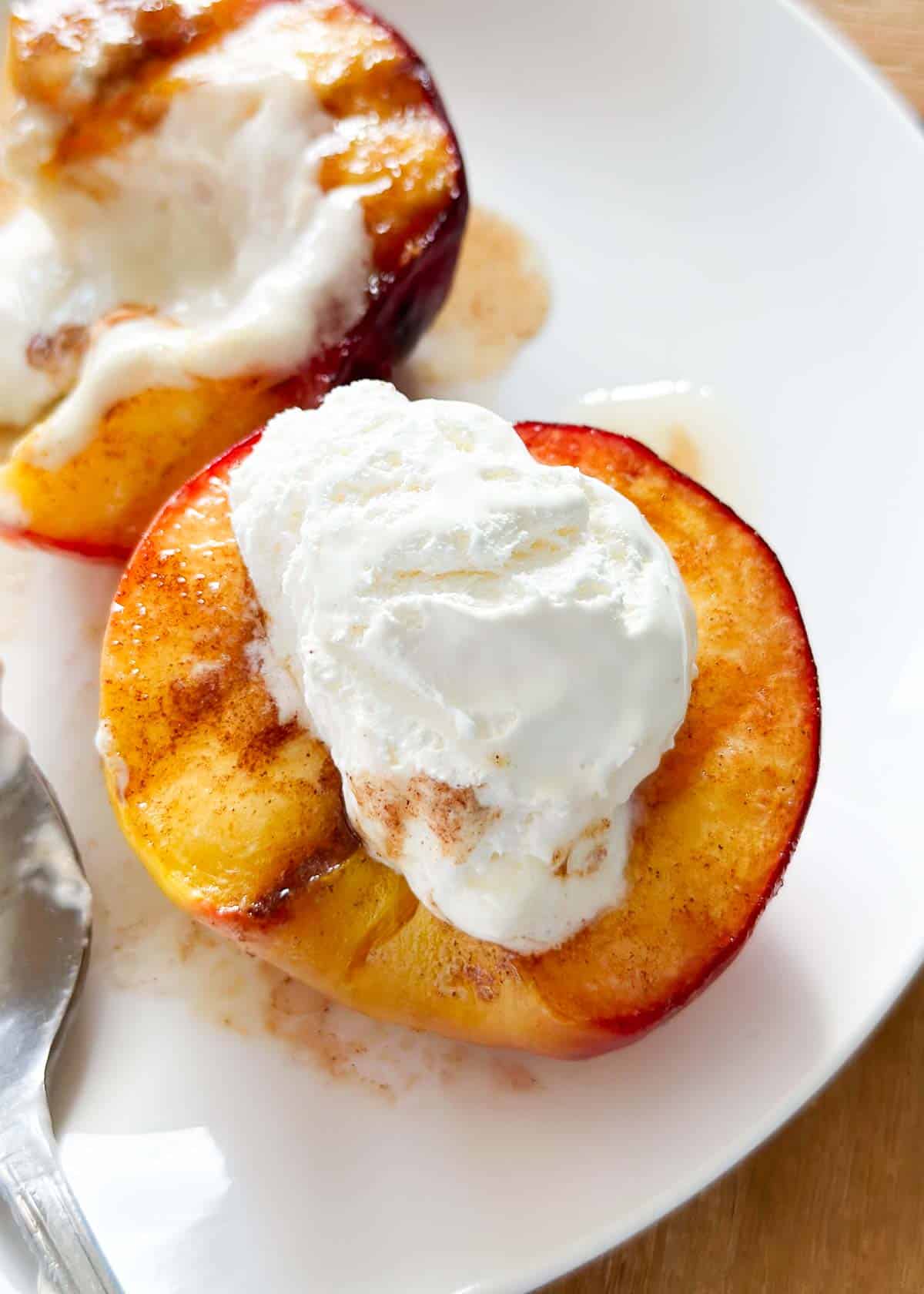 Recipe FAQs
Does grilling peaches make them sweeter?
For sure! The heat enhances the natural sugars in the grilled peaches and makes the skin nicely charred and tender. The brown sugar topping also helps to bring out the sweetness!
Do I need to peel the peaches before grilling them?
Nope! The skin becomes nice and tender during grilling, so there's no need to peel them.
What type of grill should I use?
You can grill fruit on any type of grill, so a gas grill, charcoal grill, or a grill pan on the stovetop will all work just fine. Just make sure that you preheat your grill grates before adding the peaches, so they don't stick.
Can I grill peaches ahead of time?
You can store grilled peaches in the refrigerator for up to 3 days. You get the best flavor when they're eaten freshly grilled, but if you want to get ahead you can grill them in advance and reheat them with the topping before serving.
How to Serve Grilled Peaches
I really love the simplicity of serving a bowl of grilled peaches with a dollop of homemade whipped cream or homemade vanilla ice cream on the side. It works for a casual weeknight dessert and is also fancy enough to serve guests!
You can also use them in recipes that call for canned fruit like my peach dump cake or this easy peach cobbler recipe. Grilled peaches and canned peaches have slightly different flavors and textures, but they're easily interchangeable in these recipes.
You can also slice them up and add them to arugula salads or sandwiches for a sweet and savory flavor! And they taste so good spooned over some overnight oats or granola with a swirl of Greek yogurt.
Variations
Try substituting the cinnamon with apple pie spice, pumpkin pie spice, or a simple cinnamon sugar blend. Or add toasted or candied nuts for a crunch. You could even add a streusel topping for a similar taste to my peach crisp recipe.
Sometimes I'll swap out the brown sugar for maple syrup or honey and for a tangy sweet flavor, you can add a drizzle of balsamic glaze. So many flavors pair perfectly with peaches, so have fun experimenting!
Storing
Grilled peaches always taste the best when they're still warm and juicy from the grill, but you can store them (without the topping) in an airtight container in the refrigerator for up to 3 days. Let them cool down first before putting them into the container.
To reheat them before serving, sprinkle on the topping and reheat them in a pan on medium heat or in the microwave for 20 – 30 seconds.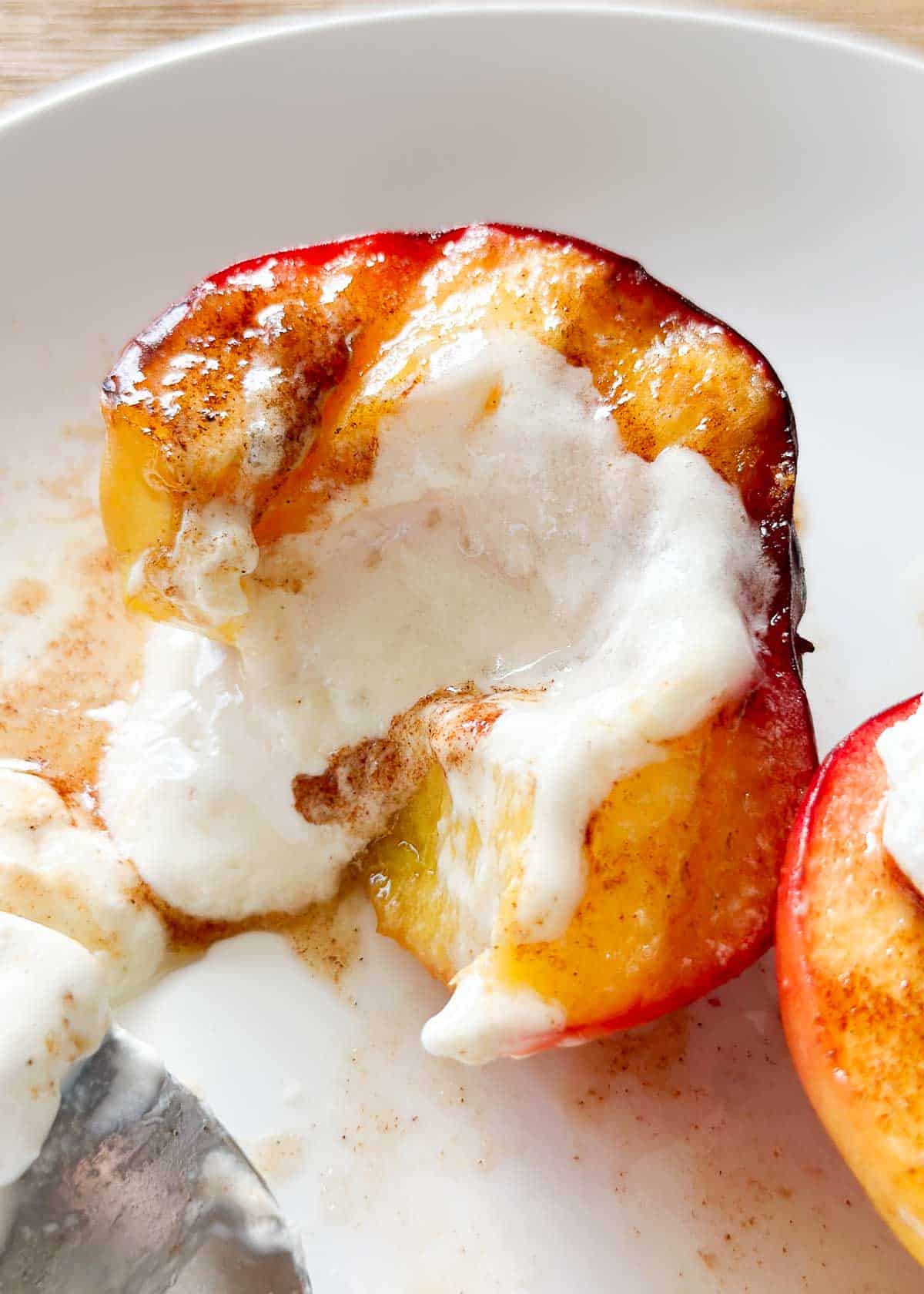 HUNGRY FOR MORE? Subscribe to my newsletter and follow on Facebook, Pinterest and Instagram for all the newest recipes!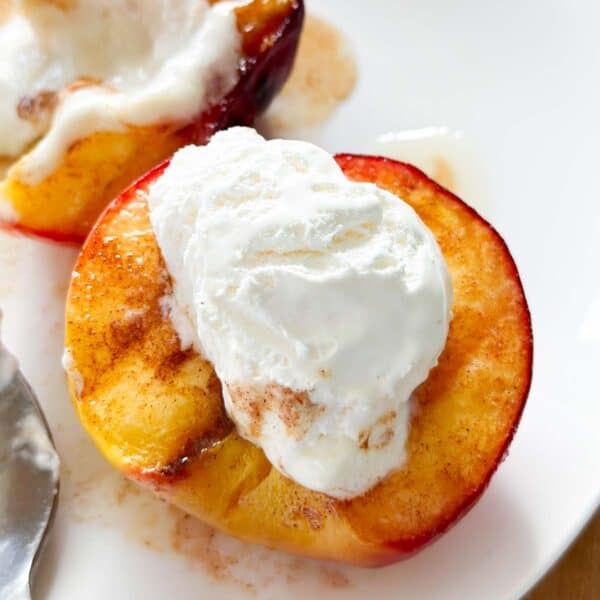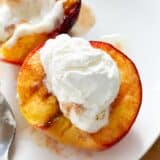 Grilled Peaches
Elevate your peach game this summer with this delicious recipe for grilled peaches. Sweet and juicy with a hint of smoky flavor, these peaches are the perfect summer dessert!
Ingredients
4 large ripe peaches , pitted and halved
Olive oil , for brushing
Topping
1-2 Tablespoons butter
1 Tablespoon light brown sugar
½ teaspoon ground cinnamon
For serving: Vanilla ice cream, Drizzle of honey, or Whipped cream and Caramel sauce, Toasted nuts
Instructions
Preheat a grill or grill pan to medium heat.

Brush the cut side of the peach halves with olive oil. Place peaches cut-side down on the grill and grill 4-5 minutes, or until lightly charred. Flip and cook an additional 3-5 minutes, or until peaches are soft. If desired add a thin slice of butter and sprinkle of cinnamon sugar on top the last minute of cooking.

Serve with ice cream, drizzle with honey, or top with whipped cream and caramel sauce, if desired.
---
Notes
Storage: The grilled peaches taste best hot from the grill, but you can store the peaches without topping in an airtight container in the refrigerator up to 3 days. Top right before serving. Recipe credit: Recipe slightly adapted from Love & Lemons.
Nutrition
Calories: 111kcal | Carbohydrates: 21g | Protein: 2g | Fat: 3g | Saturated Fat: 2g | Polyunsaturated Fat: 0.3g | Monounsaturated Fat: 1g | Trans Fat: 0.1g | Cholesterol: 8mg | Sodium: 46mg | Potassium: 219mg | Fiber: 3g | Sugar: 18g | Vitamin A: 659IU | Vitamin C: 7mg | Calcium: 13mg | Iron: 1mg
Nutrition provided is an estimate. It will vary based on specific ingredients used.
Did you make this recipe? Don't forget to give it a star rating below!