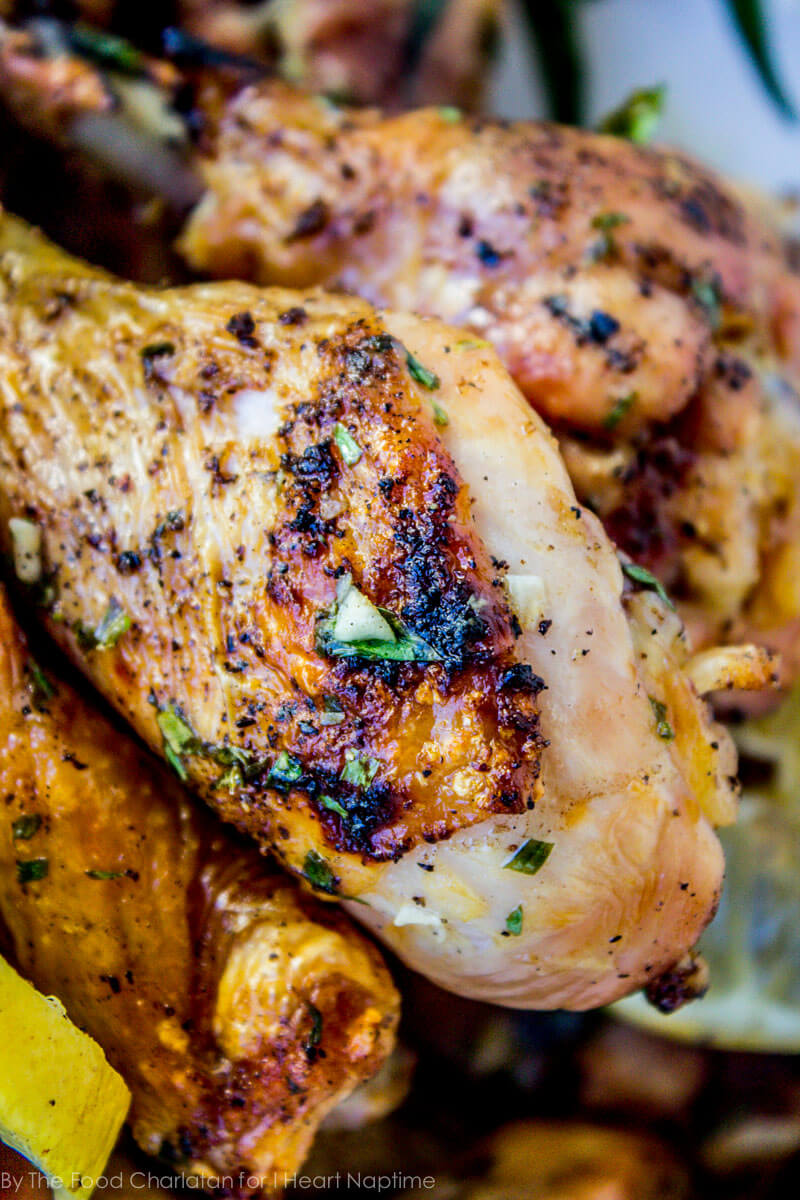 I used to be a bone-in chicken hater. It probably started when I was a kid, because what kid wants to work that hard to eat dinner, right? My 7-year-old self probably took one look at all the non-chewable stuff and thought, forget this, I wasn't hungry anyway.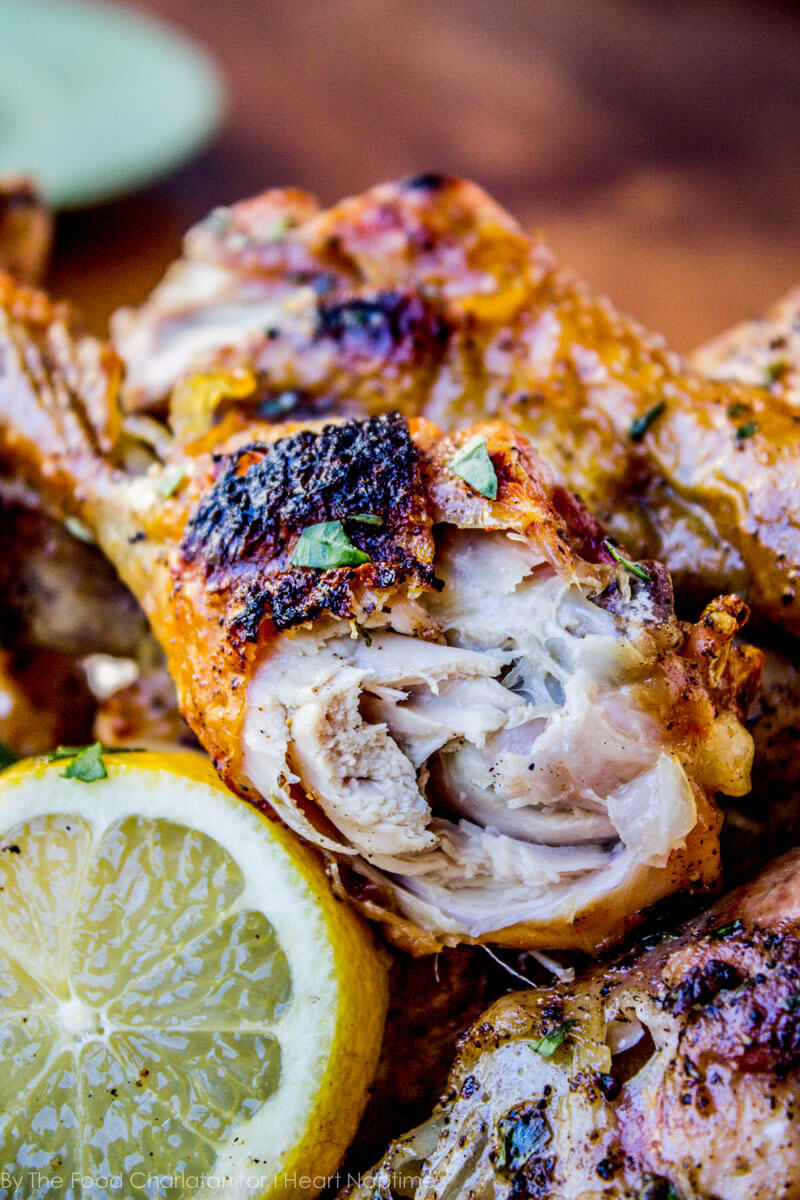 But things have changed, obviously. Don't get me wrong, I still think the bones are annoying, but you just cannot get this kind of flavor from a boneless skinless chicken breast. Not possible!
Have you tried tarragon? The first time I ever had it was in this Lemon Tarragon Pasta Salad, which may not look like much, but that's only because I took that photo years ago. It remains my favorite pasta salad to this day. So much flavor!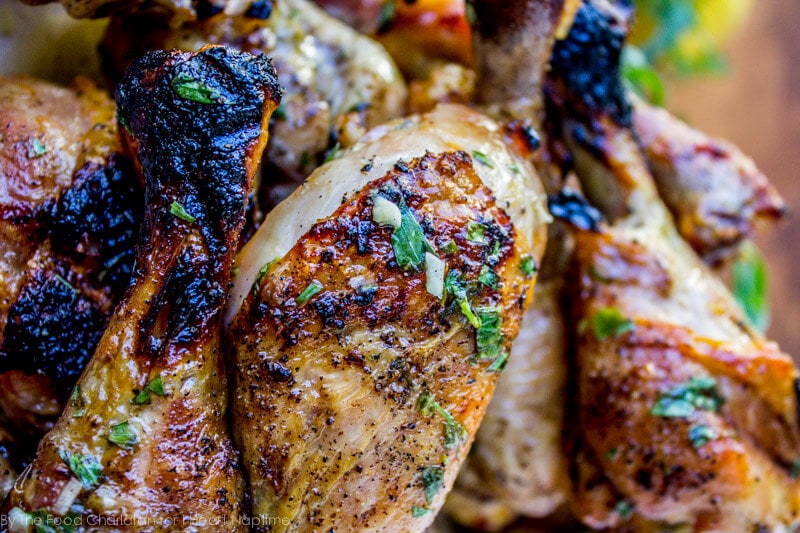 I decided to match the flavors with some grilled chicken and all I can say is HECK YES. This is the perfect summer dinner recipe, plus you get to feel all primal eating chicken off the bone. Win-win.
If you like this grilled recipe, then you'll love these:
Grilled Chicken Tzatziki Salad
Grilled Fruit Kabobs with a Cinnamon Honey Glaze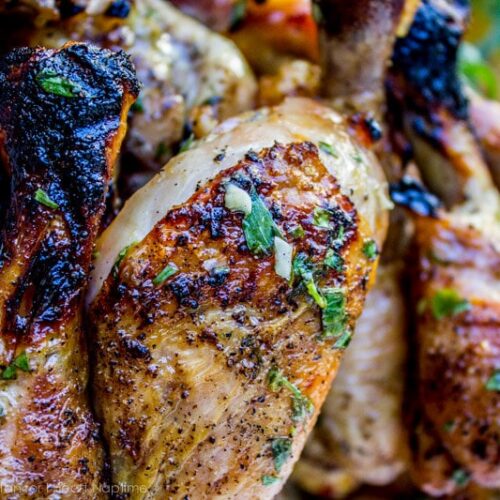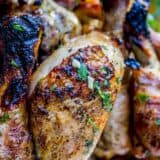 Lemon Tarragon Grilled Chicken
Easy grilled chicken with the fresh flavors of lemon and tarragon!
Ingredients
12 chicken drumsticks 4-5 pounds
6 chicken thighs bone in (about 5 pounds)
2 tablespoons salt to season the chicken
2 teaspoon pepper to season the chicken
For the sauce:
1/4 cup fresh lemon juice 1 large lemon
1/4 cup fresh tarragon finely chopped
2 large cloves garlic finely minced
1 1/2 teaspoons and 1/2 teaspoons salt
1/2 teaspoon pepper
1/3 cup olive oil
fresh lemons to garnish
Instructions
Set all the burners on your grill to high heat. Use paper towels to pat the drumsticks and chicken thighs dry. Use a sharp knife to remove any extra fat. Sprinkle with lots of salt and pepper on all sides.

Turn off one burner and grease the rack above it. Arrange the drumsticks on the rack that is over the turned-off side (you are grilling them over indirect heat). Grill for 20 minutes. Flip each drumstick, then grill for another 20 minutes or until a meat thermometer reaches 165 degrees F. If you would like to char the outside of the drumsticks, turn the burner directly underneath the chicken on to high heat and grill until nicely browned, flipping once.

Meanwhile, in a large bowl combine lemon juice, tarragon, garlic, salt and pepper. Add the olive oil in a thin stream while whisking constantly to make sure it emulsifies. When the chicken is done add it to the bowl with the sauce and turn to coat. Cover with foil and keep warm.

Repeat the process for the chicken thighs. High heat, then turn off one burner. Grease the rack above the turned off side and then put the chicken thighs on. Grill for about 15 minutes per side or until they reach 165 degrees F. Turn the burner on to high heat for the last couple minutes to get a nice char.

Add the thighs to the bowl with the sauce and turn to coat. Serve hot.
---
Calories: 454kcal | Carbohydrates: 2g | Protein: 34g | Fat: 33g | Saturated Fat: 7g | Cholesterol: 187mg | Sodium: 2365mg | Potassium: 489mg | Vitamin A: 185IU | Vitamin C: 4mg | Calcium: 40mg | Iron: 1.9mg
Nutrition provided is an estimate. It will vary based on specific ingredients used.
Did you make this recipe? Don't forget to give it a star rating below!