Creamy spinach and artichoke dip meets pizza! Crispy pizza crust topped with a garlic olive oil sauce, fresh mozzarella, Parmesan, sautéed spinach, chopped artichokes and a sprinkle of red pepper flakes. This spinach artichoke pizza is the perfect combination!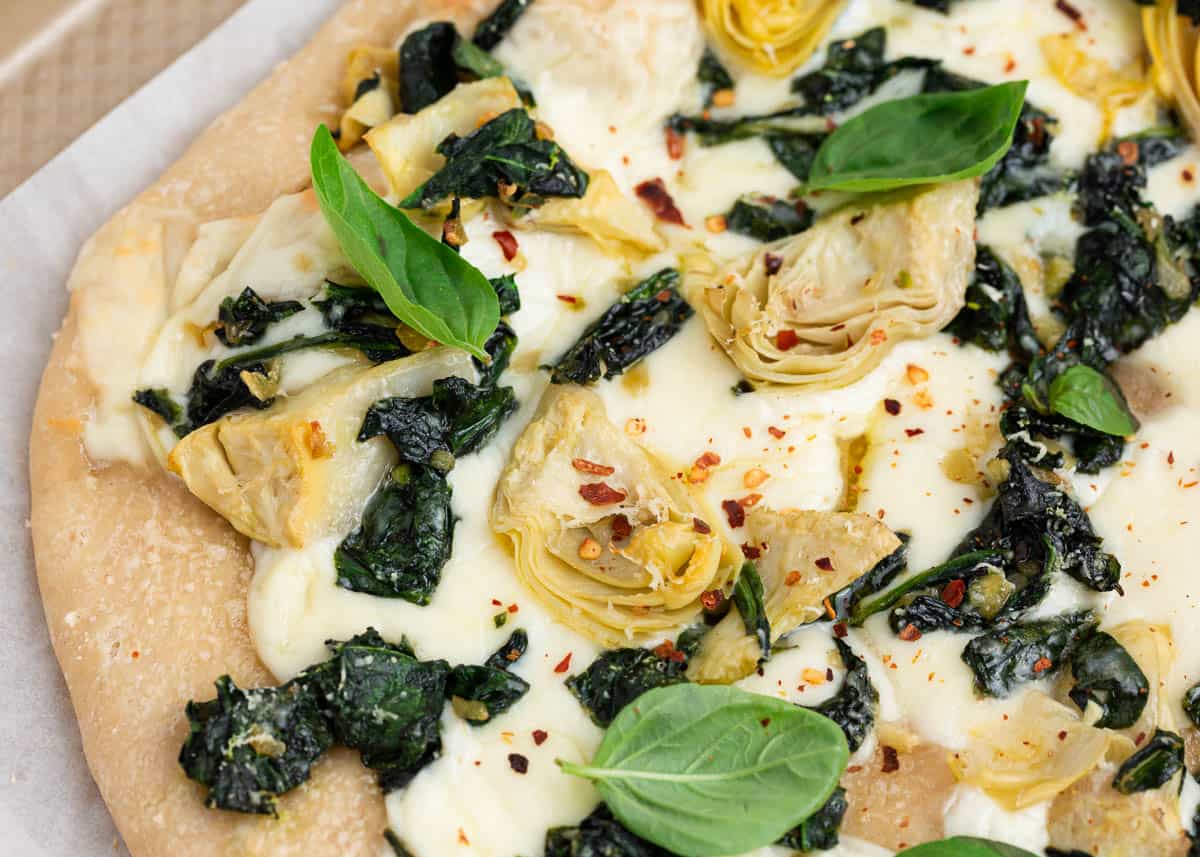 Easy Spinach and Artichoke Pizza
I have had a slight obsession for the spinach and artichoke combination for quite a while now. My spinach artichoke dip is positively my favorite dip ever. And since we are kind of obsessed with pizza too, I thought why not marry the two and create a delicious and savory spinach artichoke pizza!
This pizza is the best of both worlds and is everything you could dream of. Between the crispy crust, garlicky flavor, cheesy goodness and fresh spinach and artichokes, every bite is absolute perfection. It's decently healthy and is a great vegetarian dinner that's perfect for Meatless Monday.
It's also incredibly easy to make. I always have these ingredients on hand so that I can whip it up when I get the craving. It's made with less than 10 ingredients and comes together in under 30 minutes. Now that's a meal I can get behind!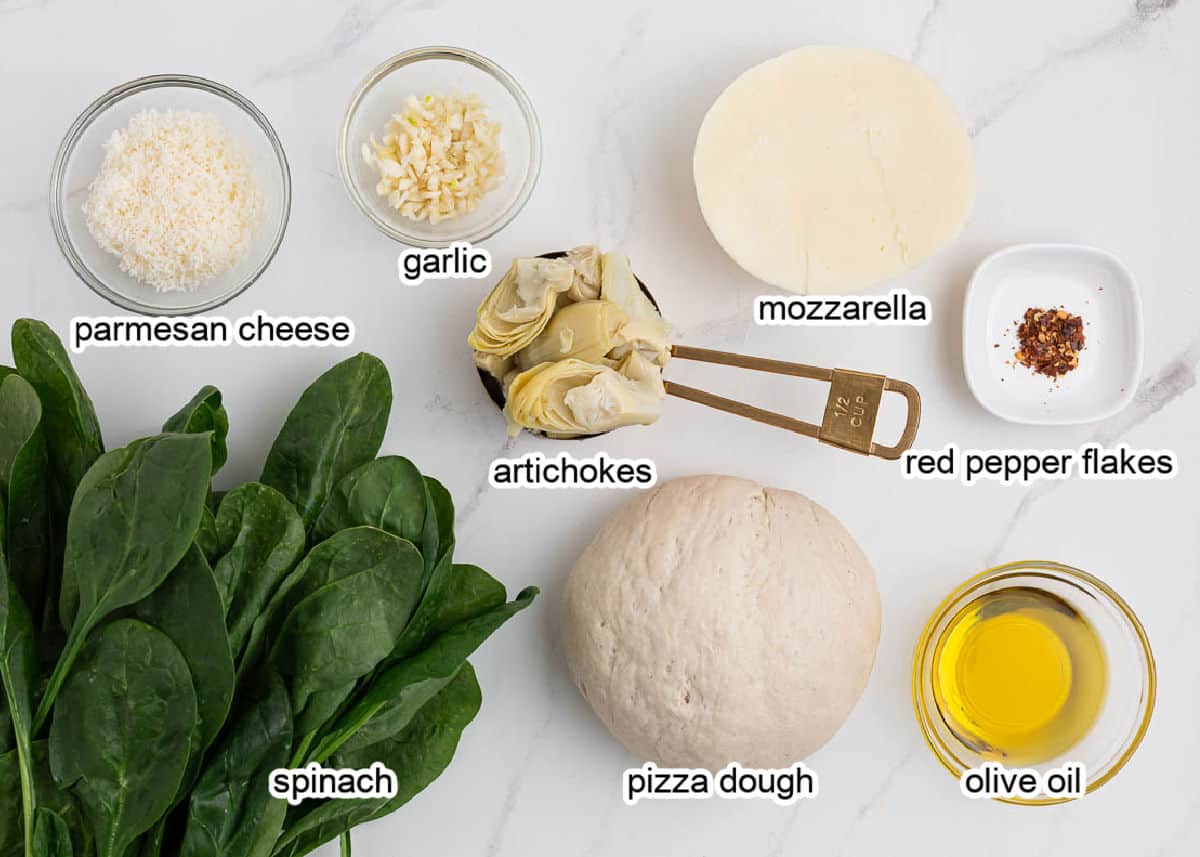 Ingredients
Pizza dough: I love to use this easy homemade pizza dough recipe, but feel free to use a store-bought dough for convenience. Trader Joe's and Whole Foods make my favorite premade dough.
Olive oil: Instead of traditional pizza sauce, we're using a high quality olive oil to brush on top of the dough. It's simple yet rich in flavor and showcases the other ingredients wonderfully.
Artichokes: Look for canned chopped artichoke hearts. Make sure to drain them well before using.
Spinach: Make sure to use fresh over frozen. This is a great way to use up fresh spinach from the garden!
Garlic: Freshly minced garlic gets sautéed first to mellow out the flavor a bit before adding to the pizza. Learn how to mince garlic easily.
Mozzarella: Instead of using shredded mozzarella, I like to buy a fresh block of mozzarella and tear pieces off to add on top of the dough. The cheese gets so gooey and melty this way.
Parmesan: A few spoonful's of parmesan adds another cheesy element with a rich and nutty flavor.
Basil: This is optional, although it really adds to the flavor of the spinach artichoke pizza. Plus if you have extra from the garden, why not use it up?!
Red pepper flakes: Use more or less for a little pop of heat. If you don't like spice, you can omit all together.
Extra Toppings
It doesn't have to stop here! Feel free to add as many toppings as your heart desires. Fresh chopped tomatoes, onions or shredded chicken would all make great additions.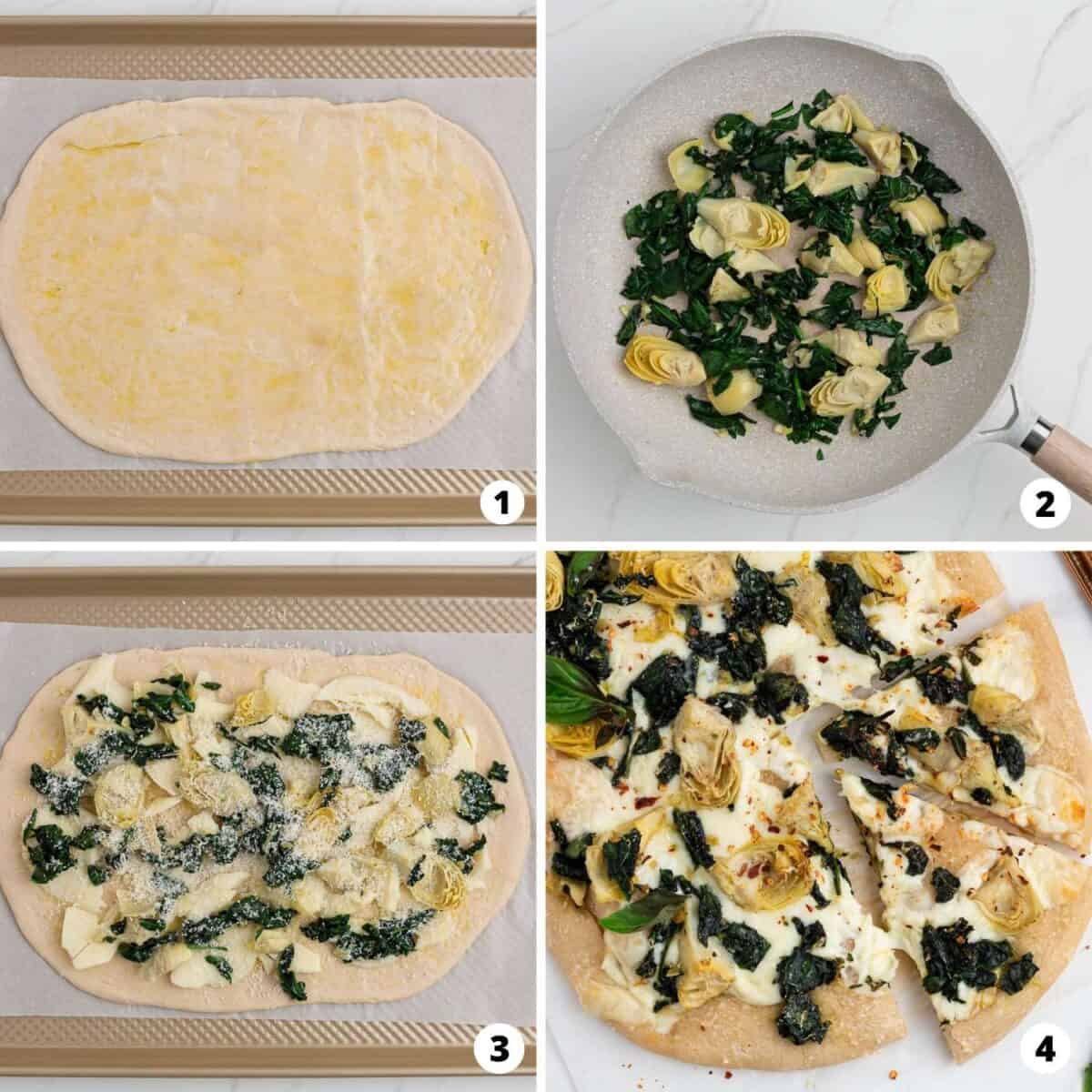 How to Make Spinach Artichoke Pizza
Prepare dough. Roll the dough out into a rectangular shape (about 12 inches long). Place on a pizza peel or parchment lined baking sheet. Then brush 1 Tablespoon olive oil evenly on top.
Sauté the veggies. Heat the remaining Tablespoon of oil in a skillet over medium heat. Sauté the garlic for about 30 seconds, then add in the spinach and cook until wilted. Mix in the chopped artichokes and cook for 1 minute.
Add toppings. Cover the dough with pieces of fresh mozzarella, then use a spoon to add the spinach and artichoke mixture evenly on top. Then top it off with a fresh sprinkle of Parmesan cheese.
Bake in oven. Bake at 450°F for about 12 to 15 minutes, or until the crust is golden and the center is cooked all the way through.
Finish it Off!
Before serving, I like to add a few pieces of fresh basil and a sprinkle of red pepper flakes. An extra sprinkle of fresh Parmesan is always a great idea, too!
Variations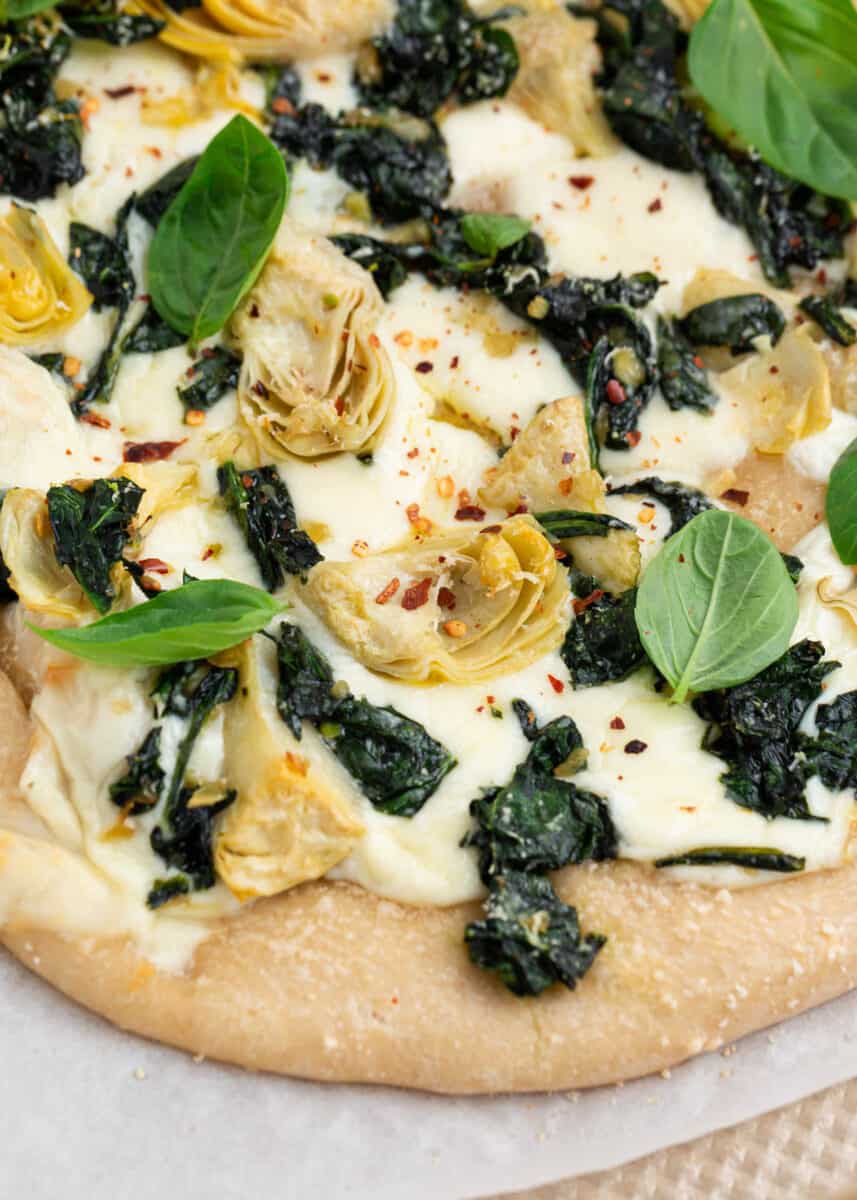 How to Store and Reheat
This spinach artichoke pizza will stay fresh in an airtight container or bag in the refrigerator for up to 3 days. When reheating, use the stovetop or toaster oven for a crispy crust or the microwave for a softer crust. I'm also a big fan of reheating leftovers in the air fryer!
FAQs
Do I cook spinach before adding it on pizza?
Yes, we are sautéing the spinach in a skillet until wilted prior to adding to the pizza. It gets infused with garlic this way, creating an even bolder flavor.
Do you use fresh or frozen spinach?
Fresh spinach is always best in my opinion! Frozen spinach holds a bit more water, which can make it on the mushier side.
Do I have to use a pizza stone?
Nope! If you have one, you can absolutely use it. However it's definitely not a necessity when making this recipe. A simple alternative is to use a baking sheet instead. Just make sure to roll the dough out into a rectangular shape so that it fits on the pan. And make sure to line it with parchment paper so your crust doesn't stick!
Check out a few of my other favorites below!
HUNGRY FOR MORE? Subscribe to my newsletter and follow on Facebook, Pinterest and Instagram for all the newest recipes!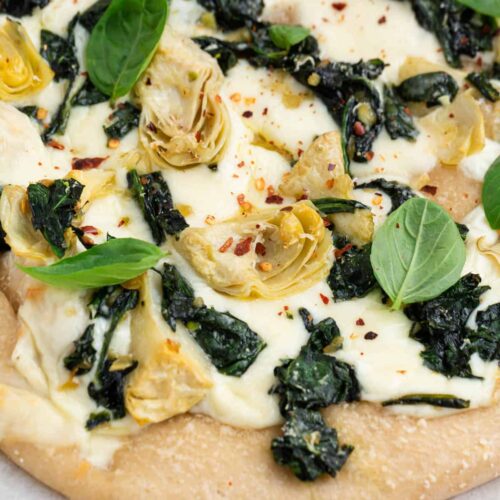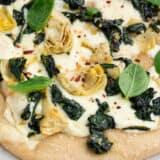 Spinach Artichoke Pizza
Creamy spinach and artichoke dip meets pizza! Crispy pizza crust topped with a garlic olive oil sauce, fresh mozzarella, Parmesan, sautéed spinach, chopped artichokes and a sprinkle of red pepper flakes. This spinach artichoke pizza is the perfect combination!
Ingredients
1 pound pizza dough , store-bought or homemade
2 Tablespoons olive oil , divided
½ cup chopped artichoke hearts , drained and coarsely chopped
3 ½ cups chopped spinach
2 cloves garlic , minced
6 ounces fresh mozzarella
2 Tablespoons grated Parmesan cheese
Fresh basil , optional
⅛ teaspoon red pepper flakes
Instructions
Preheat the oven to 450°F. If you have a pizza stone, you can heat it in the oven while it preheats.

Roll out the dough to about 12 inches and 1/4-inch thick. If using a pizza peel to transfer, place it on the pizza peel. If not, place the dough on a piece of parchment paper or a baking sheet. Brush 1 Tablespoon of olive oil on top of the dough.

In a small skillet, heat the remaining 1 Tablespoon olive oil over medium heat. Add the garlic and saute in the pan for about 30 seconds. Add the spinach and cook 2 minutes, or until wilted. Stir in the artichokes and cook 1 minute more.

Tear the mozzarella and place evenly on top of the dough. Spoon the spinach artichoke mixture evenly over the top. Sprinkle with parmesan cheese.

Using a pizza peel, transfer the pizza to the pizza stone or place the pizza in the oven. Bake 12 to 15 minutes, or until the crust is golden brown and the center is cooked through. Allow to cool slightly.

Tear fresh basil and place on top of the pizza. Sprinkle with red pepper flakes, if desired. Slice into 6 to 8 slices. Serve while hot.
---
Notes
Dough: When making it homemade, I love this pizza dough recipe. To make this recipe easier, you can use a store-bought pizza dough (I prefer Trader Joe's or Whole Foods). Make sure to let it come to room temperature, if using store-bought dough.
Nutrition
Serving: 1slice | Calories: 289kcal | Carbohydrates: 31g | Protein: 12g | Fat: 13g | Saturated Fat: 5g | Polyunsaturated Fat: 1g | Monounsaturated Fat: 5g | Cholesterol: 24mg | Sodium: 794mg | Potassium: 127mg | Fiber: 2g | Sugar: 4g | Vitamin A: 1859IU | Vitamin C: 5mg | Calcium: 177mg | Iron: 2mg
Nutrition provided is an estimate. It will vary based on specific ingredients used.
Did you make this recipe? Don't forget to give it a star rating below!