Easy Chicken Fajitas
By Jen of Yummy Healthy Easy for I Heart Nap Time.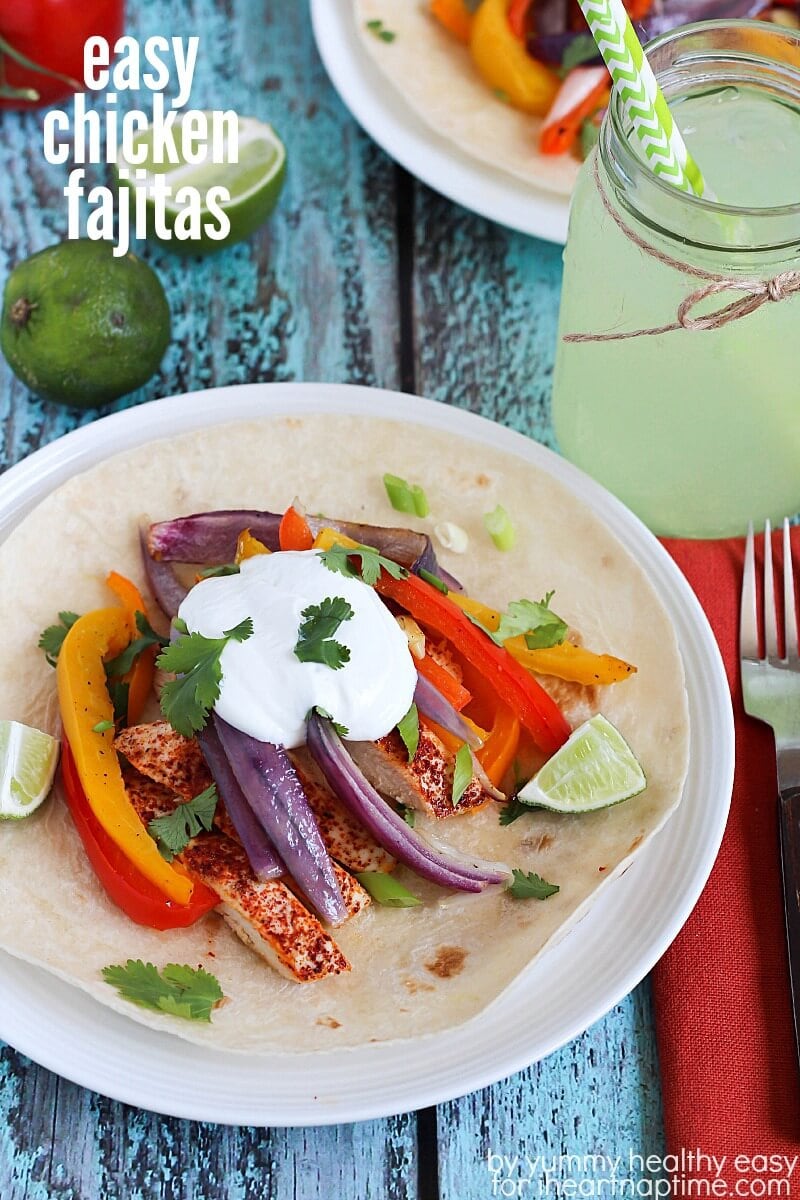 Hi Nap Time readers! I'm excited to be back with another yummy recipe for you. This time I've got Mexican food on the brain. I recently shared this Enchilada Casserole over at YHE, and it had quite the positive response. This tells me that I'm not the only one with a Mexican food obsession. :)
If you're like me and dread dinnertime because you know it means standing in the kitchen for hours cooking, then you're in luck today. These easy chicken fajitas are healthy, delicious and a family favorite!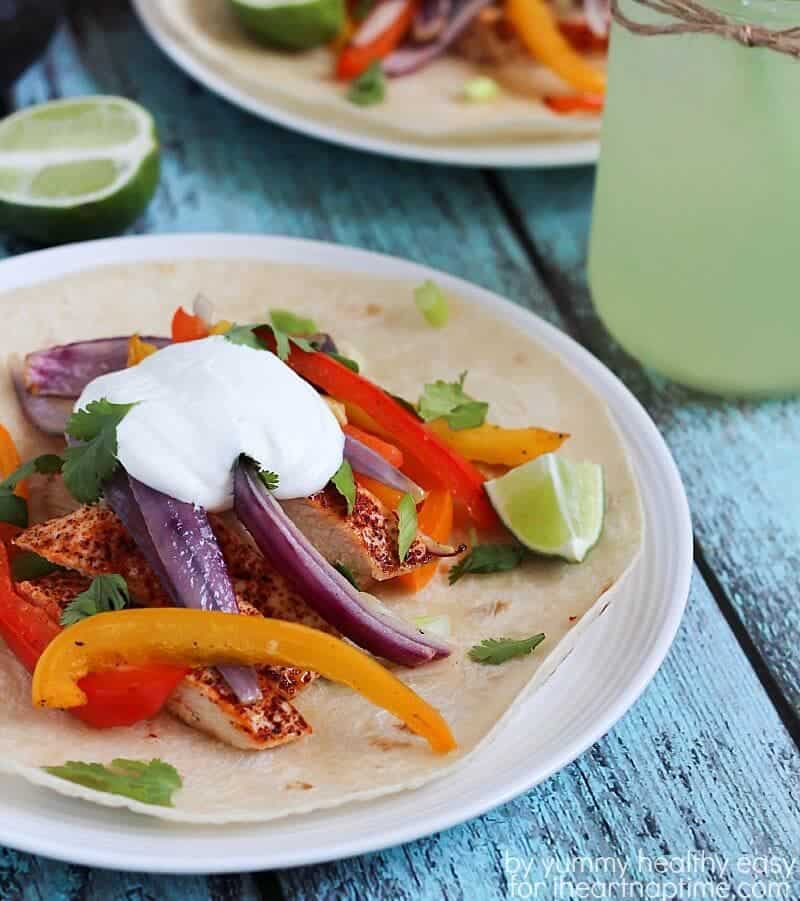 They're super easy to make, too!
All you do is halve and slice up three bell peppers. I like to use red, yellow, and orange. Then halve a red onion and slice the same way as the peppers. Thinly slice three garlic cloves and then toss all together on a foil-lined baking sheet with a little olive oil and salt and pepper.
Lay out some thin chicken cutlets on another foil lined baking sheet. Rub with a little olive oil, sprinkle with salt, pepper and chili powder and place both sheets in the oven for about 20 minutes. Slice up the chicken and put it all together on tortillas and voila! Dinner is served!
Not only is this dinner simple, but it tastes great. The clean up is a breeze, too. Every one of my boys will eat these fajitas – and that's saying a lot! They are delicious!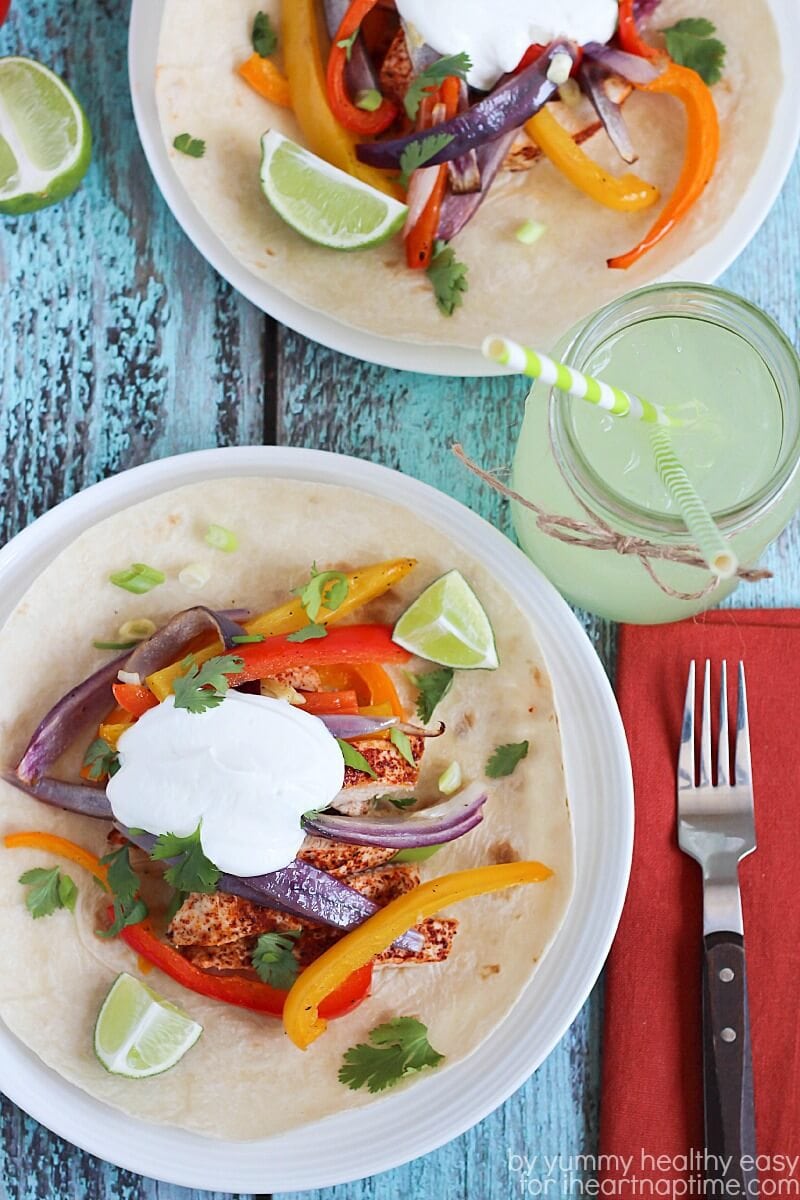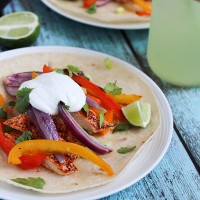 Easy Chicken Fajitas
Ingredients:
3 bell peppers, halved and thinly sliced
1 medium red onion, halved and thinly sliced
4 garlic cloves, thinly sliced
2 Tbsp. olive oil, divided
salt & pepper
1 1/2 lbs. chicken breast cutlets or tenders
1-2 tsp. chili powder
Directions:
Heat oven to 425º F. Line two baking sheets with tin foil.
Toss sliced bell peppers, onions and garlic with one tablespoon olive oil on one of the foil lined cookie sheets. Season with salt and pepper. Place in the oven.
Place chicken breasts on the other foil lined cookie sheet. Rub with 1 tablespoon olive oil. Season with salt and pepper then sprinkle with chili powder. Place in oven below peppers. Bake for 15-20 minutes or until internal temperature is 165 degrees and juices run clear. Peppers and onions will be lightly browned on the edges and tender.
Slice chicken breasts and serve with pepper mixture on tortillas with your favorite fajita toppings. Enjoy!
Adapted from Everyday Food magazine
Join in! Leave a comment!
Comments